CBS Is Banking on Football and Murder This Fall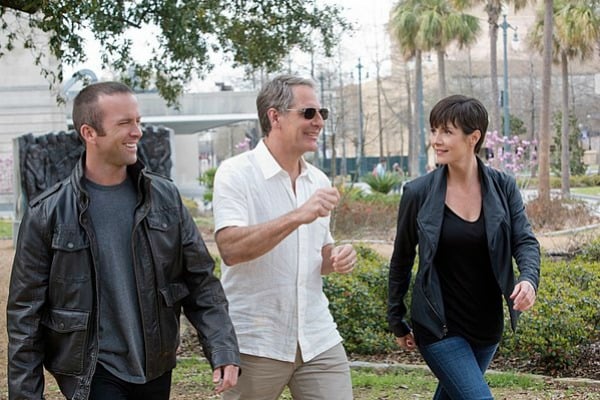 CBS is making two big changes this fall. Its Thursday night comedy lineup, anchored by Big Bang Theory, is giving way to Thursday Night Football, a guaranteed ratings booster. Big Bang Theory is temporarily moving to Mondays; on October 30, its normal lineup will resume, and 2 Broke Girls will air on Mondays. Expanding upon the immense of success of NCIS, CBS has added more investigative dramas to their lineup. One of the dramas is the NCIS spinoff set in New Orleans starring Scott Bakula, which will air on Tuesday nights following its parent program.
The rest of the Monday night lineup includes Mom and newcomer Scorpion, a comedy-drama about some socially awkward misfits who protect national security WarGames style. NCIS: Los Angeles caps off Monday with a confident hit. Tuesday includes two NCIS shows: the original and New Orleans, the latter being self-explanatory. Person of Interest wraps up the procedural happy night.
Wednesday features veteran Survivor, which hasn't had good ratings in a long time, and Criminal Minds, which does have good ratings. Dylan McDermott and Maggie Q star in the new show Stalker, which is not an adaptation of the Tarkovsky classic, sadly. They play LAPD officers who work on stalking cases. Naturally.
Thursday night is football night, until Octotober 30, at which point The Millers, Two and a Half Men, Big Bang Theory, and Elementary will return. Premiering October 30 is The McCarthys, a comedy about a Boston family that loves sports.
Friday is made up of oldies Amazing Race, Hawaii Five-O, and Blue Bloods. Saturday is Crime Time for two hours, then 48 Hours for one. Finally, Sunday has newcomer Madam Secretary, which stars Téa Leoni as a college professor and former CIA analyst who takes the role of secretary of state at the request of the president after her predecessor's suspicious death.
Mid-season shows include The Odd Couple, starring Matthew Perry playing Matthew Perry in another post-Friends sitcom. Remaking The Odd Couple would be offensive — if it were at all surprising at this point. But it isn't, so it isn't. Vince Gilligan's drama about polar opposite cops Battle Creek will get lots of viewers, since it's by Vince Gilligan. Josh Duhamel seems an odd choice for, well, pretty much anything, but 30 Rock's Dennis Duffy is always welcome on my TV set.
CSI: Cyber will be a mid-season replacement on Sundays. If the first three letters of the title don't tell you whether you'll want to watch this, you should stop watching TV.
The big surprise here is the lack of How I Met Your Dad, which caused all sorts of controversy with fans of the original show because it was ostensibly another continuation of a show that should have died several seasons sooner, and with the indie film community because of Greta Gerwig's alleged betrayal. Gerwig would have been given complete artistic control of the show, which was more than enough to intrigue open-minded viewers. After her fantastic turn in Frances Ha, she pretty much could have done whatever she wanted. We'll have to wait and see what happens next.
The complete list of returning shows is as follows:
2 Broke Girls (Mondays, 8:30 p.m. after October 30)
The Amazing Race (Fridays, 8 p.m.)
The Big Bang Theory (Mondays, 8 p.m., Thursdays, 8 p.m. after October 30)
Blue Bloods (Fridays, 10 p.m.)
Criminal Minds (Wednesdays, 9 p.m.)
CSI (Sundays, 10 p.m.)
Elementary (Thursdays, 10 p.m.)
The Good Wife (Sundays, 9 p.m.)
Hawaii Five-0 (Fridays, 9 p.m.)
The Millers (Thursdays, 8:30 p.m. after October 30)
Mom (Mondays, 8:30 p.m.)
NCIS (Tuesdays, 8 p.m.)
NCIS: LA (Mondays, 10 p.m.)
Person Of Interest (Tuesdays, 10 p.m.)
Survivor (Wednesdays, 8 p.m.)
Two and a Half Men (Thursdays, 9 p.m. after October 30) — final season
More From Wall St. Cheat Sheet: