These Celebrities Are Excited to Kick Off Pride Month
It's June 1, and that means that it's the first day of Pride Month. 50 years ago, the Stonewall riots took place in New York City, in which a large group of LGBTQ+ individuals protested a police raid that took place in Manhattan. From this came the beginning of Pride parades. Then, 20 years ago, Bill Clinton was the first president to declare June Pride Month. This was a tradition which Barack Obama later continued beginning in 2009.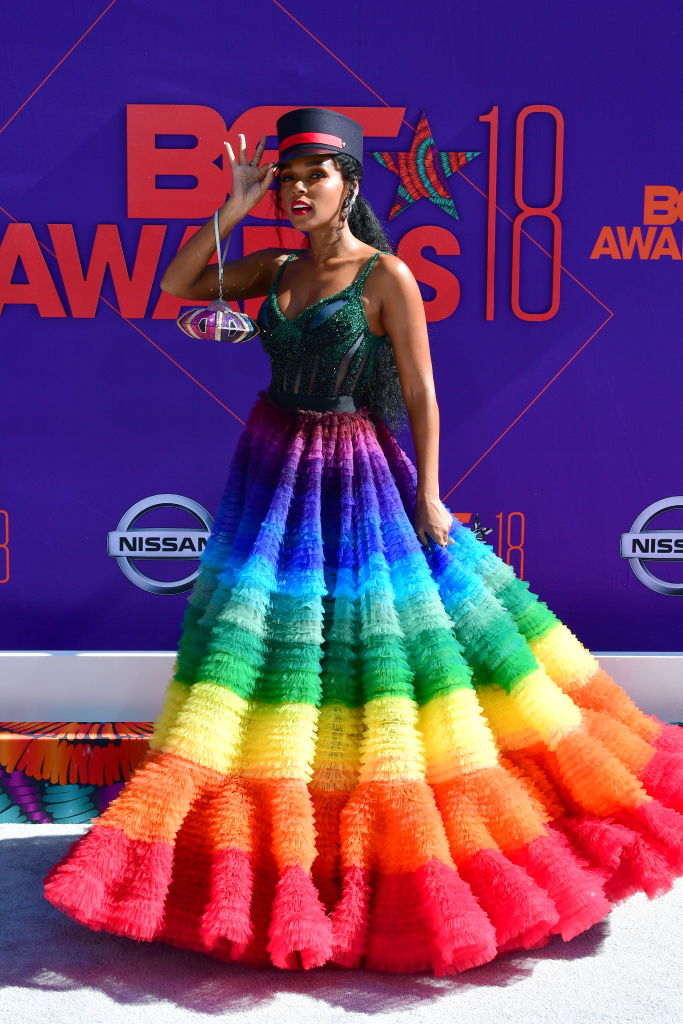 So, needless to say, this is a pretty important year for Pride Month. Though it's just beginning, many celebrities have already taken to Twitter to share their support for this month of celebration. Here are the household names who are kicking off Pride Month.

The stars of this popular show
Katie Stevens and Aisha Dee star in the Freeform series The Bold Type. On the show, Dee portrays Kat Edison, who begins to explore her sexuality and eventually has a relationship with two different women.
Her co-star, Stevens, portrays a straight girl, but the actress has her own history of playing a questioning character. Before she landed the role of Jane Sloan in The Bold Type, Stevens was Karma Ashcroft in Faking It, an MTV series about two high school students who pretend to be a lesbian couple, only for their true feelings to begin to emerge.
The Nine-Nine is feeling fine
Network TV has become more and more inclusive in recent years. One such example is Brooklyn Nine-Nine, which features Captain Raymond Holt (Andre Braugher), the openly gay head of the precinct.
In Season 5, he welcomed Rosa Diaz when she came out as bisexual, around the same time that actress Stephanie Beatriz did the same. Melissa Fumero, who plays their co-worker, Amy Santiago, celebrated this moment by retweeting a clip of it.
The real story behind a brand
Many networks, companies, and brands have jumped on board the Pride train, but that doesn't necessarily mean all individuals involved are supportive. Singer-songwriter Simon Curtis, who is openly gay, retweeted a Pride tweet from Nick, which he used to tell an upsetting story about the company's VP of Publicity.
A hint of what's to come?
For those who aren't familiar with the sensation that is Frozen, it's an animated Disney film about two sisters who learn to deal with the eldest's strange magical powers. Many believe that Elsa's isolation, abilities, and the song she sings, "Let It Go," are symbolic for her sexuality.
Those people were probably pretty excited to see that the Twitter account for the musical version of Frozen, which is on Broadway, tweeted a rainbow version of the logo and the message "Happy Pride Month!" Could this be confirmation that Elsa is a member of the community?
A pop star doing more than just showing support
A simple message of support or encouragement is always nice, but Taylor Swift is doing a lot more than that. Just as Pride Month began, the Grammy-winning pop star tweeted her own petition to support the Equality Act, which is headed to the Senate.
The petition is, in true Swift style, is both rainbow and pastel, supporting her recent brand shift that came with her new single, "Me!" Given her large and devoted fan base, the petition has begun to rack up signatures quickly, amassing more than 68,000 in less than 24 hours.
More musical women who care
Long before Hollywood embraced the LGBTQ+ community, the world of music was a more welcoming one. Mariah Carey, long considered a gay icon, took to Twitter to tweet out a few photos of herself in her Pride Month merchandise.
English Artist Dua Lipa tweeted out her own supportive message. She encouraged everyone to be their "most unapologetic self." Lipa added in plenty of rainbow flags and hearts to send the message home.
Janelle Monáe, an acclaimed actress and musician, also celebrated, beginning a bit early. She tweeted out LA Mag's list of LGBTQ+ advocates, a list which she is a part of. Monáe has previously identified as both bisexual and pansexual.
A Modern man with a message
Actor Jesse Tyler Ferguson is both openly gay, and portrays Mitchell Pritchett, a gay man, on Modern Family. So he is definitely not interested in empty gestures.
Ferguson retweeted Donald Trump's Pride Month tweet. He pointed out how the president has advocated removing transgender individuals from the military, among other things. He closed by saying, "We reject you."