Celebrities Who Have Feuded With Piers Morgan
Piers Morgan is a British journalist and television personality who has made his political views known, leading to many celebrity feuds. Some stars have taken Morgan head on, especially now that celebrities are getting more vocal about their political stances.
So what did these celebrities have to say to the personality? Here are 12 stars who have feuded with Piers Morgan.
1. Matt McGorry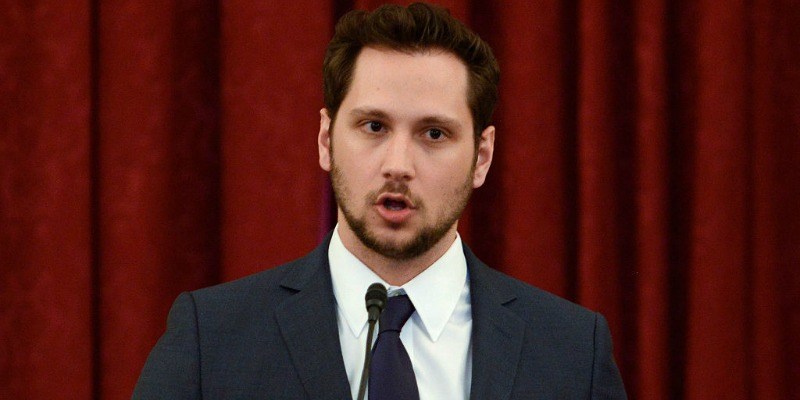 The How to Get Away with Murder star wasn't happy when Morgan criticized Beyoncé by quoting her on Twitter. "'I don't think people think about my race..they look at me as an entertainer & musician & I'm very happy about that.' -Beyoncé to me, 2011." Matt McGorry then responded with a series of tweets.
A man who loves his mom can still be a misogynist, right? I don't believe that saying you have "huge respect" for her (as an artist & businesswoman) doesn't mean you can't also be supporting racism (unbeknownst to you). It's no different than saying you have "black friends" and therefore can't be racist. Do you agree with that?
Afterward, Morgan responded, "I think I'm allowed to critique Beyoncé's new very political work without being branded racist." Then, McGorry said, "critiquing her way of speaking about her experiences as a black woman (something you and I will never experience) you are spectrum and you don't have to 'feel hateful' to be doing a disservice to anti-racism and thus, supporting racism. Make sense?"

2. Lady Gaga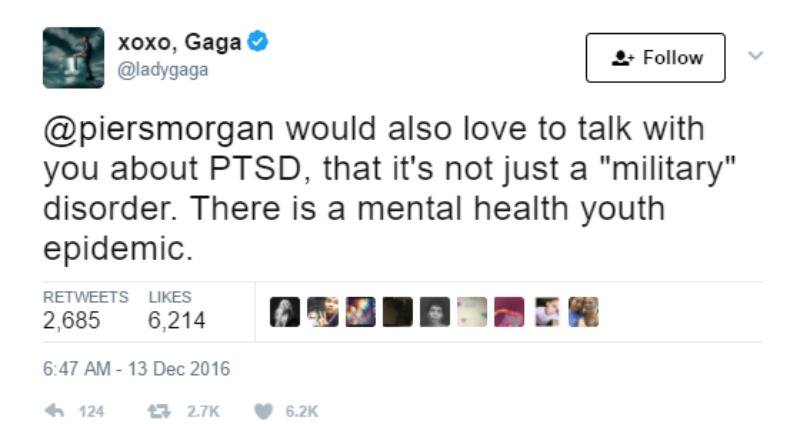 The pop star talked about being raped and having post-traumatic stress disorder as a result. Lady Gaga was also working with Vice President Joe Biden to speak to students about sexual assault and her 2016 Academy Awards performance was also focused on the subject.
Morgan accused her of lying about being raped, then argued that rape survivors can't have PTSD. He said, "No, soldiers returning from battlefields do. Enough of this vain-glorious nonsense." Lady Gaga responded diplomatically by offering to talk on his show about mental health.

3. Evan Rachel Wood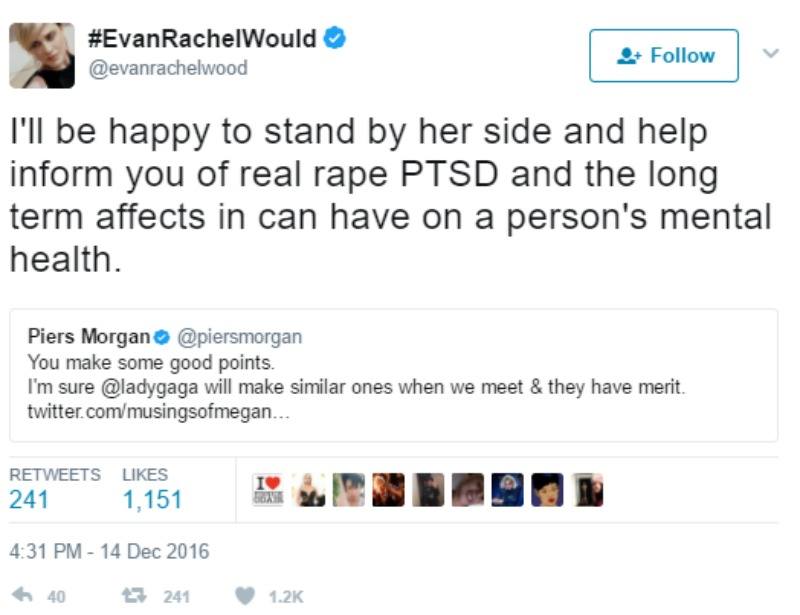 The Westworld star helped defend Gaga against Morgan's accusations. After Gaga offered to go on his show to talk about mental illness it was announced that Evan Rachel Wood would also be part of the interview.

4. J.K. Rowling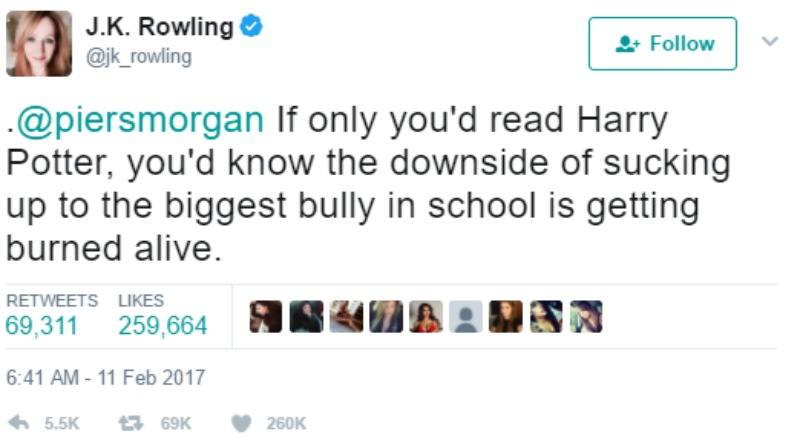 The author retweeted a clip of Morgan on Real Time with Bill Maher telling Jim Jefferies to "f**k off" after the stand-up comedian said President Trump's immigrant ban is targeting Muslims.
She then tweeted about the possible consequences of Morgan supporting Trump by referencing her books.
5. Spencer Morgan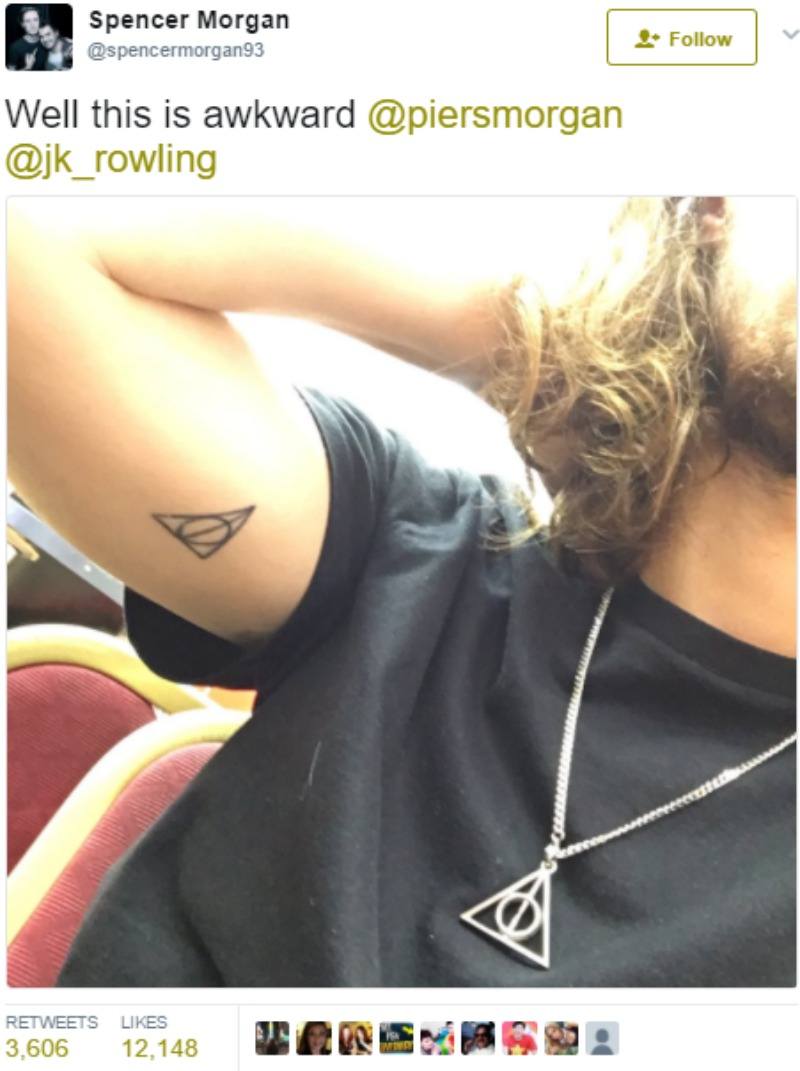 After Morgan started feuding with J.K. Rowling his son seemed to have a hard time picking a side. But he did show his love of the author's work by taking a picture of his jewelry and tattoo, which both referenced the franchise.
This made for an awkward situation and could be taken by his father as an insult.

6. Jim Jefferies
The comedian appeared on Real Time with Bill Maher with Morgan. There they talked about President Trump's immigration ban. Things got heated between them and Jefferies said to Morgan, "You say '[Trump] hasn't done this, he hasn't done that.' Give him a f**king chance, mate." Jefferies then said, "Hitler didn't kill Jews on the first day. He worked up to it."
Jefferies then went on to slam Morgan by saying, "You just like that you won The Apprentice and you have a famous friend."

7. John Legend and 7. Chrissy Teigen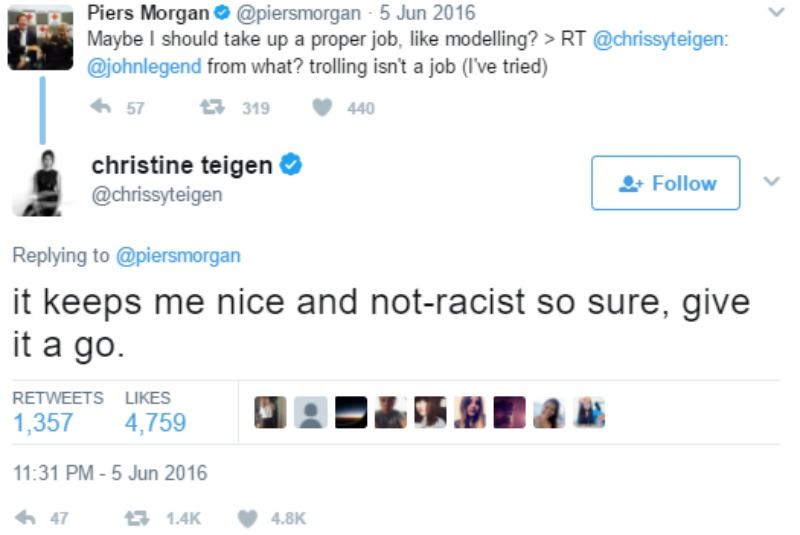 Morgan tweeted, "Muhammad Ali said far more inflammatory/racist things about white people than Donald Trump ever has about Muslims. #fact," after Ali died in 2016. John Legend responded with, "you could test us by announcing your retirement." His wife, Chrissy Teigen then added, "from what? trolling isn't a job (I've tried)." This led to Morgan attacking Teigen's career.

8. Patton Oswalt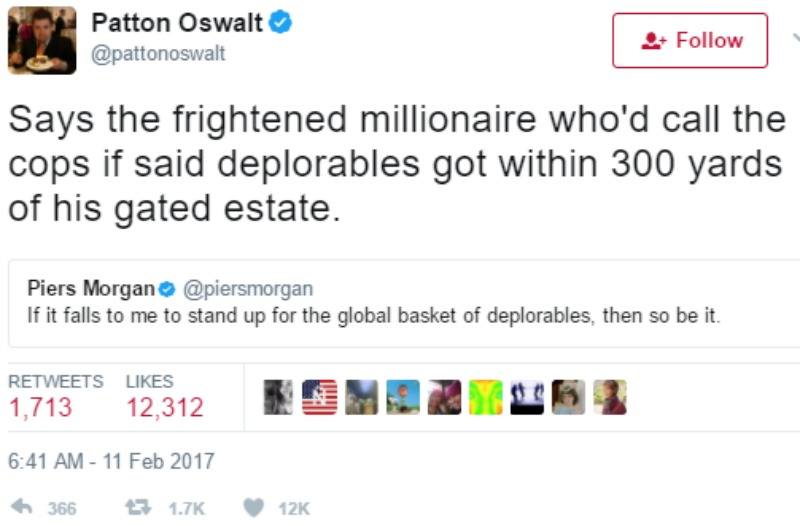 When Morgan said he was going to defend the "deplorables" who support Trump on Twitter, Patton Oswalt pointed out his hypocrisy.
This wasn't the only time Oswalt called out Morgan. When Morgan tweeted, "I'm planning a 'Men's March' to protest at the creeping global emasculation of my gender by rabid feminists. Who's with me?" the funny man responded, "Hey @piersmorgan, I'm at the #MensMarch. Am I at the right Arby's? No one's here. I'm in a "Bro-varies Not Ovaries" half-tee."
9. Susan Sarandon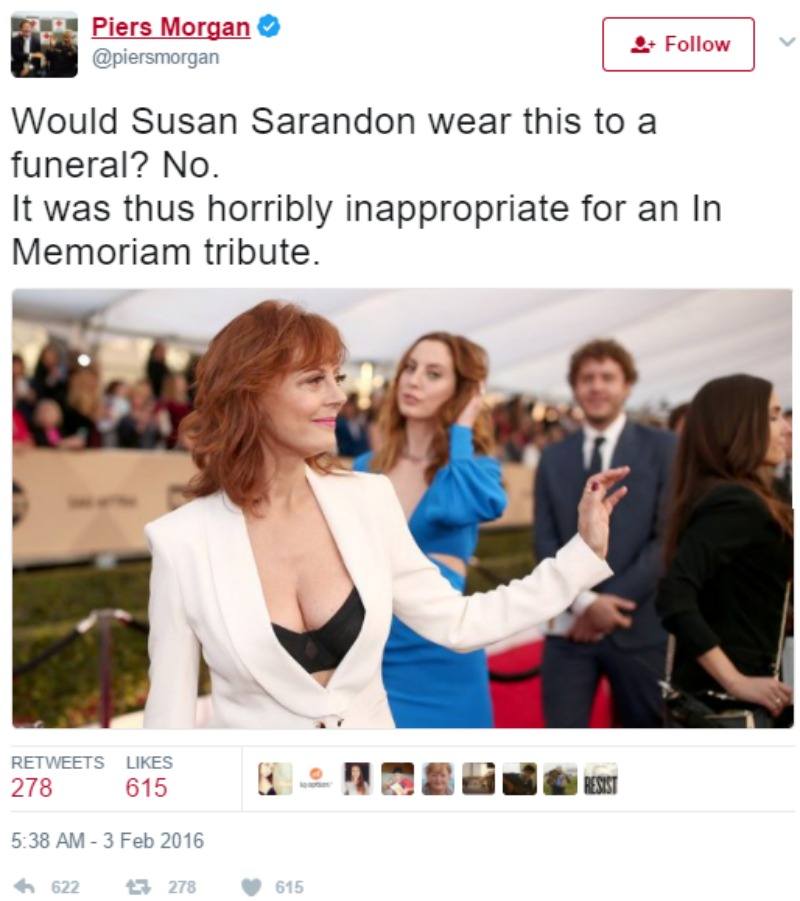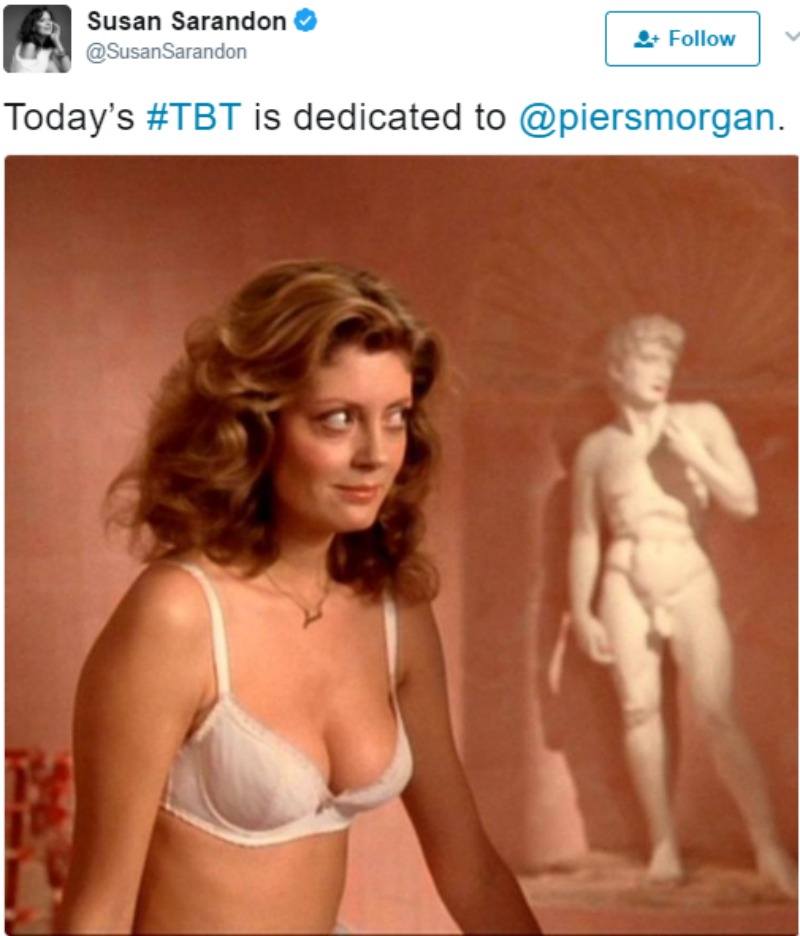 The actress made headlines for her outfit at the SAG Awards. She wore a black bra under a white blazer, and while her cleavage shocked many, and it seemed to outraged Morgan. When he tweeted about her outfit being inappropriate, she responded with a picture from The Rocky Horror Picture Show.

10. Larry King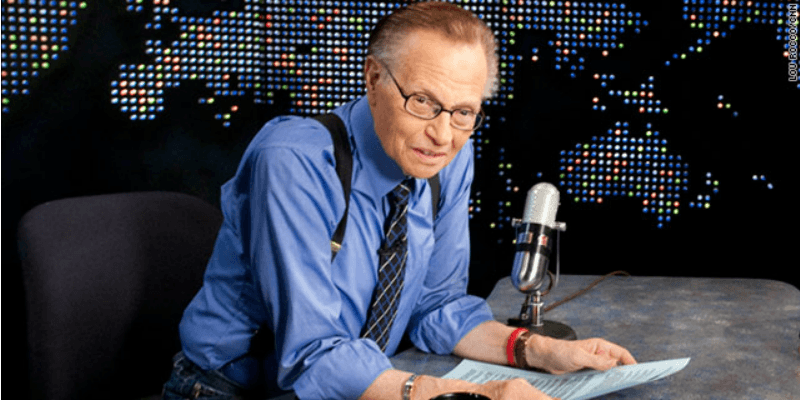 The two talk show hosts are very different and don't get along because of this. "I never gave opinions," King said on HuffPost Live. "Piers gives his opinions. The show is a lot about him as much as the guests… He's so different from me." He then continued, "It's not the quality that counts anymore. It's how loud did you yell, how vituperative can you be."
Morgan has also tweeted his own insults to Larry King.
11. Ewan McGregor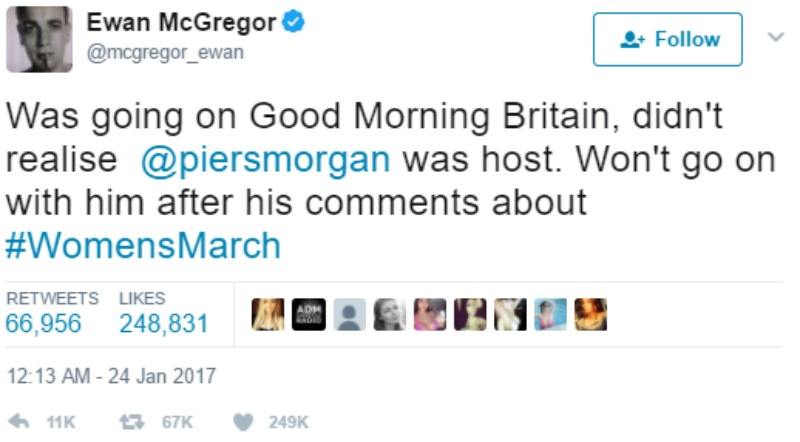 The Scottish actor was scheduled to do an interview with Morgan to promote T2 Trainspotting. However, when he found out who was interviewing him he decided to pull out and tweeted the reason why. Of course, Morgan responded with, "Sorry to hear that @mcgregor_ewan – you should be big enough to allow people different political opinions. You're just an actor after all."

12. Janet Mock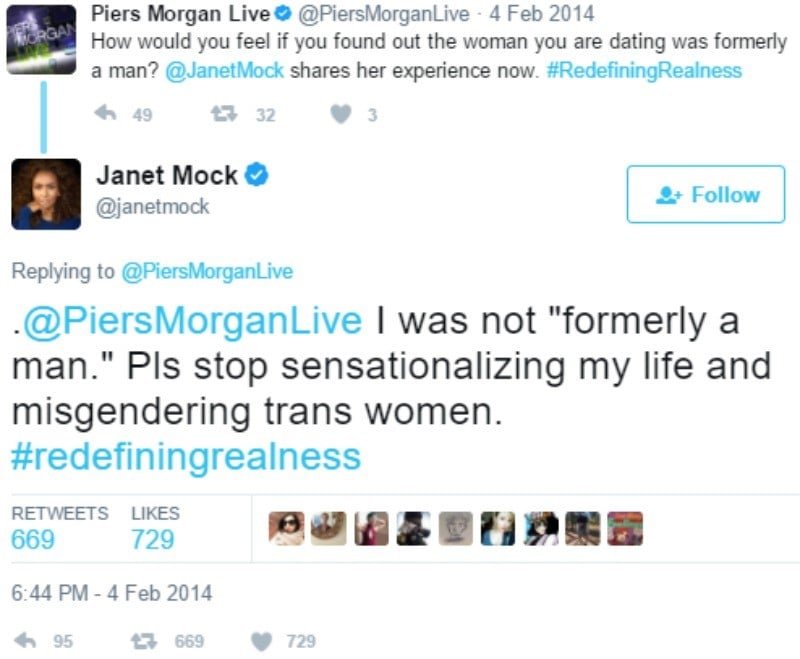 The transgender activist did an interview with Morgan, but it went sideways when he kept saying things like she "was a boy until 18" instead of focusing on the fact that she's a transgender woman. He also teased the interview on Twitter by saying, "How would you feel if you found out the woman you are dating was formerly a man? @JanetMock shares her experience now. #RedefiningRealness."
Mock called him out on Twitter telling him why his statement was incorrect.
Follow Nicole Weaver on Twitter @nikkibernice
Check out Entertainment Cheat Sheet on Facebook!