Kylie Jenner and 14 More Celebrities Who Rule Instagram
Thanks to Instagram, Twitter, and other social media platforms, fans can now get a behind-the-scenes look at the personal and professional lives of their favorite celebrities. But some Hollywood stars are better at sharing than others. Case in point? These famous names, from Kylie Jenner to Jennifer Lopez, are behind some of the most popular Instagram photos ever.
Below, check out 15 celebrities who rule Instagram:
1. Kylie Jenner
With 93 million followers on Instagram, it's no surprise that Jenner is behind some of the most popular pictures on the photo-sharing platform. An image of the young reality show star holding up her high school diploma used to be among the top 10 most-liked Instagram pictures of all time, with over 2.3 million likes.
In 2017, Jenner beat her own record by posting one of the most-buzzed-about photos from the Met Gala (despite the "no social media" policy at the event). The star-studded bathroom selfie (above) included her sisters Kendall Jenner and Kim Kardashian West, Oscar winner Brie Larson, model Lily Aldridge, and P. Diddy, among others. It earned over 3.3 million likes on Instagram.
2. 
Selena Gomez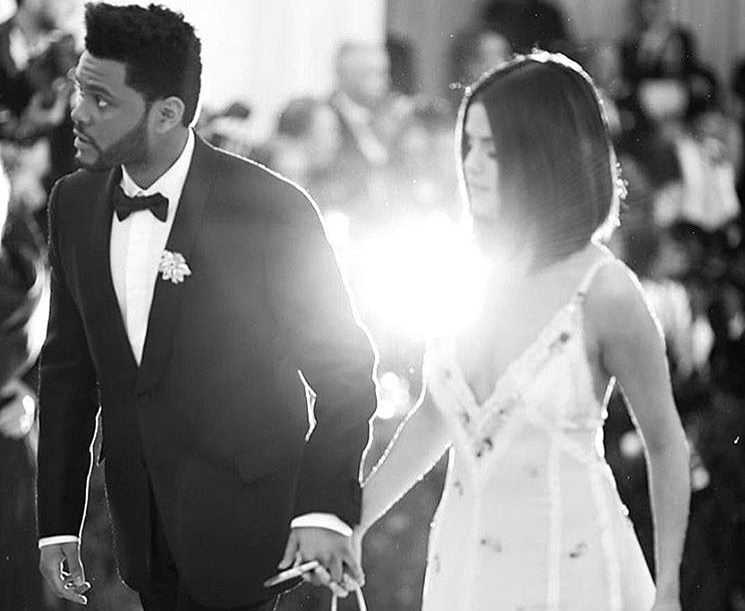 With more than 130 million followers, Selena Gomez is the most-followed person on Instagram — and she has the likes to show for it. The singer and actress was behind eight of the top 10 most-liked Instagram photos of 2016. The most popular of the bunch? A photo of Gomez drinking from a Coke bottle that featured her own lyrics has earned 6.6 million likes.
And she topped that in 2017. The black-and-white image above, which shows Gomez and then-boyfriend The Weeknd ascending the stairs at the 2017 Met Gala, has earned over 7 million likes since she posted it on May 2. 
3. 
Beyoncé
Beyoncé holds the record for the most popular picture in Instagram history with this pregnancy photo, in which she announced that she and Jay-Z were expecting twins Sir and Rumi. "We are incredibly grateful that our family will be growing by two, and we thank you for your well wishes," the pop star captioned the image, which shows her cradling her growing belly in front of a wall of flowers.
The photo earned more than 7.8 million likes in under 24 hours when Beyoncé posted it in February 2017. It has since gone to garner even more attention, amassing more than 11 million likes. The overwhelming attention should come as no surprise, given that Beyoncé's account has more than 110 million followers.
4. 

Ariana Grande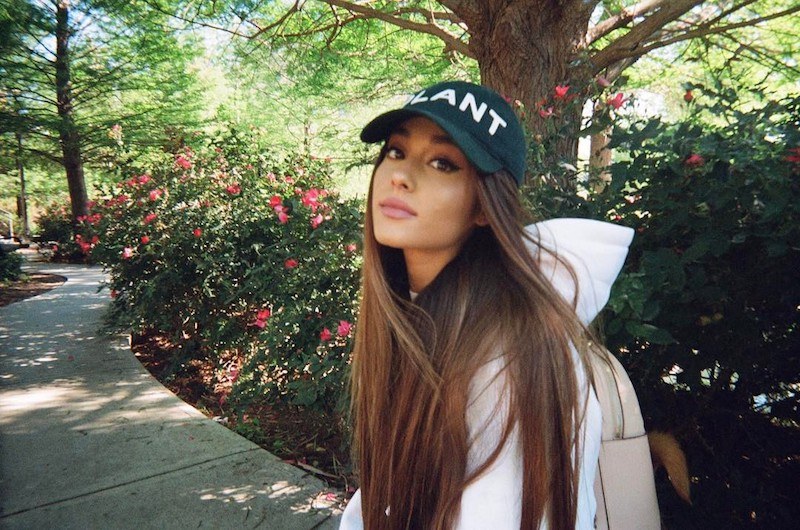 Given her huge and loyal fanbase, it's not hard to see why Ariana Grande has one of the most-followed celebrity accounts on Instagram. The singer's profile has more than 117 million followers, topping the likes of Taylor Swift and Justin Bieber.
She is also behind some hugely popular photos, including the one above in which she sits on a bench in a baseball cap in front of some flowers. The image — which was posted without a caption — has earned over 3.2 million likes.
5. 

Cristiano Ronaldo
As one of the most revered athletes in the world, Cristiano Ronaldo rivals some of Hollywood's biggest stars in popularity. The internationally-known soccer player currently has over 119 million followers on Instagram, making him the most popular professional athlete on the photo-sharing platform by far and one of the top 10 most-followed accounts overall.
Though there are plenty of widely-liked pictures on his account, this one of him and girlfriend Georgina Rodríguez seems to be a favorite among fans, with over 5 million likes.
6. Taylor Swift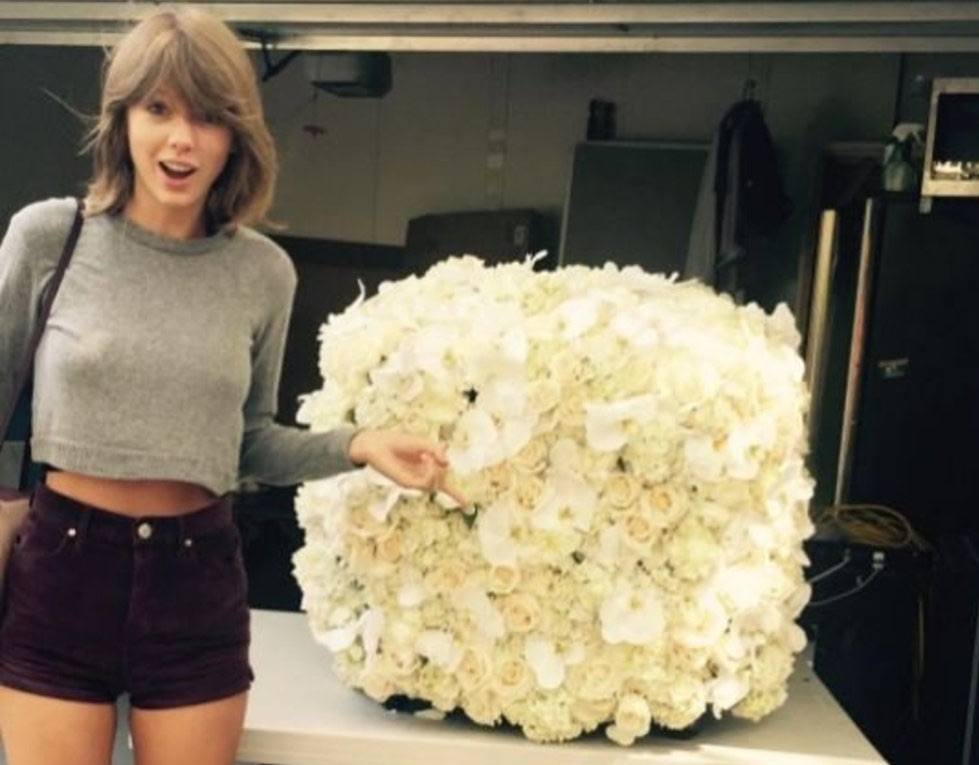 Taylor Swift has no shortage of Instagram fans, with over 100 million people following her account. This photo of the singer standing next to a cube of white flowers, sent to her by Kanye West after the 2015 Video Music Awards, was one of the most popular snaps on the singer's feed.
However, in August 2017, the singer wiped all of her accounts clean and started over leading up to the release of her album Reputation. So all evidence of the old Taylor is gone. 
7. Kim Kardashian
Though she took some time off of social media in 2016, the most famous Kardashian sister still holds one of the most popular accounts on Instagram, with more than 106 million followers. Among her most popular pictures? This wedding photo of her and husband Kanye West broke a record for earning millions of likes.
Today, the picture — which Kardashian simply captioned with the diamond ring emoji — has over 2.4 million likes on Instagram. 
8. 

Dwayne 'The Rock' Johnson
Only a few male names have managed to crack the top 10 most popular accounts on Instagram and The Rock is one of them. The popular actor has won over 99 million followers with a variety of photos, featuring his famous friends, his intense workouts, and his on-set shenanigans.
But it's his family pictures that have proven to be especially popular. This photo of him and his daughter, which he posted in honor of Memorial Day 2017, earned over 2.2 million likes. "Boundless love and respect to the brave men and women who sacrificed it all for their country and family, so I can love and protect my own," he wrote in the caption.
9. Justin Bieber
In May 2016, Justin Bieber broke Kendall Jenner's record for the most-liked picture on Instagram with this nostalgic photo of him and ex-girlfriend Gomez kissing. "Feels," the singer wrote in the caption.
Though the record has long since been overtaken, the picture remains one of the most popular on Instagram, with more than 3.7 million likes. Bieber also holds one of the biggest celebrity accounts on Instagram, with more than 96 million followers.
10. 

Nicki Minaj
Nicki Minaj has her fair share of fans both on and off social media. With more than 85 million followers, it's no surprise the singer has delivered some hugely popular pictures on Instagram. One such example? This throwback photo of her walking the MTV Video Music Awards carpet earned more than 1 million likes.
11. Kendall Jenner
Kendall Jenner is among one of the most-followed celebrities on Instagram, with more than 86 million users flocking to her account to comment on and like her pictures. Case in point? She previously held the record for the most popular Instagram photo of all time for almost a year, thanks to this image from 2015.
The photo shows the model lying on the floor, with her hair arranged in heart shapes around her face. It currently holds more than 3.6 million likes. 
12. Miley Cyrus
Miley Cyrus has shared plenty of memorable photos with her fans on Instagram. One of the most popular photos among her more than 73 million followers? The one above, in which Miley poses among some greenery in a blush pink dress. The photo, which was posted in promotion of her 2017 single "Malibu," garnered an impressive 1.95 million likes.
13. Jennifer Lopez
Given her seemingly endless popularity, it's probably not a shock that Jennifer Lopez also has some of the most well-liked Instagram photos on her account. In addition to having more than 72 million followers on Instagram, she's delivered several standout pictures — including that headline-making image of her and Drake cuddling in a studio. The now infamous December 2016 photo fueled rumors of their relationship and currently has over 1.4 million likes on Instagram.
But that isn't the only picture of her and a famous beau to get a lot of love on Instagram. The above photo of her and boyfriend Alex Rodriguez, making their red carpet debut as a couple at the 2017 Met Gala, has over 1 million likes.
14. Khloé Kardashian
Like her sisters, Khloé Kardashian has an enormous and dedicated fanbase on Instagram. The reality TV star boasts more than 72 million followers on the social media site. This photo of a polaroid, capturing her and boyfriend Tristan Thompson, is one of her most well-liked images, earning 1.5 million likes.
15. Katy Perry
Katy Perry joins the long list of pop stars with a hugely popular Instagram account. The singer, who currently boasts more than 68 million followers on her account, has delivered some of the platform's most prominent photos.
Case in point? The image above, of Perry in a pink leotard and long blond braids, has earned 1.2 million likes. In the caption, the singer joked that she was taking inspiration from some of the other famous names on this list, writing, "Katy Kardashian."
Additional reporting by Becca Bleznak.