20 Celebrities Who Spoke out Against the Muslim Ban
President Donald Trump signed an executive order on January 27, 2017 barring Syrian refugees from entering the United States, suspending all refugee admissions, and blocking citizens of seven Muslim-majority countries from entering the U.S. for 90 days. However, a federal judge temporarily blocked the ban along with the deportation of valid visa holders, according to CNN.
During and after these events, many celebrities have spoken out against the Muslim ban. Many of these celebrities have also previously spoken out against Donald Trump himself. So what did they have to say? Here's how these 20 celebrities spoke out against the Muslim ban.
1. Mahershala Ali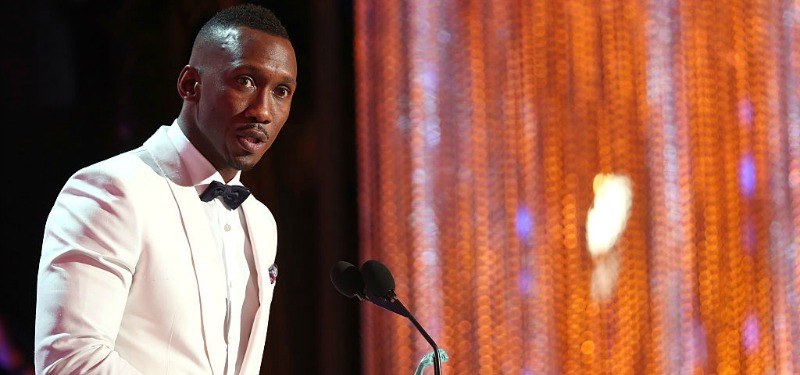 The Moonlight actor won a SAG award for outstanding performance by a male in a supporting role, and he used his acceptance speech as an opportunity to speak about his experience being a Muslim and what the ban means to him.
Mahershala Ali of @moonlightmov #sagawards pic.twitter.com/q9txL6fW8R

— SAG Awards® (@SAGawards) January 30, 2017
I think what I've learned from working on Moonlight is we see what happens when you persecute people. They fold into themselves, and what I was so grateful about in having the opportunity to play Juan was playing a gentleman. I saw a young man folding into himself as a result of the persecution of his community and taking that opportunity to uplift him and tell him that he mattered, that he was okay, and accept him. And I hope that we do a better job of that. When we kind of get caught up in the minutiae, the details that make us all different, I think there's two ways of seeing that. There's an opportunity to see the texture of that person, the characteristics that make them unique, and then there's an opportunity to go to war about it and say, 'That that person's different from me,' and 'I don't like you. So, let's battle.' My mother is an ordain minister. I'm a Muslim. She didn't do backflips when I called her to tell her I converted 17 years ago. But I tell you now, we put things to the side, and I'm able to see her. She's able to see me. We love each other. The love has grown, and that stuff is minutiae. It's not that important.
2. J.K. Rowling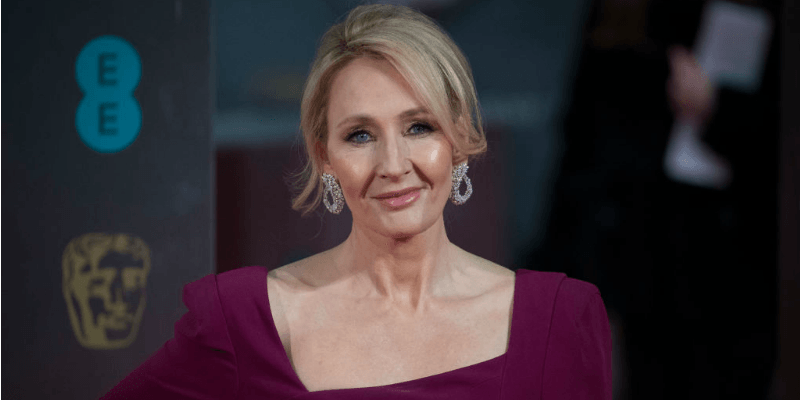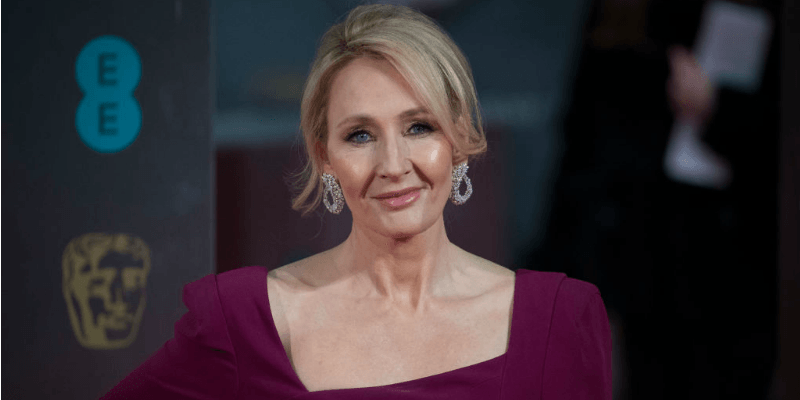 When I worked for Amnesty International in the 80s, these were the kind of stories told by political prisoners in dictatorships. https://t.co/y7CXLQK1n0

— J.K. Rowling (@jk_rowling) January 28, 2017
The author is very outspoken when it comes to politics, and has even compared her books to current events. But this time, she was very serious in responding to the Muslim Ban. The author brought up some similarities between the effects of the ban and the effects of dictatorship.

3. Kumail Nanjiani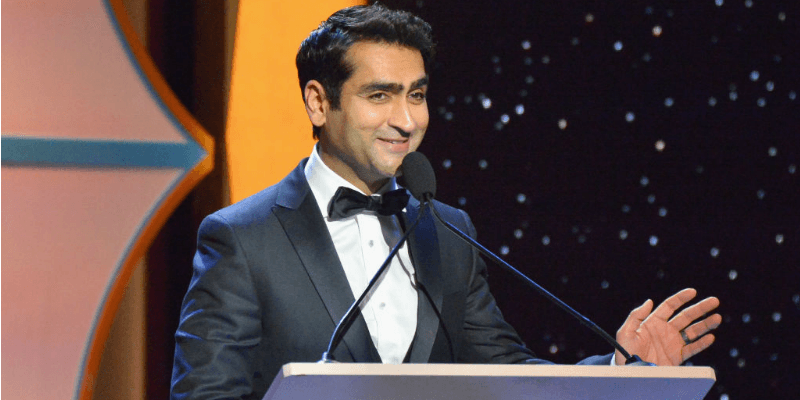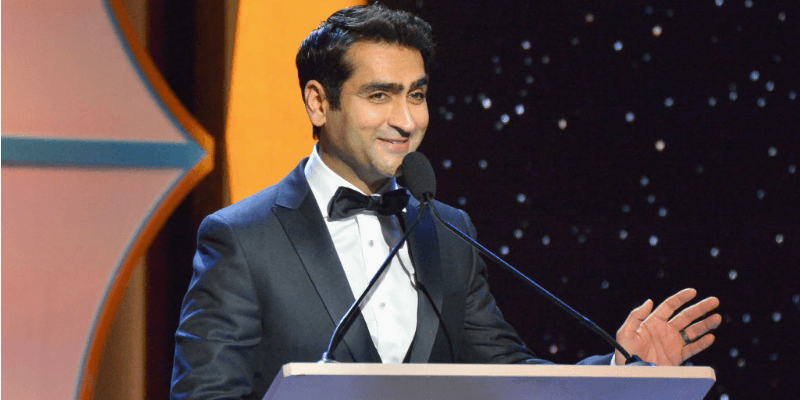 To anti-immigration people: Immigrants fought to come here. Immigrants had to prove that they belong here. You were just born here.

— Kumail Nanjiani (@kumailn) January 29, 2017
The Silicon Valley actor is very funny, but he got serious in response to the ban. He talked about the hard work it takes to immigrate to a new country. He also tweeted at Vice President Pence, House Speaker Paul Ryan, and Senator John McCain, saying that they should be "ashamed of yourselves."

4. Ashton Kutcher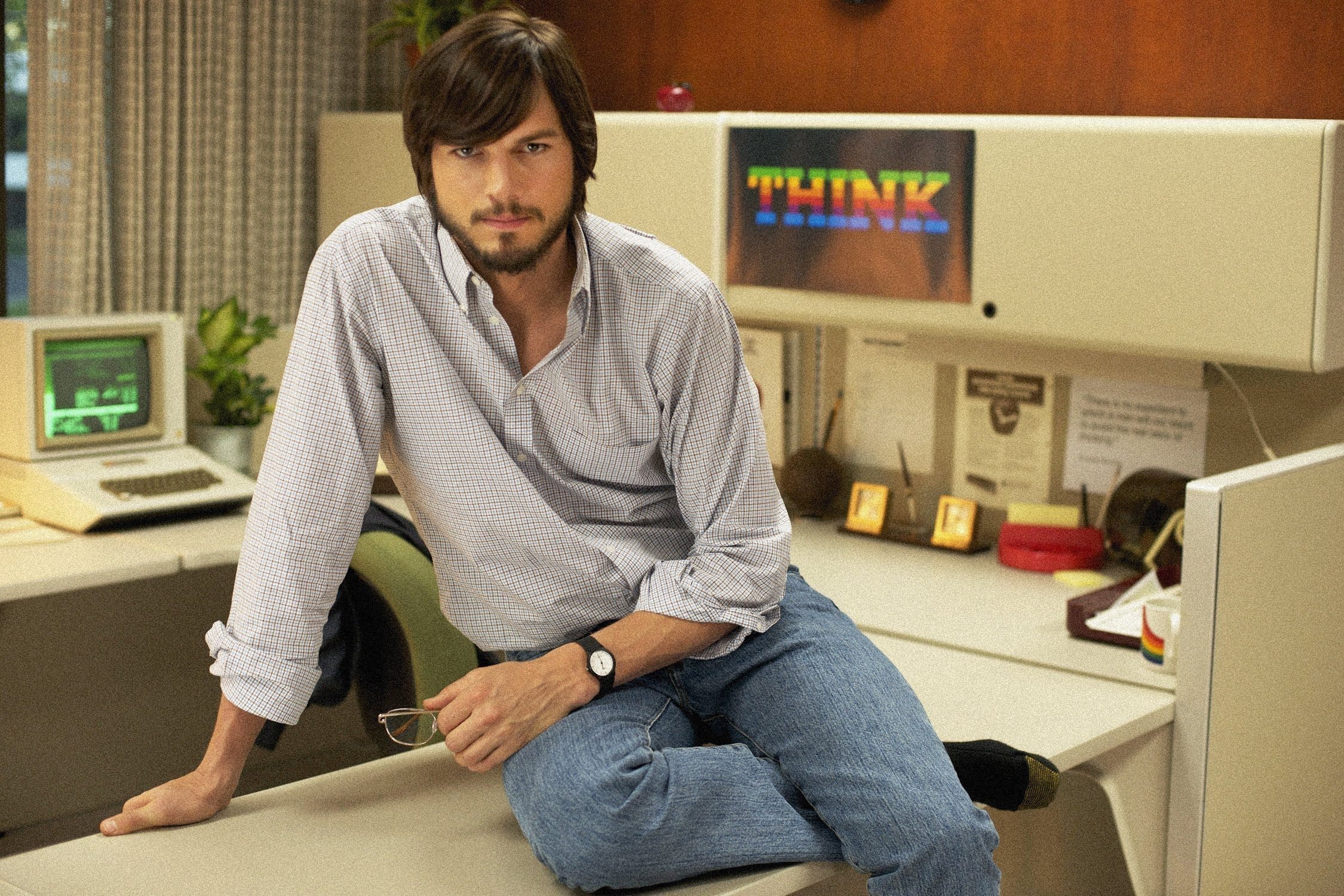 My wife came to this country on a refugee visa in the middle of the Cold War! My blood is boiling right now!

— ashton kutcher (@aplusk) January 29, 2017
We have never been a nation built on fear. Compassion that is the root ethic of America. Our differences are fundamental 2R sustainability.

— ashton kutcher (@aplusk) January 29, 2017
Mila Kunis and Ashton Kutcher tend to keep a low profile. But this ban really got Kutcher to open up. The Ranch star talked a little about the ban at the SAG Awards, but he went into more detail about his wife, Mila Kunis' history on Twitter.

5. David Harbour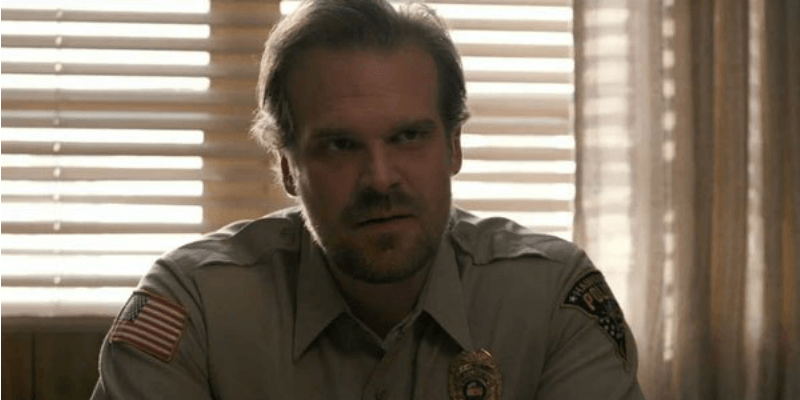 What a passionate speech by @DavidKHarbour on behalf of the @Stranger_Things ensemble! #StrangerThings #sagawards pic.twitter.com/EhTMXNsOTx

— SAG Awards® (@SAGawards) January 30, 2017
The cast of Stranger Things won a SAG award for outstanding performance by an ensemble in a drama series. Actor, David Harbour took the reins by giving a battle cry against the ban. He said:
We will shelter freaks and outcasts, those who have no home. We will get past the lies. We will hunt monsters and when we are at a loss amidst the hypocrisy and the casual violence of certain individuals and institutions, we will, as per Chief Jim Hopper, punch some people in the face when they seek to destroy the weak and the disenfranchised and the marginalized.

6. Jennifer Lawrence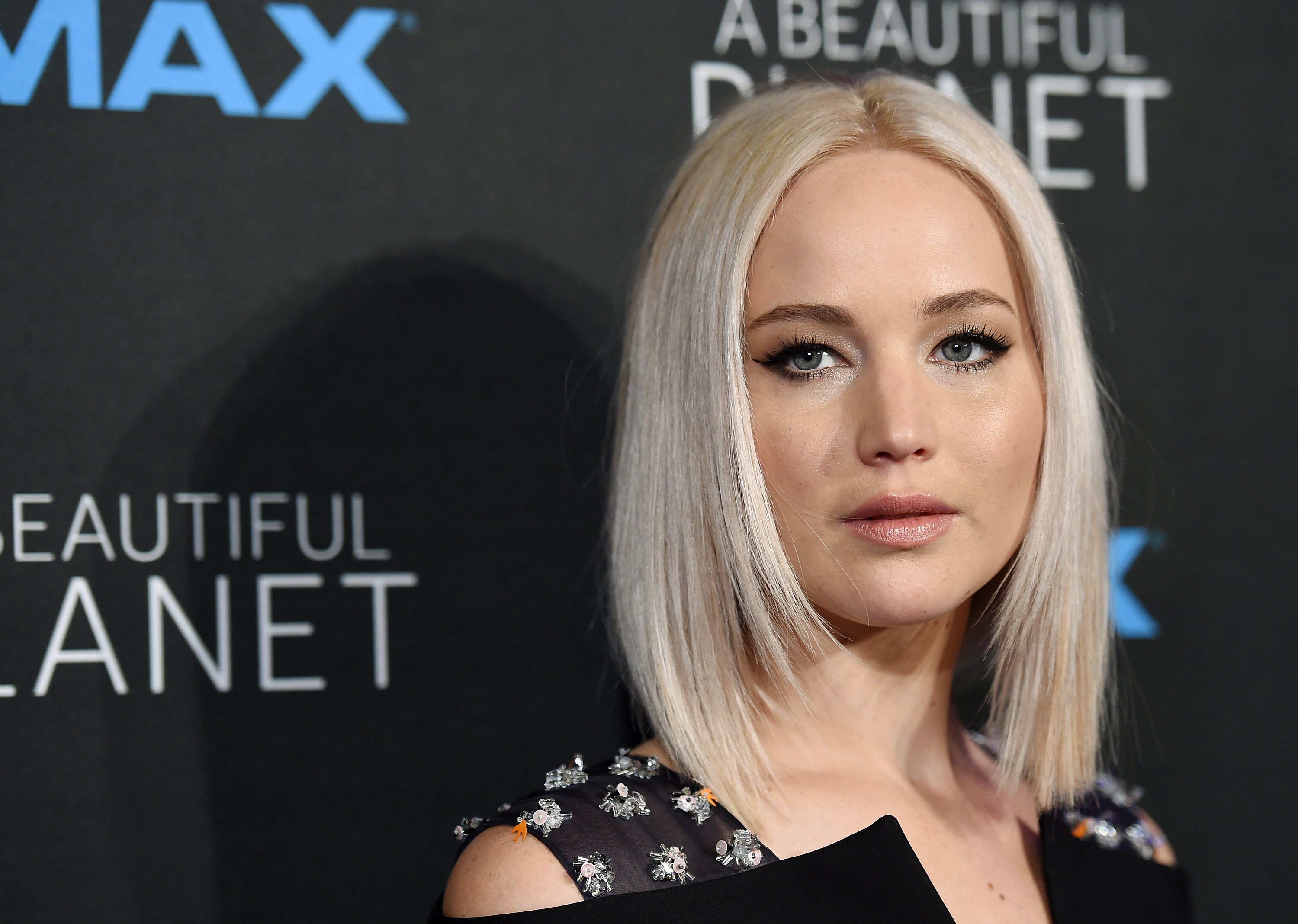 The Oscar winner is usually seen being silly and likes to keeps it light. She also stays away from social media. However, the ban pushed her to speak out. The actress gave a powerful statement to show solidarity on Facebook.

7. Rihanna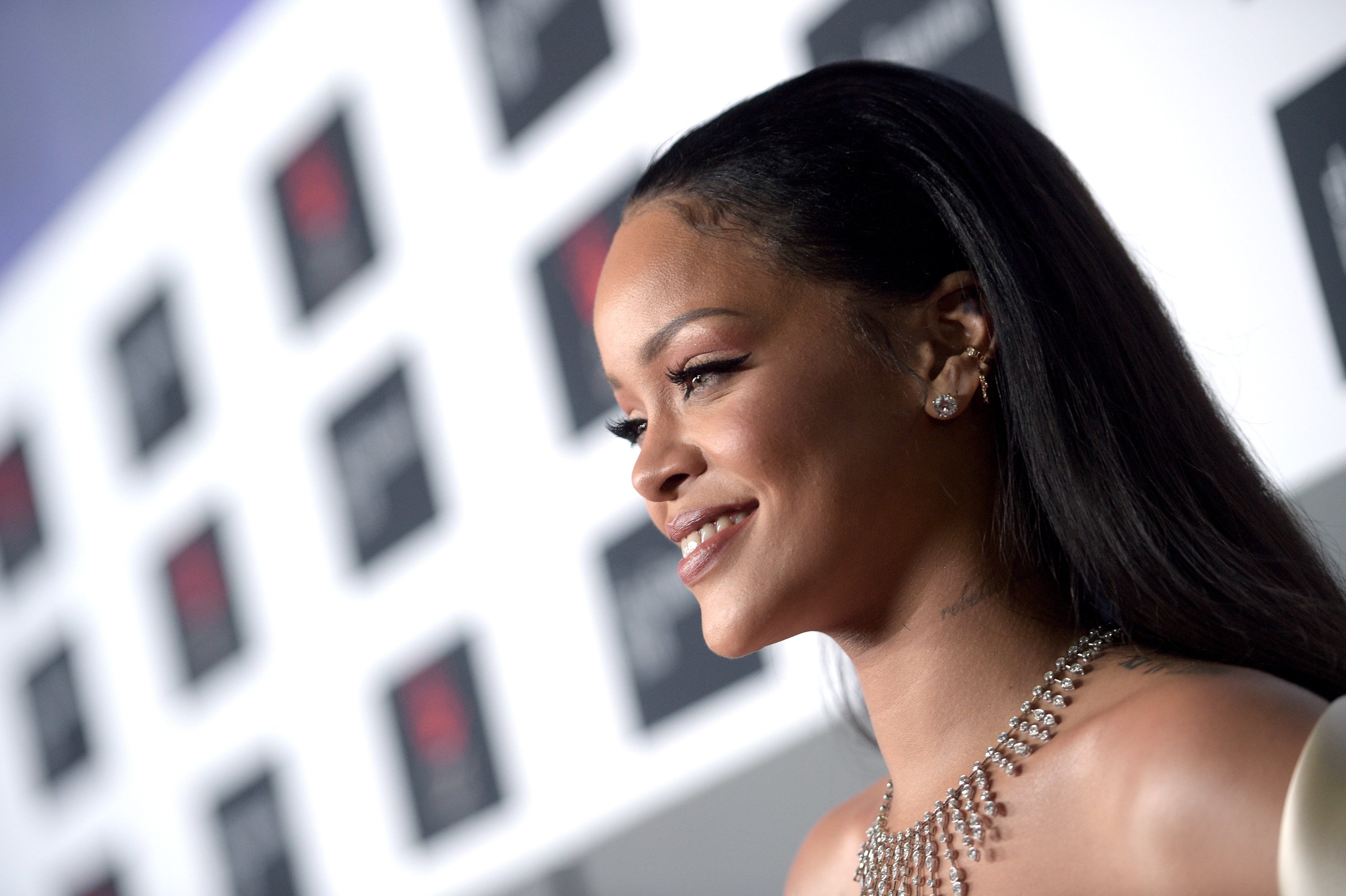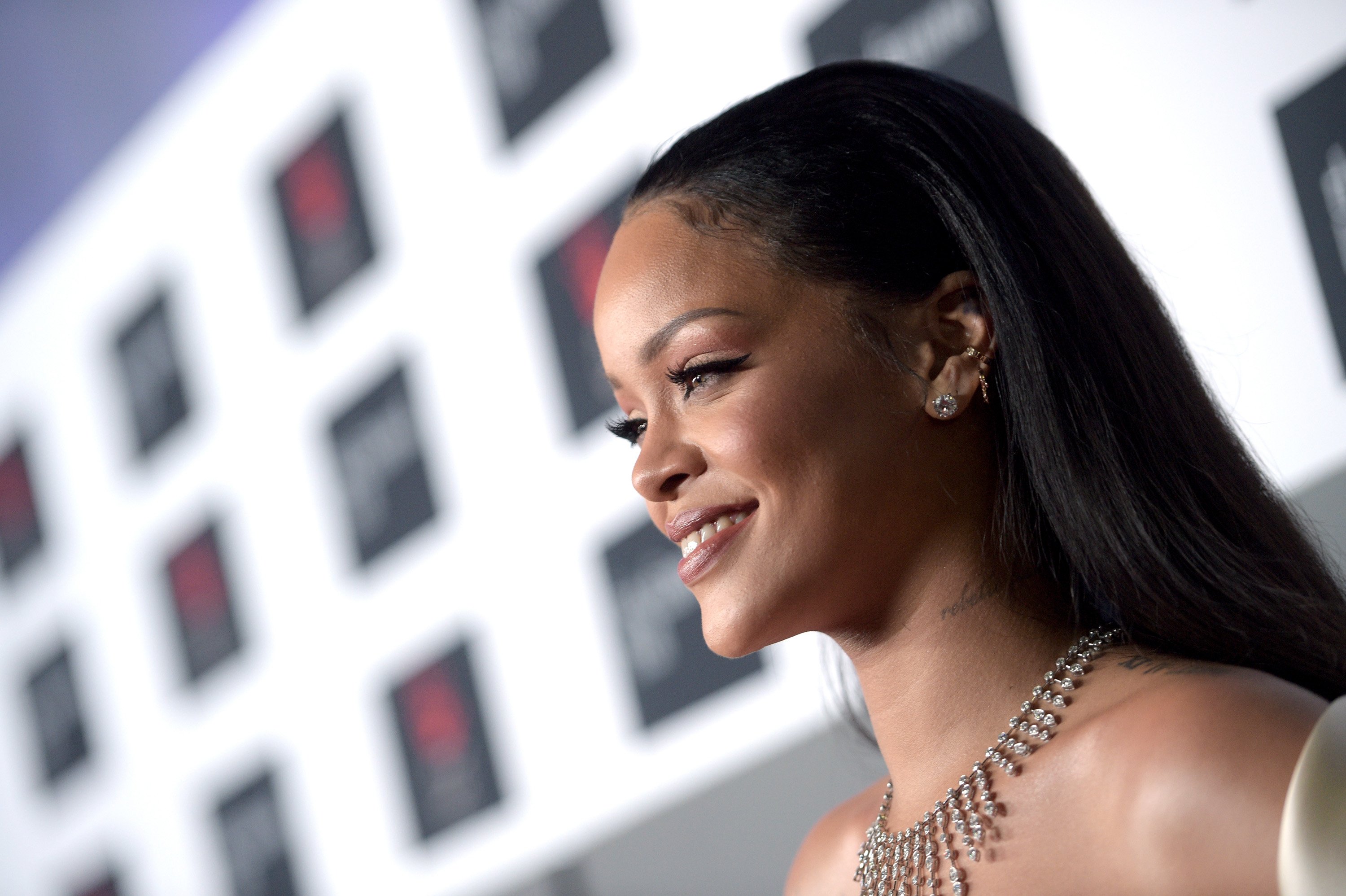 Disgusted! The news is devastating! America is being ruined right before our eyes! What an immoral pig you have to be to implement such BS!!

— Rihanna (@rihanna) January 29, 2017
The pop star doesn't hold back when it comes to haters on Twitter. So it's no surprise that she didn't mince words when talking about Donald Trump. She tweeted her thoughts on the ban and said that it will ruin our country.

8. Alyssa Milano
🚨@realDonaldTrump, you denounced everything Obama ever did and now you're using an (entirely different) Obama policy to support your agenda. https://t.co/qc3J1ngc0o

— Alyssa Milano (@Alyssa_Milano) January 30, 2017
My best friend, Alaa Mohammad Khaled, is Muslim. His parents were Palestinian refugees. His brother is DJ Khaled. #RefugeesWelcome pic.twitter.com/qXOapgvvF7

— Alyssa Milano (@Alyssa_Milano) January 28, 2017
The actress tends to keep a low profile, but she does speak out about topics she finds important. One is women being allowed to breastfeed without shame and now, she has shown support for her good friend and all refugee families, by tweeting her opinion on the matter.

9. Ellen DeGeneres
For me, America is great because of all the people who came here. Not in spite of them. #NoBan

— Ellen DeGeneres (@TheEllenShow) January 29, 2017
Although the talk show host typically keeps things light, she did respond to the Muslim ban on Twitter. She gave a simple and sweet statement about what she thinks America is.

10. Barbra Streisand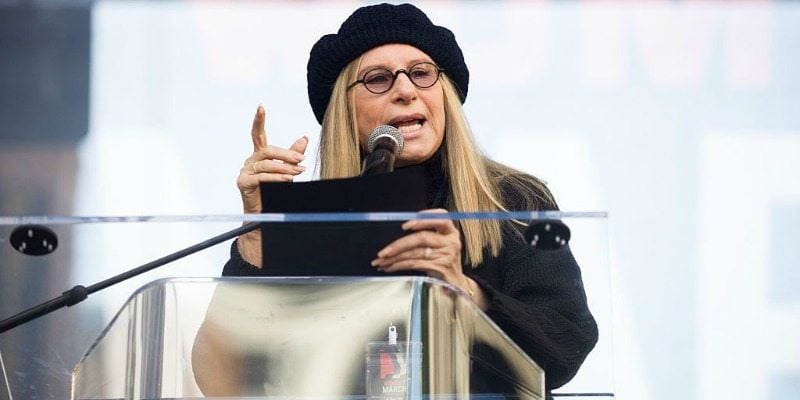 I absolutely oppose this Muslim ban. But why does it effect only countries with no Trump properties? Follow the $.

— Barbra Streisand (@BarbraStreisand) January 29, 2017
The icon made it clear where she stands on the Muslim ban on Twitter, but she didn't stop there. She also wrote an essay for The Huffington Post about Donald Trump. "He has demonstrated he is both dangerous and unfit for office," she wrote. She also called him, "clueless, reckless, graceless, mindless and heartless."

11. Yara Shahidi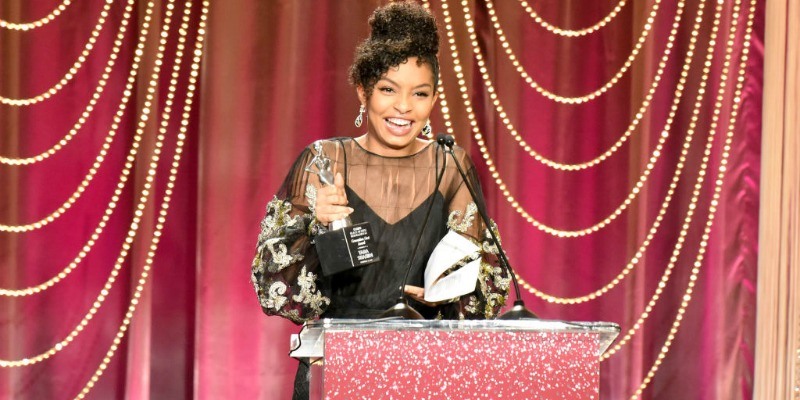 Sincerely,
A proud Black Iranian #NoMuslimBan #NoWall #WeTooAreAmerica (excuse any typos) pic.twitter.com/uqy2IostyS

— Yara shahidi (@YaraShahidi) January 28, 2017
The young, Black-ish star gave a powerful statement about her identity and her family. Since her mother is a black woman and her father is Iranian this ban could have kept them apart years ago. Hers is definitely a touching and thoughtful message.

12. George Takei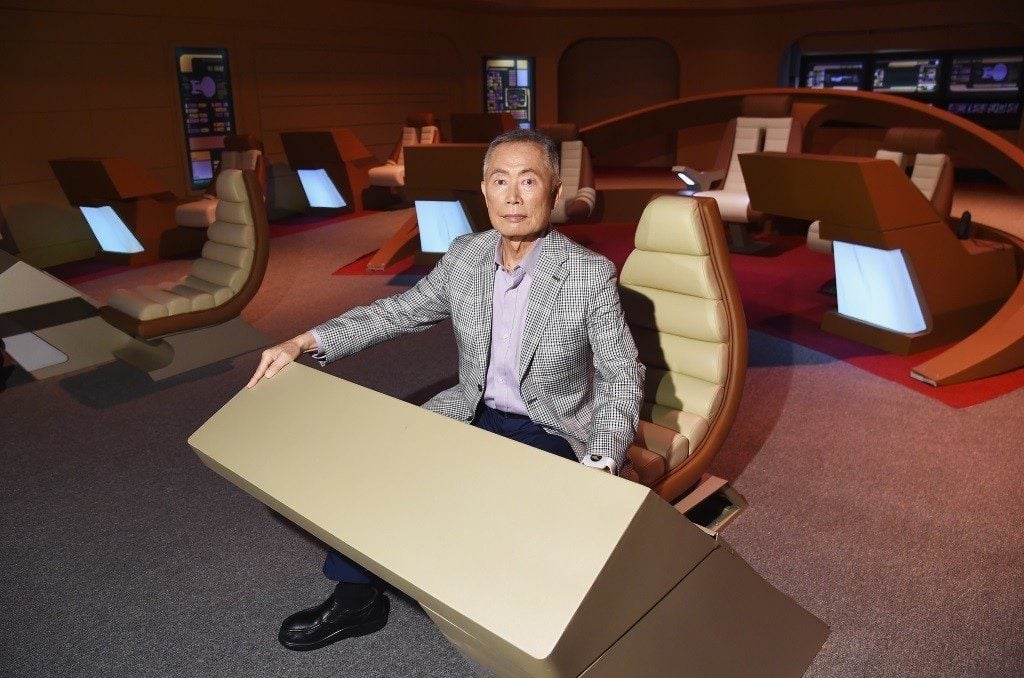 Let's be clear: The Muslim majority countries EXEMPTED from the travel ban sent the 9/11 terrorists. This is about politics, not security.

— George Takei (@GeorgeTakei) January 30, 2017
The actor and activist often talks publicly about LGBTQ rights, but he also took time to support those who would be effected by the Muslim ban. He pointed out a very interesting part of the executive order on Twitter. It doesn't look like he believes President Trump is doing this for the reason he claims.

13. Seth Rogen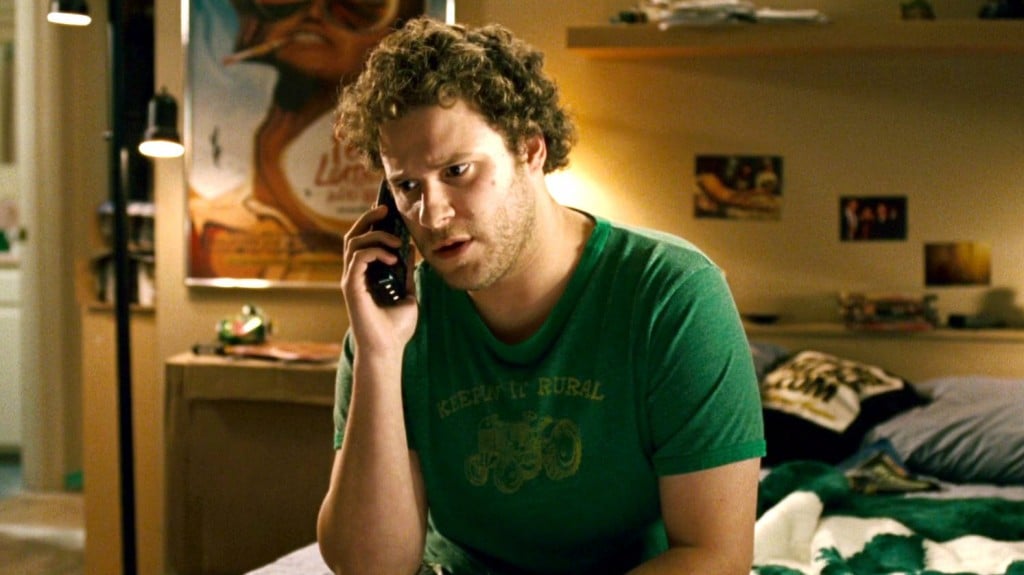 One of the many reasons I am opposed to the #MuslimBan is because my family immigrated to North America (🇨🇦🇺🇸) after fleeing wars in Russia.

— Seth Rogen (@Sethrogen) January 29, 2017
One of the other reasons I oppose the #MuslimBan is that I feel it's prime effect is persecuting innocent refugees.

— Seth Rogen (@Sethrogen) January 29, 2017
Once again, the order got another lighthearted celebrity to open up. Seth Rogen got very serious about the Muslim ban and talked about his own family's history. He also helped spread the word about a protest against the ban in Los Angeles with a tweet.

14. Simon Helberg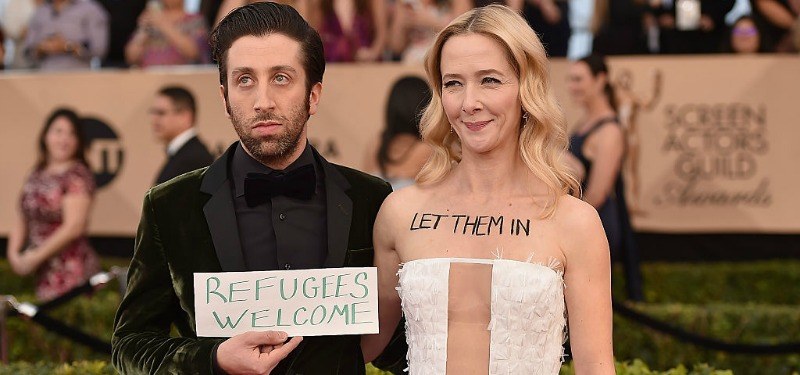 The award show season gave many celebrities the opportunity to express their thoughts on current events. The Big Bang Theory actor made a big statement at the SAG Awards by holding a protest sign along with his wife, Jocelyn Towne, who had the words "Let them in" written on her chest.
15. Mindy Kaling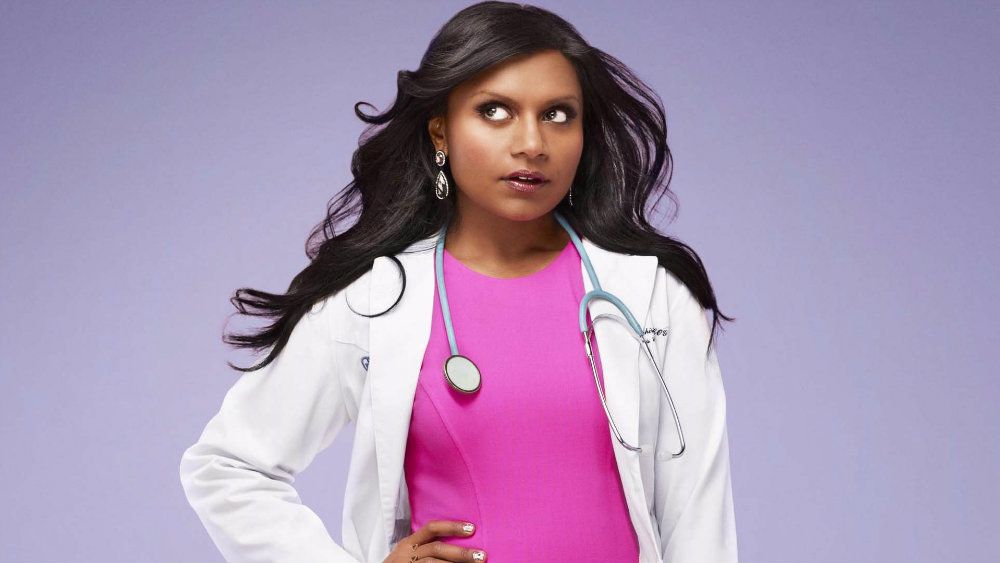 I'm the child of people with green cards. It's a simple twist of fate that I'm of Indian Hindu descent and not something else (1)

— Mindy Kaling (@mindykaling) January 30, 2017
Please let's not extinguish the hopes of people who love this country & want to work for it & help its citizens. & teach that to their kids

— Mindy Kaling (@mindykaling) January 30, 2017
The funny actress gave a heartwarming plea against the Muslim ban. Like many other celebrities, she did this by talking about her own parents and their history.

16. Bruce Springsteen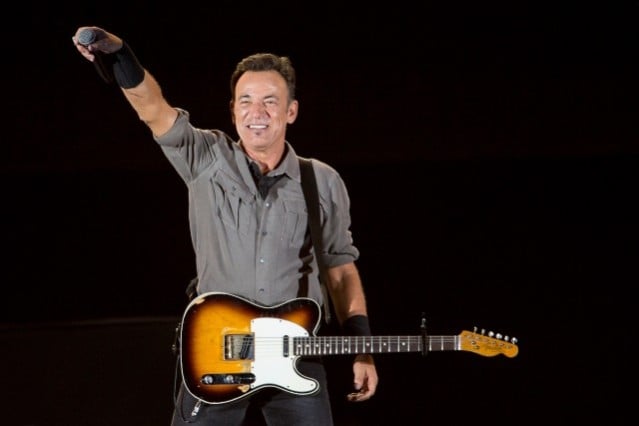 The singer was performing in Australia when he spoke out against the ban. He called the executive order "anti-democratic and fundamentally un-American" according to Vulture, he then added, "America is a nation of immigrants."
17. Dev Patel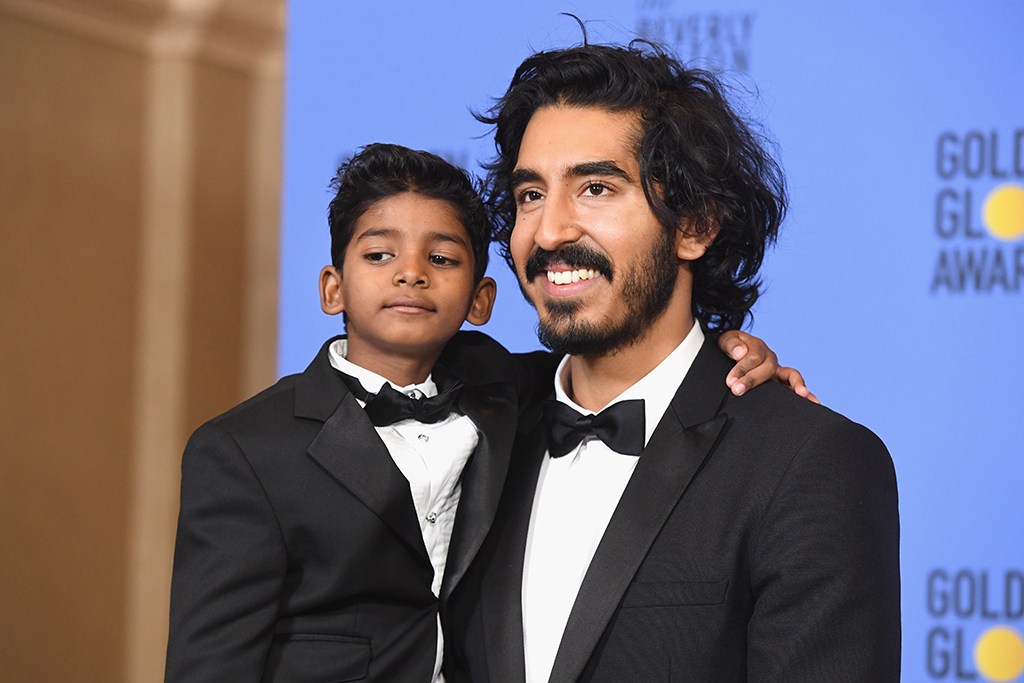 The Lion star was one of the many celebrities who told USA Today about how he felt about the ban:
I thought I had walked into a nightmare. Of course, the first thought in my head was women and children turning up to these shores with so much hope in their eyes being turned away. I can't imagine the pain they must be going through and for those families that are being separated, that voice of negativity and divisiveness at times like this. It's terrifying. What gives me hope is all the people out there, those courageous human beings in the streets, in the airports, trying to spread positivity at least.

18. Julia Louis-Dreyfus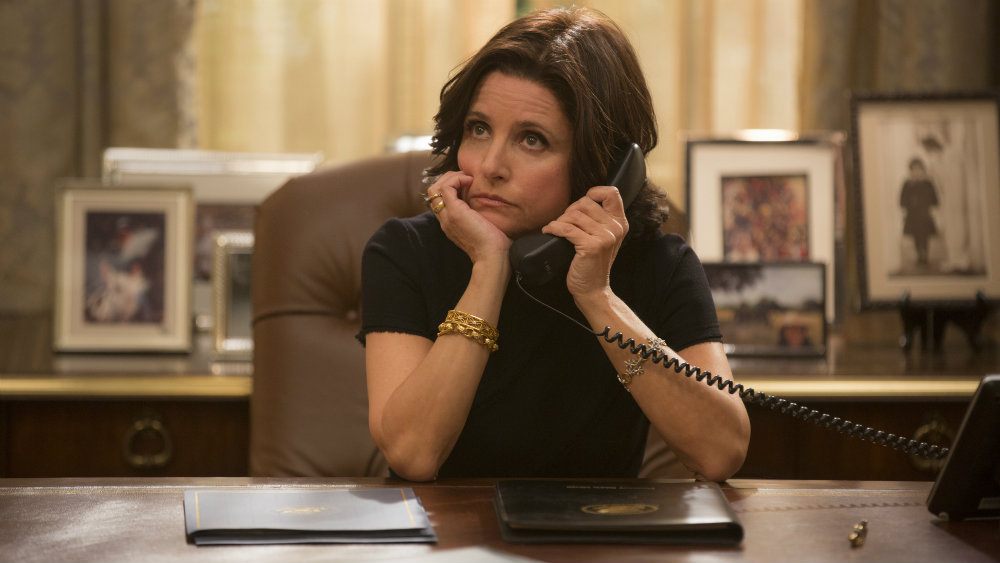 Julia Louis-Dreyfus jokes by echoing Trump: "This award is legitimate and I won." #SAGawards pic.twitter.com/mQB9nhPDuJ

— Hollywood Reporter (@THR) January 30, 2017
The actress also used her SAG acceptance speech as an opportunity to speak out. "I want you all to know that I am the daughter of an immigrant," she said. "My father fled religious persecution in Nazi-occupied France. And I'm an American patriot and I love this country. And because I love this country, I am horrified by its blemishes and this immigrant ban is a blemish and it's un-American."
19. Chelsea Handler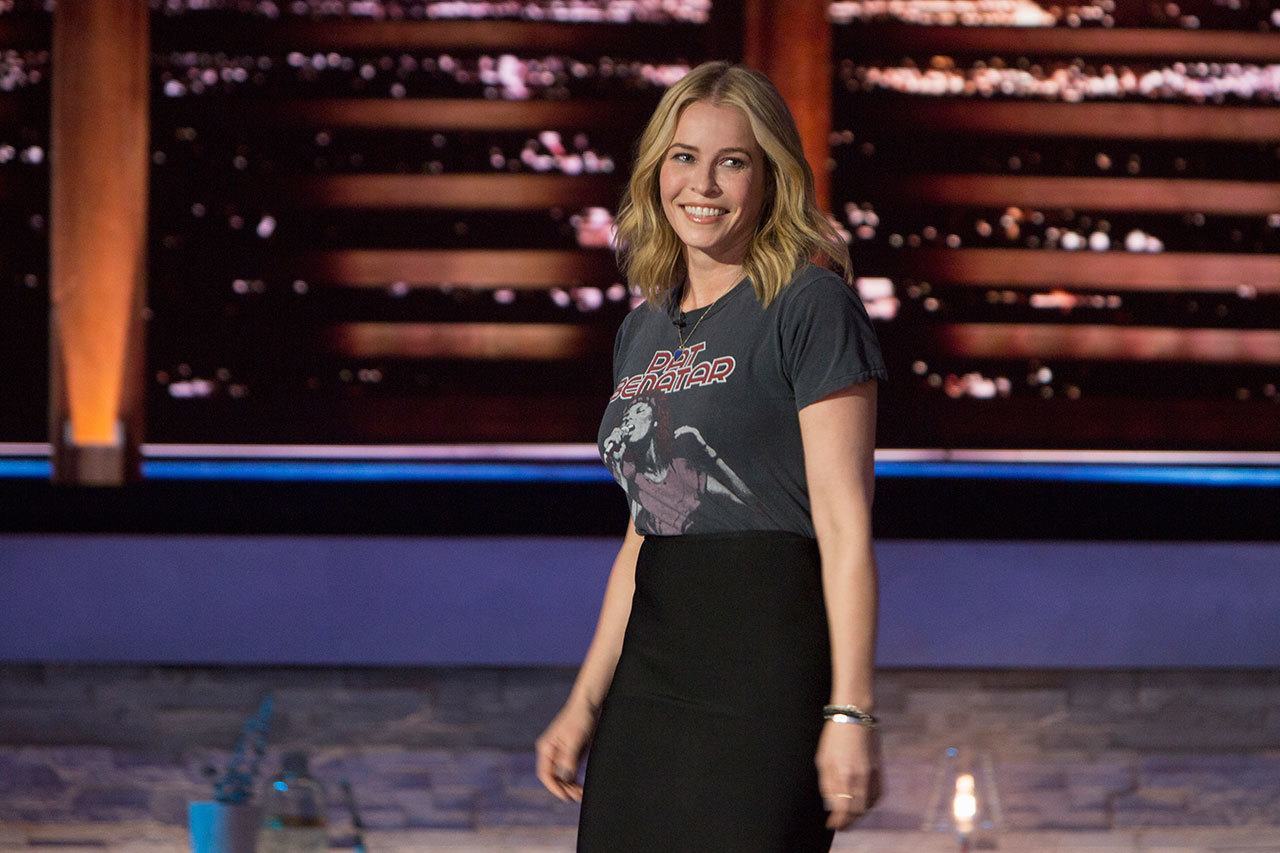 Not one countries banned from entering the US has been involved in a terrorist act in the UNITED STATES since 1975.

— Chelsea Handler (@chelseahandler) January 30, 2017
The talk show host pointed out something that all the banned countries have in common on Twitter. She has also been fighting back against Trump in interesting ways, like shopping with her friends at Nordstom, the department store that announced it would stop carrying Ivanka Trump's clothing line.

20. Taylor Schilling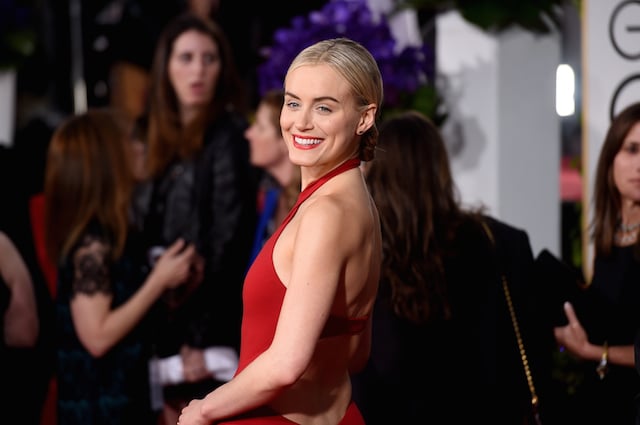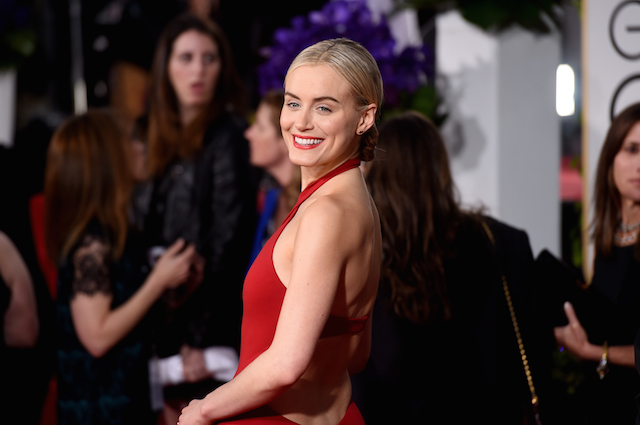 Taylor Schilling celebrating diversity on @OITNB 👏👏👏 #SAGAwards pic.twitter.com/YmFfmCEiJ6

— People Magazine (@people) January 30, 2017
The cast of Orange Is the New Black won a SAG Award, and in her speech, the lead actress pointed out the diversity of the cast.
We stand here representing a diverse group of people. Representing generations of families who have sought a better life here from places like Nigeria, the Dominican Republic, Puerto Rico, Colombia, Ireland. We know that it's going to be up to us and all of you to keep telling stories that show what unites us is stronger than the forces that seek to divide us.
Follow Nicole Weaver on Twitter @nikkibernice
Check out Entertainment Cheat Sheet on Facebook!