15 Celebrities With Real Tattoos from Their Roles and Movies
After working on a movie for months — or in some cases, years — it's no wonder actors get attached to a few of their favorite roles. Many famous folks take memorabilia from the set to hold on to for life. But some others have more permanent ideas on how they want to remember their films or TV shows.
Whether they got a tattoo by themselves to commemorate their role or managed to rally the entire cast, there are plenty of celebrities who've gotten inked in memory of their experience. Here are the famous folks with celebratory tattoos, including one celeb who got up to 12 tattoos from one movie (No. 9).
1. Selena Gomez and cast members from 13 Reasons Why
Netflix's 13 Reasons Why captured audiences as soon as it was released — and it also stirred quite a bit of controversy. The show's storyline follows Hannah Baker, a teenager who committed suicide and left behind recordings explaining why she did it. And stars Tommy Dorfman and Alisha Boe, as well as executive producer Selena Gomez, all got semicolon tattoos to commemorate the show, as seen on Dorfman's Instagram.
They chose this punctuation mark because of its connection to Project Semicolon, an organization that aims to prevent suicide.
Next: We never expected this older actor to get a tattoo from this ultra-popular TV series.

2. Bryan Cranston from Breaking Bad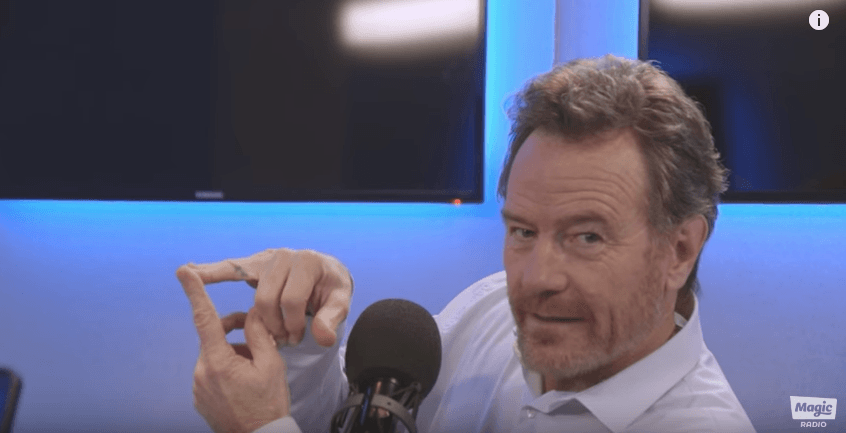 He'll forever be known as Walter White, the genius meth-making science teacher with cancer on Breaking Bad. Fans absolutely adored the show — and they also love that Bryan Cranston, the actor who played Walter White, got a tattoo to commemorate the iconic role.
The tattoo is tiny and on the inside of his finger, and it's the symbol for the show. Cranston told Magic Radio that people would ask him, "Why would you put it there? No one can see it." He replied, "I can see it. This is for me to remind me of the journey that I was on and what it created for me."
Next: He has a number of tattoos — and one is dedicated to his favorite role. 
3. Johnny Depp from Pirates of the Caribbean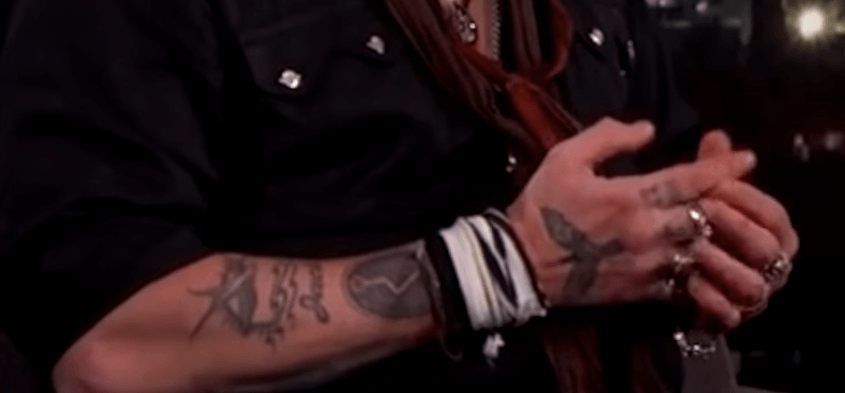 This celeb is no stranger to tattoos, so it shouldn't surprise you too much to know he has one dedicated to his role as Jack Sparrow in Pirates of the Caribbean. As you can see in the photo, it's quite a large tattoo on his forearm of a sparrow flying over the ocean. You may remember it from the movies as well, as it's basically the same tattoo Jack Sparrow rocked in the films.
He also has the name "Jack" tattooed underneath, as that's his son's name.
Next: The whole crew got tattoos to remember this hugely successful film series.
4. Elijah Wood and other cast members from Lord of the Rings
What better way to commemorate one of the biggest film series ever than to get matching tattoos amongst most of the cast? Orlando Bloom posted this throwback photo on his Instagram with the caption, "tbt to when we all got tats cos we loved so much."
TheThings.com notes the cast got the number nine in the Elvish language created by J.R.R. Tolkien. In regards to the ink, Elijah Wood, who played Frodo Baggins, said, "We felt the experience was both wonderful enough and profound enough to have ourselves branded, so we went ahead and did that about a week before we finished."
Next: These amazing ladies wanted to remember this Oscar-nominated film.
5. The wives from Mad Max: Fury Road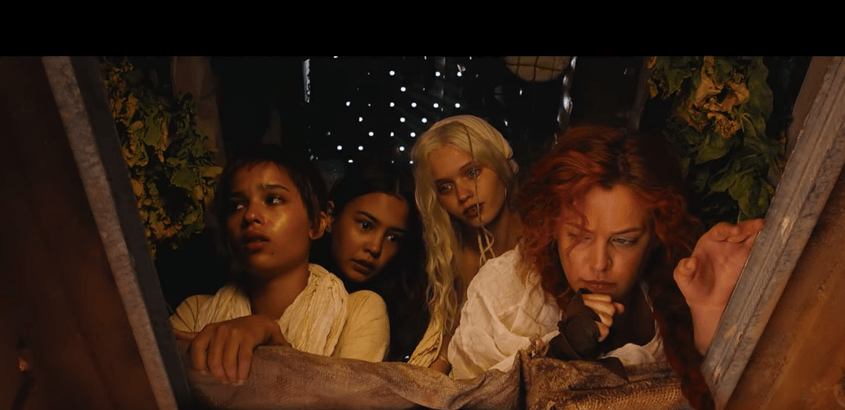 Mad Max: Fury Road was one of the most exciting movies of 2015 — and the five wives from the movie proved they were a force to be reckoned with. These ladies bonded on set and then chose to get matching tattoos afterward, too.
Vanity Fair spoke with Courtney Eaton who played "Fragile," and she was the one to spill the beans about the ink. Though there aren't any photos of the ladies with their tats, Eaton said, "Well all got the same tattoo — three little dots and a triangle."
Next: One of the cast members of this movie tattooed her co-stars. 
6. Margot Robbie and other cast members from Suicide Squad
We loved her as Harley Quinn in Suicide Squad — and now, we love Margot Robbie even more after we learned she took an in-character moment and made it a reality. CinemaBlend says Robbie acquired a tattoo gun during filming, and she's since given over 25 tattoos with it. She and the other cast members also thought it appropriate to get "SKWAD" tattoos to remember their experience.
She did admit to messing up one of the tats on actor Jai Courtney's assistant, though. "Everyone was spelling it as 'S' 'K' 'W' 'A' 'D'. But I went straight from the 'S' to the 'W'," she said.
 Next: These Marvel movie stars also got inked. 
7. Robert Downey Jr. and four others from The Avengers
There's a ton of comradery amongst the Avengers cast, so of course it makes sense to memorialize it with a tattoo. Robert Downey Jr. revealed to People that five out of the six original Avengers cast members got inked. "It was (Scarlett) Johansson's idea, and she and (Chris) Evans did it in New York," Downey Jr. said. "Then, their New York guy, Josh Lord, who is amazing, flew out to LA, he did me, did (Jeremy) Renner, and then we just bullied (Chris) Hemsworth into doing it, and he got it."
Downey Jr. notes the one to wimp out was Mark Ruffalo, in case you're wondering.
Next: Here's another Breaking Bad star who couldn't stay away from the ink. 
8. Aaron Paul from Breaking Bad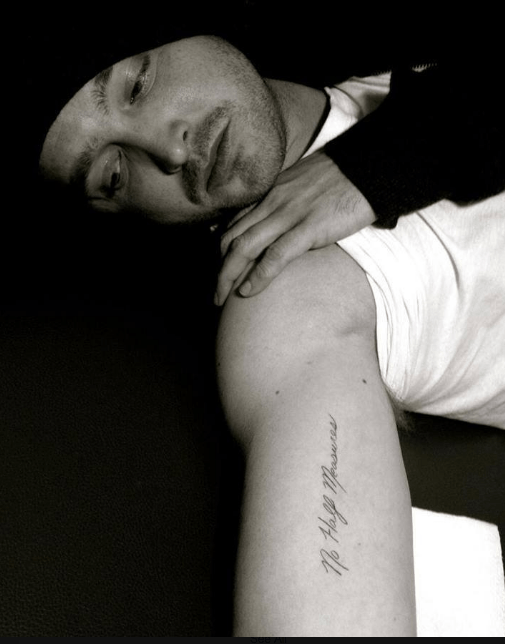 While Bryan Cranston gave one of the most memorable performances of his career on Breaking Bad, so did Aaron Paul. He played Jesse Pinkman, the young accomplish to Walter White in his drug scheme.
The tattoo says "No Half Measures," which is also the name of Episode 12 in Season 3. Overall, the phrase really resonates with Breaking Bad fans, as they know Walter was about going all-in when it came to his wild plans.
Next: We can't believe this actor really got this many tattoos. 
9. Shia LaBeouf from American Honey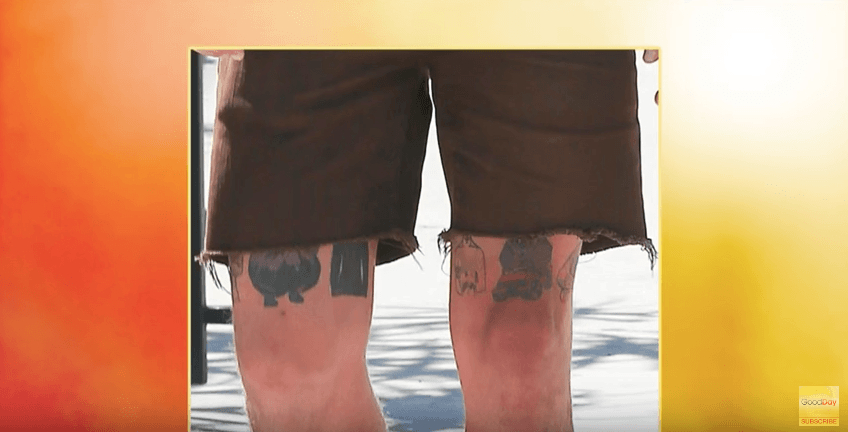 When Shia LaBeouf showed up to The Ellen DeGeneres Show wearing cutoff shorts, we couldn't help but notice the large thigh tattoos he was sporting. GQ notes LaBeouf said in another interview that while filming American Honey, he was peer pressured into getting the tattoos, which include references to Missy Elliott and The Notorious B.I.G.
Contactmusic.com notes LaBeouf got 12 tattoos in total while filming. And the two above his kneecaps are portraits of Missy Elliott herself.
Next: These two strong ladies had to remember their time filming this hit HBO series.
10. Maisie Williams and Sophie Turner from Game of Thrones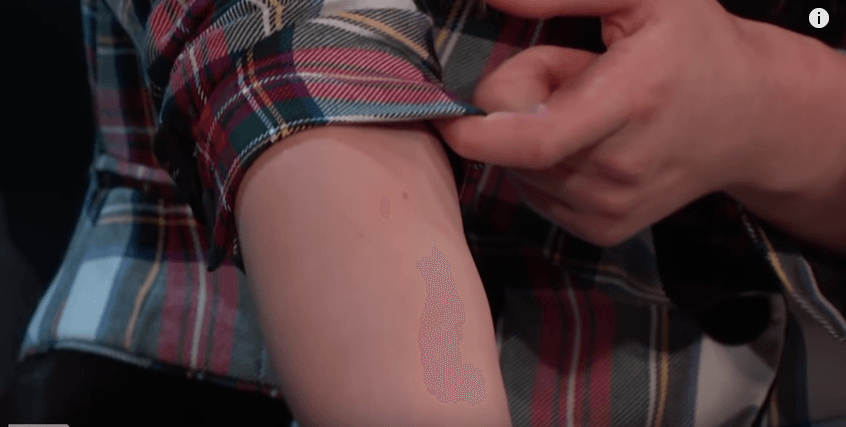 They play sisters on the show, so it makes sense for these two ladies to get tattoos in real life. Maisie Williams, who plays Arya Stark on Game of Thrones, and Sophie Turner, who plays Sansa Stark (and brief wife of the dreaded King Joffrey), decided to get the date they were both signed to the show tattooed on them.
There's a reason you can barely see this tattoo, too. As Turner tells Conan O'Brien, her mother didn't want her to get a visible tattoo. So, she chose to get inked in peach.
Next: This superhero got a tattoo on the bottom of his foot. 
11. Tom Holland from Spider-Man: Homecoming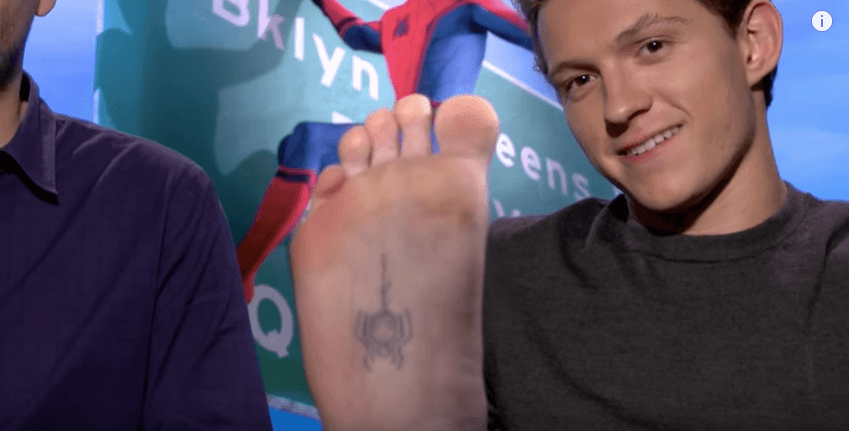 Why not get a tattoo on the bottom of your foot? That's what Tom Holland, the lead in Spider-Man: Homecoming, though when getting his superhero-themed ink.
In an interview with Mark S. Allen, Holland gives the details regarding the tat. "It was an amazing experience," he said. "I got it done here in New York by an amazing artist … I always wanted to get that Spider-Man symbol on the bottom of my foot, but I just never thought I would ever get it done." Holland also noted it was quite painful.
Next: This star wanted to get his first ink to remember this Netflix series. 
12. Neil Patrick Harris from A Series of Unfortunate Events
As his first tattoo, Neil Patrick Harris decided to memorialize his time on Netflix's A Series of Unfortunate Events with this ink on his foot. On his Instagram post, he wrote, "We got picked up for Season 2 of A Series of Unfortunate Events. I got this to celebrate."
PopSugar reports the tattoo is of a stamp from the series that represents a secret society called the Volunteer Fire Department. And it's the same tattoo his character, Count Olaf, also has on his own ankle.
Next: These ladies of a hit series all got small tattoos together.
13. Lucy Hale and the rest of the cast from Pretty Little Liars
Pretty Little Liars was a total hit with fans — so of course, the ladies needed to remember the experience by getting a tattoo together. "This happened," Lucy Hale, who plays Aria Montgomery, posted on her Instagram. "Thank you @shamrocksocialclub for taking care of us. We couldn't not get tattoos to commemorate the show! And obviously on our 'shh' finger."
All the ladies got the initial of their character on their finger, in true PLL fashion.
Next: When her co-star died, this star got a tattoo in his memory. 
14. Lea Michele from Glee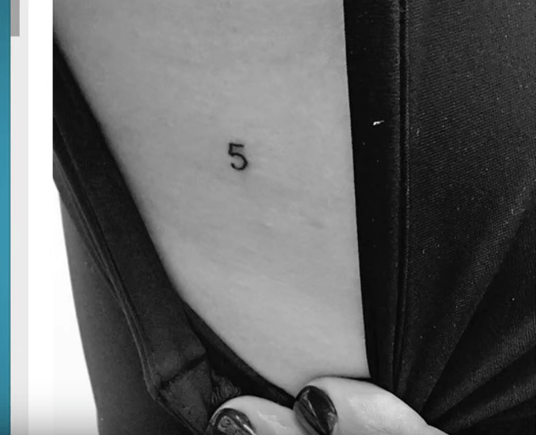 Glee was the feel-good show so many of us were waiting for. And when Cory Monteith, one of the stars of the musical, passed away from a drug overdose, his co-stars had various ways of memorializing their time spent with him. As for Lea Michele, better known as Rachel on the series, Wochit Entertainment reports she got the number "5" tattooed on her.
According to Michele, Monteith's number as a football quarterback on Glee was 5. This isn't the first tattoo Michele got to memorialize Monteith, either, as she also got "Finn" near her backside. Finn was the name of Monteith's character.
Next: This entire Disney cast wanted to remember their experience with some new ink. 
15. The cast of Disney's Descendants 2 
You might not be watching the Disney Channel anymore, but the young actors of Descendants 2 are pretty excited about their latest film. M Magazine reports China McClain, also known as Uma in the movie, documented her and her co-stars heading to the tattoo parlor for some ink. They all decided to get anchors — though the size and styles varied greatly.
In the video originally posted to Snapchat, McClain seems super nervous about getting the ink at first. But she excitedly goes through with it, as do her co-stars.
Check out The Cheat Sheet on Facebook!