Celebrities You Probably Didn't Know Are Actually Related
There are tons of celebrities in Hollywood who are famously related, from Jake and Maggie Gyllenhaal to James and Dave Franco. But seeing as so many actors and directors get into the industry through a relative, there are a lot more examples of celebrities who you likely had no idea are related.
These include celebrities whose last name is common enough that you probably never made the connection, to celebrities who you would never even imagine being in the same sentence. Here's a look at some of those unexpected family connections, including a young actress who was inspired by her famous aunt (page 7).
1. Jason Sudeikis and George Wendt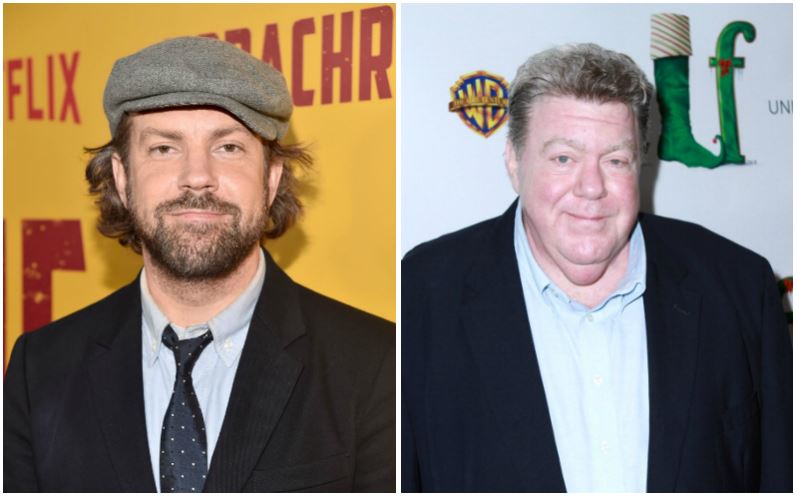 Sudeikis is Wendt's nephew
Saturday Night Live star Jason Sudeikis is actually related to another hilarious comic actor: George Wendt, who played Norm on Cheers. Wendt is Sudeikis' uncle.
Sudeikis says that Wendt set a good example for him, although it's not as if he gave him the secret to acting. He said:
He's always been very encouraging, but there was no Tuesdays With Morrie kind of relationship between him and I. He didn't take me to the park to explain comic timing…There was nothing like that. He was just a good example that being an actor was a viable option.
Next: These two actresses are unexpectedly related. 
2. Melissa McCarthy and Jenny McCarthy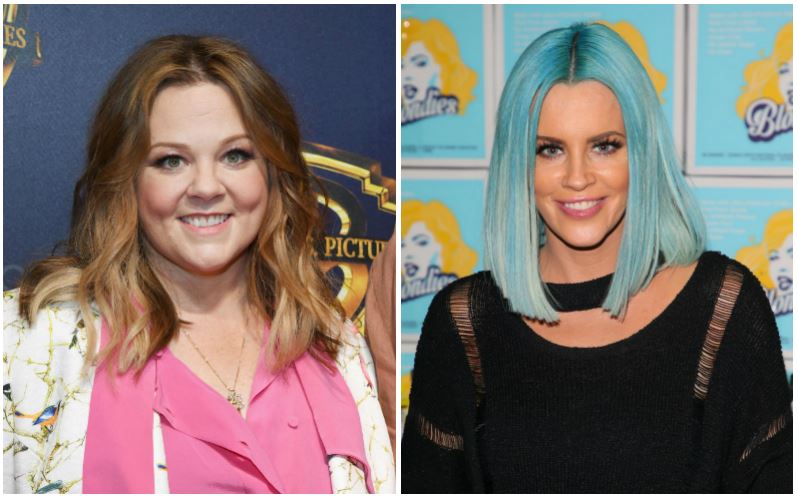 Melissa and Jenny McCarthy are cousins 
Actors Melissa McCarthy and Jenny McCarthy are actually cousins. They grew up in Illinois together, and according to US Weekly, Jenny helped Melissa get her first job as a production assistant on the sitcom Jenny.
In an interview on The Howard Stern Show, Melissa said that she and Jenny live in opposite worlds these days, although they don't seem to be on bad terms, with Jenny once posting a throwback photo of the two of them as kids.
Next: This actor changed his name so as not to be associated with his famous uncle.
3. Francis Ford Coppola and Nicolas Cage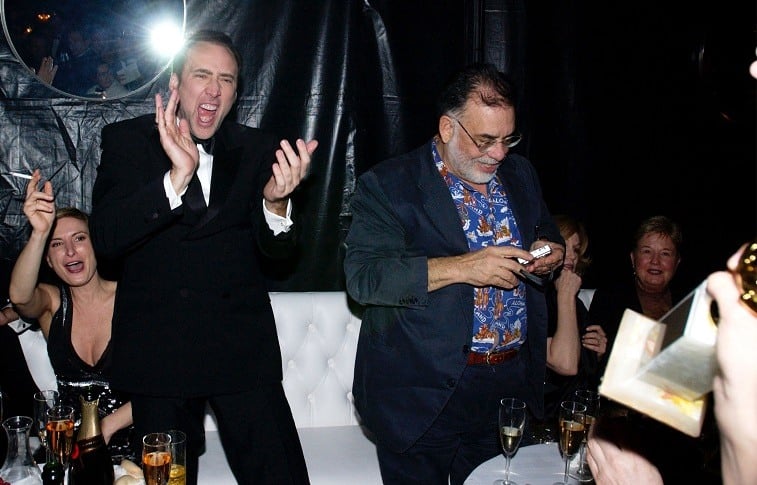 Nicolas Cage is actually not the name that the National Treasure actor was born with. Instead, he was born Nicolas Kim Coppola. But he changed his name in order to give himself his own identity separate from his famous uncle, director Francis Ford Coppola.
Being a big comic book fan, Nicolas reportedly took the last name Cage as a tribute to the Marvel Comics hero Luke Cage.
Next: These two HBO stars became family in 2017.
4. Jason Momoa and Zoë Kravitz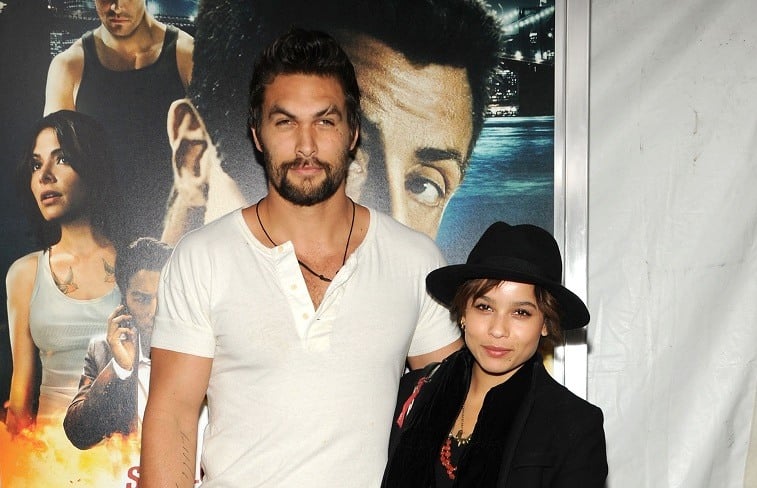 Momoa is Kravitz's stepfather
When Zoë Kravitz starred on Big Little Lies, she was not the first member of her family to be on an HBO show. After all, her stepfather is Jason Momoa, who played Khal Drogo on Game of Thrones.
Zoë's biological parents are Lenny Kravitz and Lisa Bonet, but they divorced in 1993. In 2017, Lenny married Jason Momoa, who is 10 years her junior, and he, therefore, became Zoë's stepfather.
Next: This TV star is related to a famous director.
5. Steven Spielberg and Jessica Capshaw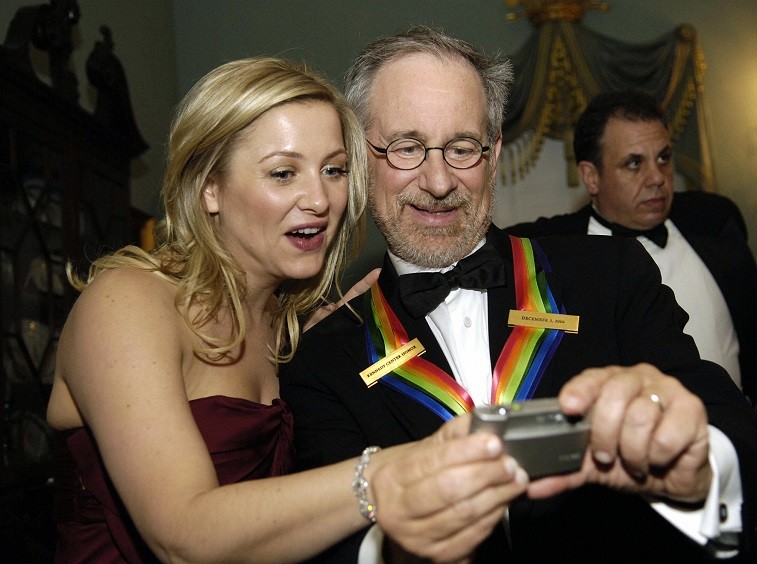 Spielberg is Capshaw's stepfather
Grey's Anatomy star Jessica Capshaw's stepfather is even more famous than she is: He's Steven Spielberg.
Jessica is the daughter of Kate Capshaw and Robert Capshaw, who divorced in 1980. About a decade later, Kate married Steven Spielberg; Jessica would have been 15 years old when the Jaws director officially became her stepfather.
Next: These two famous people are father and daughter.
6. Quincy Jones and Rashida Jones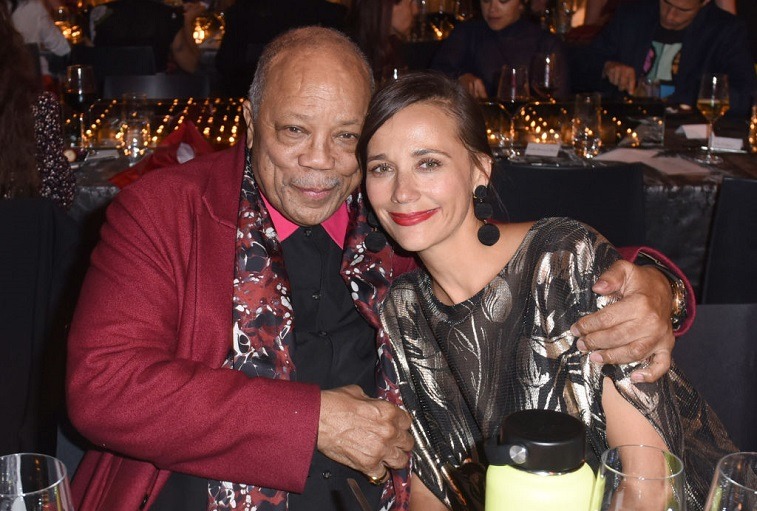 Quincy Jones is Rashida Jones' father
Since Jones is such a common last name, it's not immediately obvious that Rashida Jones is actually the daughter of legendary musician Quincy Jones.
In a 2012 interview, Rashida said that both of her parents were incredibly supportive of her growing up. "My parents are so cool, and I never rebelled from them, because they were so great and so cool and so supportive and unconditional, and they're my friends," she said.
Next: This famous actress has an even more famous aunt.  
7. Emma Roberts and Julia Roberts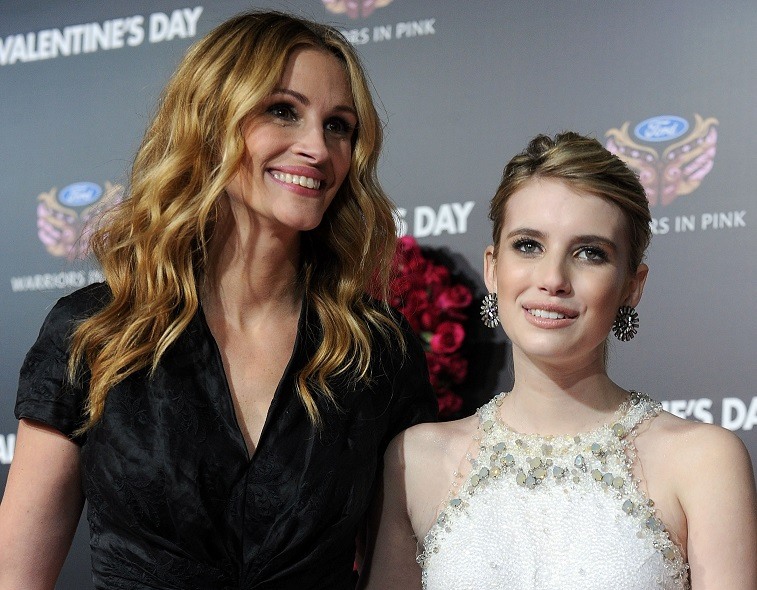 Julia Roberts is Emma Roberts' aunt 
Roberts is another fairly common last name, so you may not have realized that actress Emma Roberts and Julia Roberts are actually related. But they are, as Julia is Emma's aunt.
Emma says that Julia inspired her to become an actress; the experience of visiting the set of her movies like Erin Brockovich was particularly enlightening. "I remember it feeling like summer camp, just the feeling of creativity," Emma Roberts said of visiting her aunt while she was working.
Next: These two actors are related and ended up starring in the same movie.
8. Tom Cruise and William Mapother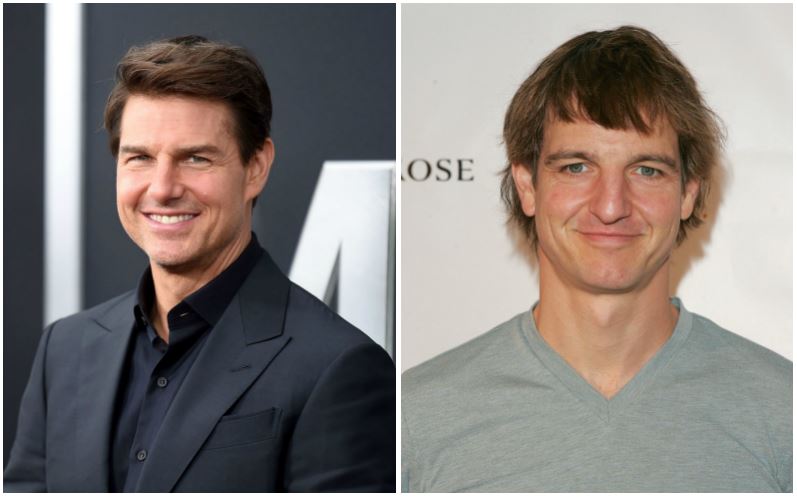 Cruise and Mapother are cousins
You've probably seen William Mapother's performances in shows like Lost, where he played Ethan Rom, or Another Earth, where he played John Burroughs. But what you probably didn't realize is that he's actually Tom Cruise's cousin.
In fact, Cruise's birth name was actually Thomas Cruise Mapother IV. The two cousins have worked together before, as Mapother had a small role in Mission Impossible II.
Next: These two famous actors recently became family.
9. Emily Blunt and Stanley Tucci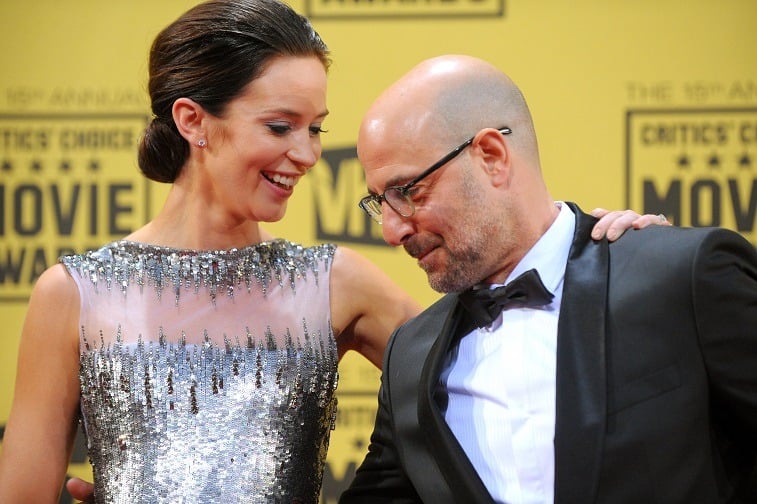 Blunt is Tucci's sister-in-law
Actors Emily Blunt and Stanley Tucci became members of the same family in 2012 when Stanley married Emily's sister Felicity Blunt. But Stanley actually knew Emily before he knew Felicity.
After all, the two actors worked together on the 2006 film The Devil Wears Prada. According to The Daily Mail, Stanley met Felicity at Emily's wedding to John Krasinski in 2010, and the rest was history; Stanley and Felicity's marriage took place two years later.
Next: This famous actress' father is an even more famous actor.
10. Katherine Waterston and Sam Waterston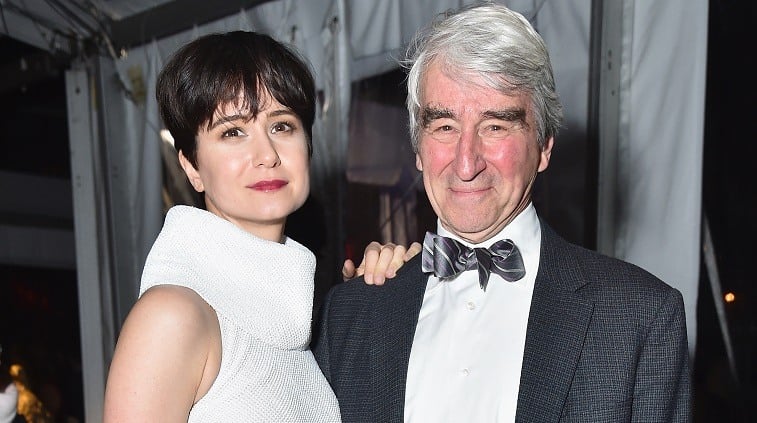 Sam Waterston is Katherine Waterston's father
Fantastic Beasts and Where to Find Them star Katherine Waterston is the daughter of legendary Law & Order actor Sam Waterston.
Apparently, though, this didn't help her land a role on Law & Order. She revealed on The Tonight Show that she auditioned multiple times for the show but couldn't even get a callback.
Next: This actress' father is a famous director and actor.
11. Bryce Dallas Howard and Ron Howard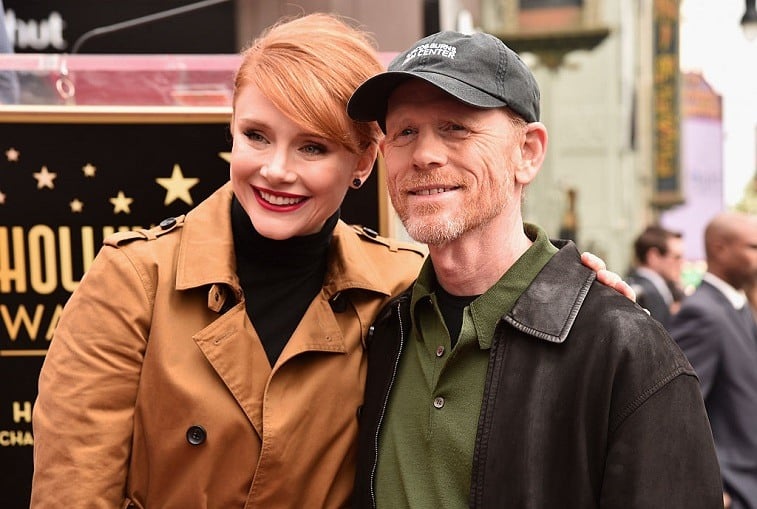 Ron Howard is Bryce Howard's father
Two of summer 2018's biggest blockbusters actually come from members of the same family. Bryce Dallas Howard stars in Jurassic World: Fallen Kingdom, while her father, Ron Howard, directed Solo: A Star Wars Story.
Ron married his wife Cheryl Alley in 1975, and they had four children, one of whom is actress Bryce Dallas Howard. Her godfather is also her father's Happy Days co-star Henry Winkler.
Next: This comedian is related to a Democratic politician. 
12. Amy Schumer and Chuck Schumer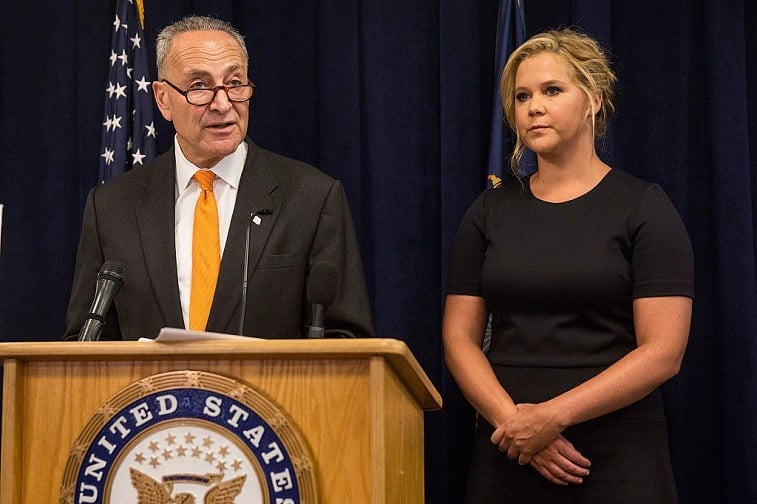 The two Schumers are cousins 
Comedian Amy Schumer is actually the cousin of Democratic Senator Chuck Schumer. Since they share many of the same political views, back in 2015, they got together to hold a press conference calling for gun control reform.
Amy was particularly inspired to do so after a gunman opened fire and killed two people during a showing of her movie Trainwreck.
When Donald Trump attacked Senator Schumer in 2017, accusing him of faking tears during a press conference, Amy came to his defense. "I know chuck Schumer and HE CANNOT act trust me," she said.
Next: This comedian is also related to a Democratic politician. 
13. Larry David and Bernie Sanders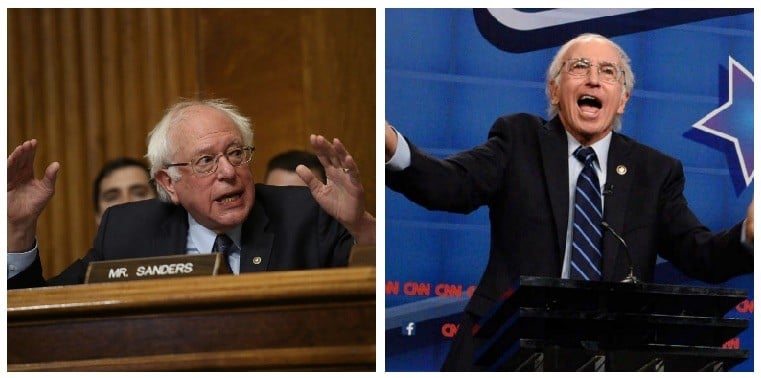 David and Sanders are distant cousins 
Speaking of comedians who you didn't know were related to Democratic politicians, it turns out Larry David and Bernie Sanders are actually distant cousins.
This came out during an episode of the show Finding Your Roots, during which the comedian who has played Sanders on Saturday Night Live finds out they are distantly related.
Next: This singer recently became the sister-in-law of a TV star.
14. Ashlee Simpson and Tracee Ellis Ross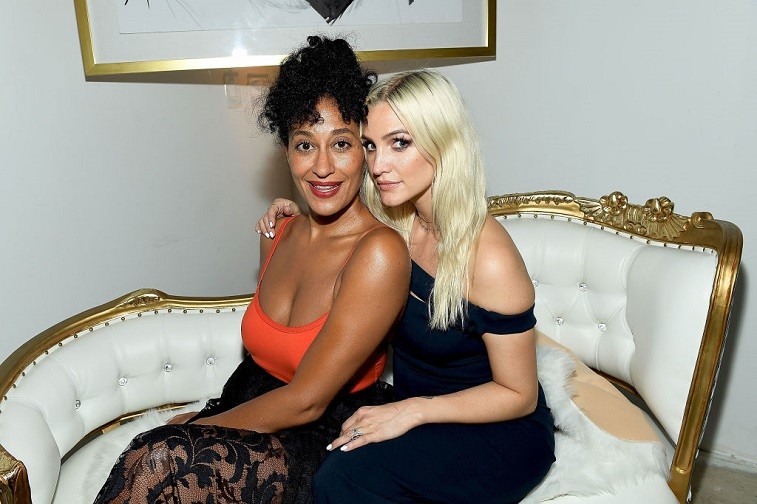 Simpson and Ross are sisters-in-law
Singer Ashlee Simpson and Tracie Ellis Ross became relatives fairly recently. In 2014, Simpson married actor and musician Evan Ross. Evan is the half-brother of Black-ish star Tracee Ellis Ross, making Tracee Ashlee's sister-in-law.
During an appearance on Watch What Happens Live, Tracee said that she hangs out a lot with both Ashlee and Jessica Simpson. "I think she's amazing," Tracee said of Ashley. "She's my sister. We hang out a lot, actually. We're just one big family with a lot of kids and a lot of people and a lot of hair. "
Next: This actress was frustrated with being known as her father's daughter for years.
15. Brian Williams and Allison Williams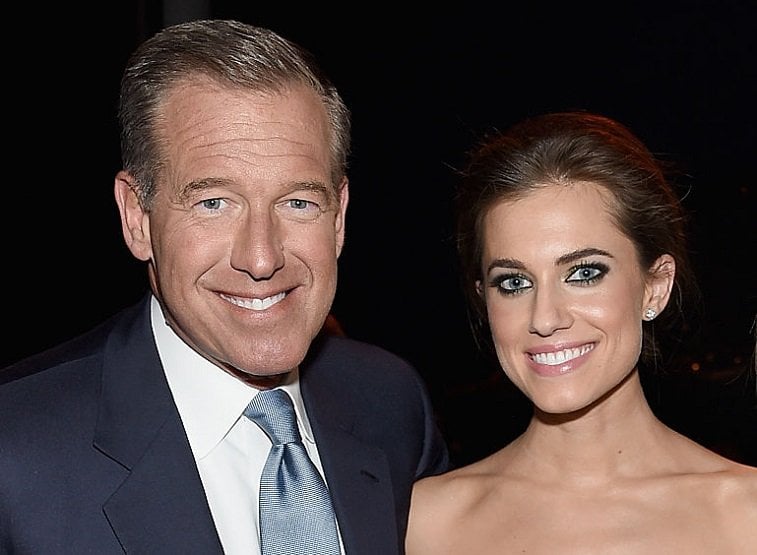 Allison Williams is Brian Williams' daughter
Girls and Get Out star Allison Williams is the daughter of journalist Brian Williams. In an interview with The Los Angeles Times, Allison said that it took years to make an identity for herself separate from her father.
She also recalled being extremely upset when a magazine put her on the cover but didn't mention her full name, only identifying her as the daughter of Brian Williams.
"That was, like, the most upset I've ever been," she said. "…And now people almost never bring it up. It took years, and a lot of diligence on my part. But I've formed my own thing, and now I get people who are surprised to find out he's my dad."