Celebrity Beauty Guru Reveals How to Get Hot Emmy Red Carpet Looks for Less
From Zendaya to Kerry Washington, the 71st Primetime Emmy Awards are abuzz as beauty experts share some the hottest star's red carpet secrets. Beauty and style reviewers pointed out that the departure from the traditional red carpet to a dashing purple allowed more celebrities to entertain a wider palate of looks and color. This included the introduction of pink and red shades, CNN notes.
As designers rush to recreate some of the most stunning frocks that mere mortals can purchase and wear for less, beauty guru and skincare expert, Leah Shafer from Skin by Leah dished with Showbiz Cheat Sheet about how some celebrities may have achieved their beauty looks. Shafer started her career in the beauty business as a celebrity makeup artist so she can offer some insider hacks to achieve similar red carpet looks for less.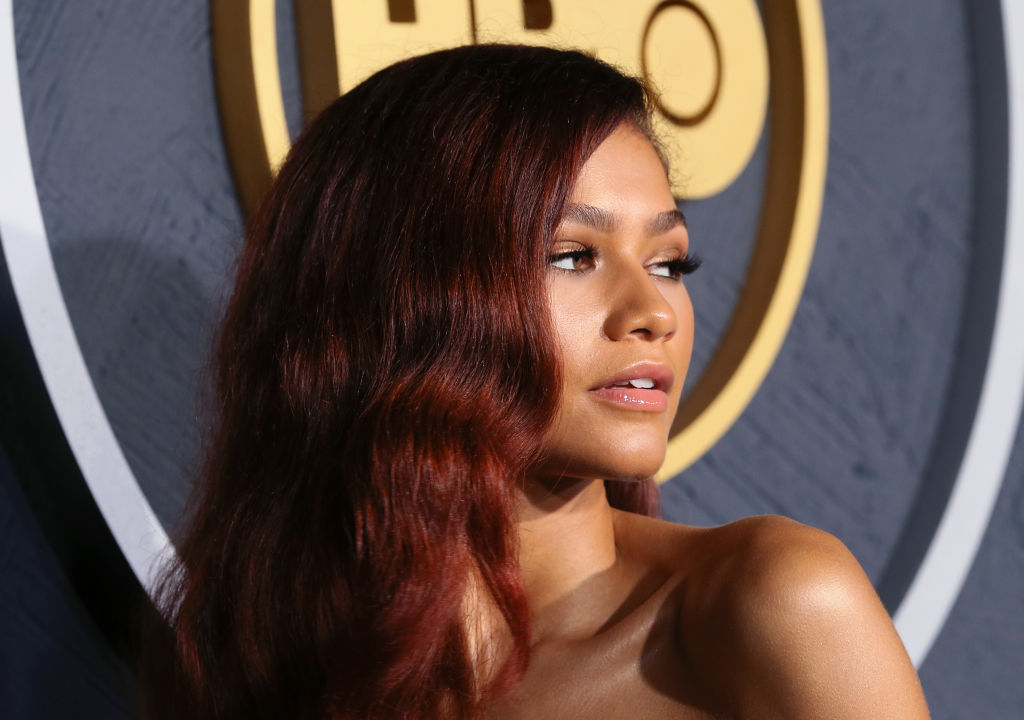 She first offers some basic advice just about anyone can follow. "Cleanse, exfoliate, and use a good hydrating serum," she insists. Good brands can be easily found at stores like Walgreens or Target. She likes Cover Girl, Loreal, and Honest. Shafer says incorporating a good bronzer into your routine can also provide that red carpet glow. She notes actress Zendaya is the perfect example. "My favorites are Tarte Better Bod Bronze & Contour + Mitt for $39, Loreal Paris Sublime Bronze Summer Express Body Makeup Lotion for $10," she shares. "Or another favorite, Charlotte Tilbury 'Supermodel Body' Slimmer Shimmer Shape for $65." Other hot looks? Shafer has you covered.
Jameela Jamil's flawless skin is on point
Shafer was struck by the natural glow Jamil exudes. "It's all about that glow," she says. "Using primers with a sheen to it can make or break your foundation. One of my favorites is Farsali Unicorn Primer. Unicorn Essence is an amazing serum and primer and the perfect marriage to the gold elixir; always side by side on my vanity. I notice when I use both products together that my foundation looks flawless yet amazingly very natural. Then, of course, a good coral lip."
To get the same pout, she suggests Maybelline Moisture Extreme Bronze Orange Lipstick and MAC Vegas Volt Lipstick. She also likes Nars Beautiful Liar Lipstick. Here's the technique. "Use a damp beauty blender to set the makeup by patting gently," she advises. "Not everyone can get away with this look, but she pulls it off with her bronzed skin, soft nude eye, and white on the waterline to make her eyes pop."
Laverne Cox is all about being natural
Cox stunned in her black and pink frothy gown. Shafer says her beauty look really complimented her dress. "It's all about those earth tones," Shafer observed. "Bronzed brown eyes with that plumped nude lip with a pop of soft blush."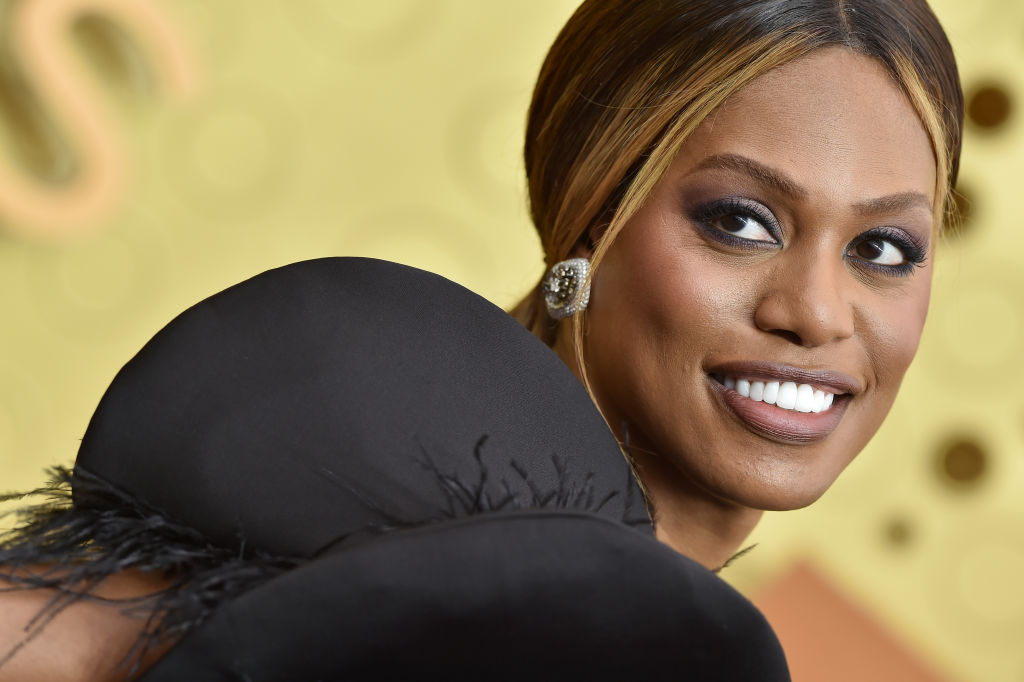 Shafer also commented on the actress's makeup highlights. "I'm really big about highlighting, and this is what made her look flawless. Her highlights around her eyes, upper cheeks bones and jawline really made her look fresh. Fenty Beauty is a beautiful cosmetic line for ethnic skin and a lot of the products have that sheen to it." 
Mj Rodriguez stuns in pink
Shafer observed that Rodriguez likely deals with a common issue many people typically face. "I can tell she battles with dark circles so, in order to keep that under control, it's all about color correction and Loreal has a great line at any drug store," she recommends. "Start by moisturizing under the eye, I can't stress enough how important hydration is. One of my favorites is Olay Eyes Deep Hydrating Eye Gel." 
She adds that correction cancels out the darkness. So, "MAC Cosmetics makes one of the best under eye color correctors, called Prep and Prime. Use a soft brush to blend. The corrector makes it so you won't need a lot of concealer." She recommends Nars, Tarte Pro concealer. "Use radiant creamy concealers and pat with a flat brush. Then use a damp beauty blender to tap gently to press the makeup into the skin for a flawless look. Set with powder, especially for long events like Mj had so it lasts."
Shafer also noted Rodriguez's perfect smokey eye. "But personally I would have preferred seeing a nude bronze shimmer lip. Charlotte Tilbury has amazing lip colors, like Pillow Talk. There's nothing like a good pout." Plus, "I don't think you should ever match your lips to your dress. If you smoke your eyes, do a light lip. I can see she also didn't really prep her skin, which makes or breaks the makeup look. I would have given her a fire and ice facial with laser genesis a week before the event."
Even the guys got into glam
Shafer thought the Emmy men looked fierce too. She loved the father and son duo of Eugene and Dan Levy. "They are blessed with hair," she exclaimed. But she would have preferred to see more of a glowy radiance on the purple carpet for both men. "Nothing like a manly looking man, the shadowed beard look and glasses to frame the face and eyes. They both have a lot of powder on, so their skin seemed dry. I would have moisturized them more to give them that healthy father-son glow. And added a setting spray like Cover FX to give them that healthy sheen. They did look handsome."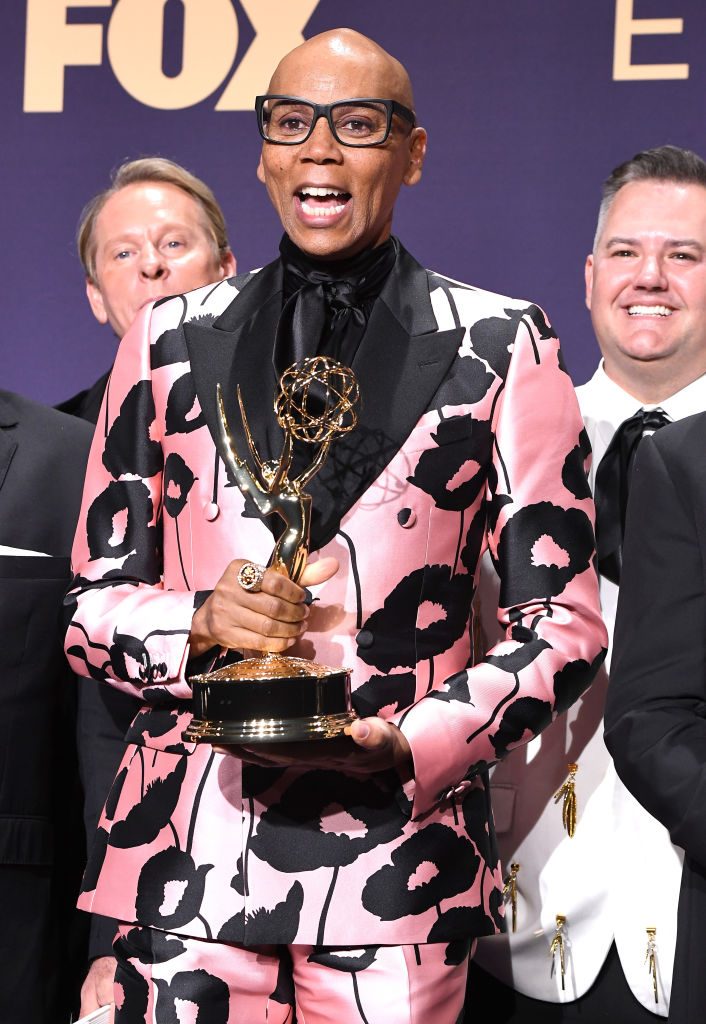 Of course, Shafer marveled at RuPaul's glow. "I want RuPaul's skincare secrets," she remarked. "I worked for MAC as a makeup artist and he is the queen of makeup! He really took risks with makeup and set the bar high as an artist. He became a spokesperson for all genders, ages, and race. Beautiful. He is all about the art and contouring and mastered drag."