'Celebrity Big Brother' Season 2: Who Is Natalie Eva Marie?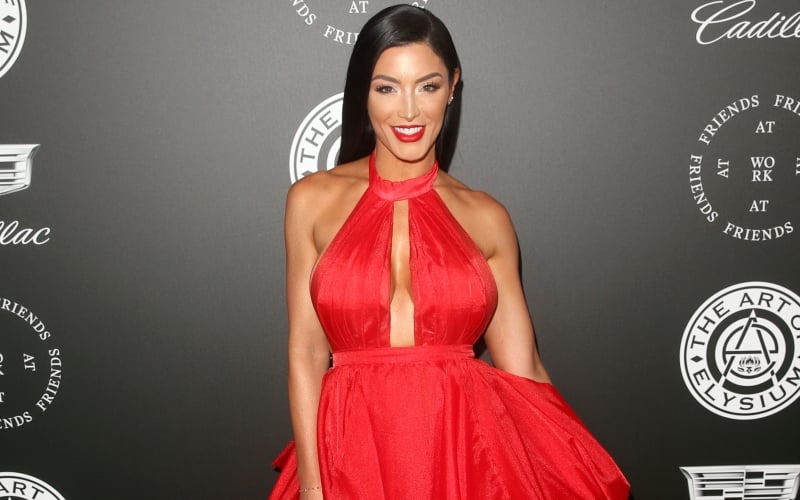 The cast for Season 2 of Celebrity Big Brother has been announced and Natalie Eva Marie is part of the cast. For those who aren't as familiar with the wrestling world, she might not be well known. So who is she? Here is everything you need to know.
Natalie Eva Marie was in WWE for 4 years before retiring
The wrestler went by "Eva Marie" when she was in the ring for four years. She had bright red hair, which was fitting of her gimmick, All Red Everything. Her wrestling career wasn't without some controversy.
She was suspended for 30 days for a wellness policy violation. According to Rolling Stone, she contested it but the violation was triggered by late paperwork disclosing an Adderall prescription.
When she returned after her suspension she changed her gimmick to All Black Everything and dyed her hair black. But she never really got back in the ring and eventually, she announced that she was done with WWE. In 2017, she announced that she was pursuing other opportunities outside of wrestling.
She was on Total Divas
A lot of the wrestler's career was documented in the reality show, Total Divas. But that ended after Season 6, the same time she announced she was done with WWE. She tweeted, "Today I'm saying a bittersweet goodbye to @WWE. Thanks to the entire team, and YOU, my fans, for these 4 years! #AllRedEverythingForever."
Natalie Eva Marie told Rolling Stone that she actually thought she was thrown on the reality show too soon in her wrestling career. "Yes," she said. "For sure, the inner athlete and perfectionist in me wishes I was able to train the multiple years these wrestlers are able to before they get on TV. However, if that opportunity never came up, then I would not have been put in front of the WWE universe, dyed my hair, been put in front of my [management] team. Everything happens for a reason. For me, it all played out pretty damn good. "
She has acted in the movie, Inconceivable and the show, Paradise City
Dwayne Johnson and John Cena have moved on to the movies after wrestling. That seems to be Natalie Eva Marie's goal as well. She was in the movie, Inconceivable starring Gina Gershon, Nicky Whelan, and Nicolas Cage. She was also in multiple episodes of Paradise City.
The former wrestler talked about wanting to be the first female wrestler to crossover. "I like to break barriers," Natalie Eva Marie told Rolling Stone. "As soon as I walked into WWE's door, I was already thinking ahead of the game. There has not been one female to make that crossover and go back and forth and merge the two together. I want to bring the WWE universe with me into Hollywood as well as creating a new fanbase in Hollywood and bringing them back into WWE and having the two worlds collide just like The Rock. That was the game plan for sure."
Natalie Eva Marie then isn't a stranger when it comes to reality television or having to compete. Her athleticism might make her a fierce competitor.
Read more: 'Celebrity Big Brother': How Much Do the Celebrities Get Paid to Do the Show?
Check out The Cheat Sheet on Facebook!