Celebrity Couples Who Owned Halloween
For the average person, Halloween costumes either come from a package — which means it's mass produced and others will have the same costume — or it's something they put together last minute. But many celebrities plan for a long time and get professionals to help with their costumes.
Celebrity couples in costume are even more impressive. So which famous couples have dominated the holiday? Here are 15 celebrity couples who owned Halloween.
1. Heidi Klum and Seal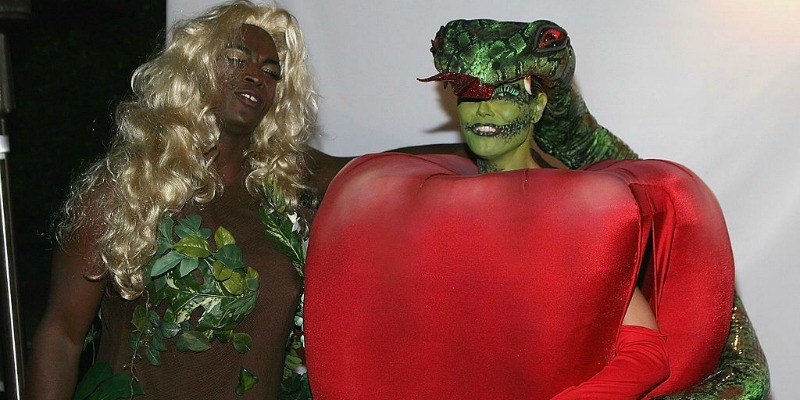 Here is another reason to be sad about the model and singer getting a divorce. They owned the holiday together year after year with amazing costumes. But the best is when they dressed as Eve and the apple. They could have gone the conventional route by going as sexy Adam and Eve, but instead they decided to go an even more amazing and funny route.
Seal is obviously hamming it up with his wig and makeup. Klum could have just been an apple, but she, of course, doesn't let herself be outdone by adding snake makeup, and a full on snake to her costume! Klum still dominates the holiday by herself and she has since revealed her routine for planning for the holiday.
"I usually start Halloween weekend late and sleep in, because I know I'm going to be up until 5 or 6 a.m., at least," she told the New York Post. "I've been working on my Halloween costume for months — it involves a lot of prosthetics and, this year, I'm going to start applying everything around noon." Never stop killing it, Heidi!
2. Beyoncé and Jay Z
Queen Bey has had some impressive costumes, but her best happened to be an homage to Coming to America with her family. The couple was almost outshone by little Blue, who was Imani.

3. Fergie and Josh Duhamel
If you're a fashion lover, then you know who Karl Lagerfeld and his cat, Choupette, are. This married couple definitely get points for choosing an original pairing and getting it right!

4. Bill and Giuliana Rancic
The reality stars went as a plastic surgeon and his patient one year. Of course, Giuliana is the best part of this duo and didn't hold back with her costume.

5. Neil Patrick Harris and David Burtka
Happy Halloween from Gotham City!! pic.twitter.com/3gzmG44iEf

— Neil Patrick Harris (@ActuallyNPH) October 31, 2014
The How I Met Your Mother actor always has an amazing Halloween costume, thanks to his husband and kids, who join in on group costumes. The year the couple were villains while their kids were the heroes of Gotham city was definitely their best.

6. Jessica Simpson and Eric Johnson
Movie couples are common choices for Halloween costumes, but rarely do we get a throwback to National Lampoon's Vacation! Jessica Simpson looks amazing as Christie Brinkley's character, and her husband looks unrecognizable.

7. Ice T and Coco
The outrageous couple dressed up like a mad scientist and a sexy nurse. It's a perfect mix of silly and sexy, which perfectly matches their persona.

8. Chrissy Teigen and John Legend
The cute couple went as Princess Peach and Mario one year for Halloween. They definitely get points for going all out with the yellow hair and big belly for Mario.

9. Kylie Jenner and Tyga
https://www.instagram.com/p/u2VHPZHGn4/
Tyga's costume was definitely impressive given he was unrecognizable in his makeup as Chucky. We probably wouldn't have known who he was if he wasn't with Kylie.

10. Demi Lovato and Wilmer Valderrama
https://www.instagram.com/p/u3b8OmuKgu/
This couple definitely knows how to celebrate Halloween. The two nail it as the iconic Ricky and Lucy from I Love Lucy.

11. Dax Shepherd and Kristen Bell as Khal Drogo and Daenerys Targaryen
Khal Drogo and his Khaleesi, Darnerys Targaryen (@IMKristenBell). His Moon and his Stars. pic.twitter.com/6R33SufZ0q

— dax shepard (@daxshepard) November 5, 2013
Dax Shepherd and Kristen Bell seems to be really into Game of Thrones. They dressed up as the tragic couple from the show and shared a pretty impressive photo.

12. Vanessa Hudgens and Austin Butler as Alice and the Mad Hatter
https://www.instagram.com/p/9mBhsbzCkI/
The actors decided to go with an Alice in Wonderland theme for Halloween. Austin Butler's costume really pushes this one over the top.

13. Kevin Hart and Eniko Parrish
The couple decided to go colorful and fun by dressing up in '70s costumes. Their characters really come through when they strike a pose.

14. Nick and Vanessa Lachey as characters from Frozen
The married couple got in on the Halloween fun with their children. The whole family dressed up as characters from the Disney movie, Frozen.
15. Jessica Biel and Justin Timberlake as characters from Trolls
The stars multitasked by having fun with their kid for Halloween and promoting Justin Timberlake's hit for the movie Trolls. They are pretty much unrecognizable.
Follow Nicole Weaver on Twitter @nikkibernice.
Check out Entertainment Cheat Sheet on Facebook!