Celebrity Halloween Costumes We Want to Steal
There are different ways of approaching how to dress for Halloween. If you like looking good, then you might be into stylish costume ideas. Some celebrities opt to do the same and have spent a lot of money in order to do so. But then there are those who go scary or silly for the holiday.
So which celebrity costumes have made us jealous? Here are 15 celebrity Halloween costumes we want to steal.
1. Katy Perry as a vampire queen
The Katy Perry Vampire Diaries ????@Katyperry
Favorite Female pop/Rock artist #AMAs pic.twitter.com/dUUmgoCGuS

— Menna (@MennaHosnyG) November 7, 2014
The pop star definitely steps it up when it comes to Halloween. One year, she was literally a mic drop that pretty much won the best costume of the year. She was also a sad Cheeto, which had many fans laughing. Then there was the time she dressed up as Jane Lane from Daria, which actually made us wish there was a live-action movie of the classic show.
However, we are pretty jealous of one of her more underrated costumes. She went as a vampire, but switched it up by going royal. She proved that even the most played out costume ideas can be interesting if you get creative with them.
This is one of the few impressive celebrity costumes you can steal with some common items. All you need is a body suit, a sheer dress, fangs, and a crown. If you're someone who isn't a natural when it comes to makeup, then you're in luck! MTV did a great tutorial on how to create this vampire makeup look.

2. Joe Jonas as Zoolander
The singer is one of the many celebrities who had a cameo in Zoolander 2. Chances are that's what inspired him to pick this as his costume.
If you ask us, he definitely nails the pose!

3. Chrissy Teigen as Guy Fieri
The model dressed up like the cook in 2015 for Halloween on FABLife's special. She was pretty much unrecognizable under her shades, wig, and facial hair.
4. The Rock as Popeye
Of course the muscular star had to pick a character fitting for his build! He rocked a Popeye uniform that still couldn't quite handle his muscles.

5. Miley Cyrus as Lil Kim
Happy Halllllloweeeen ???? pic.twitter.com/fcKztD9c6P

— Miley Cyrus (@MileyCyrus) October 31, 2013
The pop star is no stranger to risky outfits. So it's only fitting that she would dress up like a celebrity who shocked people with this iconic outfit.

6. Aziz Ansari as The Weeknd
The Weeknd might no longer have his locks, but they have officially been immortalized as a wig. The Master of None actor rocked the look with a leather coat.

7. Heidi Klum as Jessica Rabbit
The model and television host is practically a professional when it comes to Halloween. It's hard to pick just one of her costumes that made us jealous. But who hasn't wanted to be, or be with, Jessica Rabbit? She brought the cartoon character to life!

8. Adam Lambert as a creepy man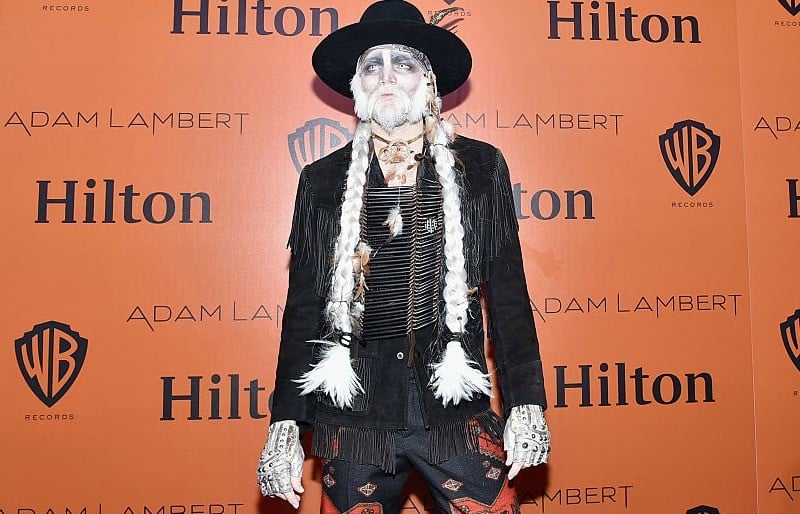 The singer was unrecognizable as this creepy old man for his Halloween party. This costume is full of details, from the studded gloves to his white contact lenses.
9. Kim Kardashian as a skeleton
The reality star has had many sexy costumes for the holiday. But the most impressive is probably her simple skeleton costume.

10. Ed Sheeran as a gingerbread man
Who doesn't love Shrek? The singer performed in a club around Halloween and celebrated by dressing up as the funny gingerbread man.

11. Keke Palmer as Aaliyah
https://www.instagram.com/p/9hyUETkroW/
Many have tried to dress up like the icon, but the actress really went all out to get it right. We do have to say we are insanely jealous of how well she pulled this off.

12. Beyoncé, Blue Ivy, and Tina Lawson as Salt 'N' Pepa
It's no surprise that the family is great a Halloween. Queen Bey decided to pay tribute to one of the greatest rap groups, Salt 'N' Pepa. JAY-Z also got in on the action by dressing up like he was straight out of the '90s with a colorful jacket.

13. Khloé Kardashian as Storm
The reality star took part in a couple costume in 2016. She transformed into Storm and her boyfriend, Tristan Thompson, dressed up as Black Panther. This definitely took some dedication with face paint and contacts.

14. Amy Schumer as Dustin in Stranger Things
https://www.instagram.com/p/BMKlfxIjo8P/?hl=en
The scary show became a huge hit, so it's not a surprise that celebrities were inspired by it. But this couple costume is pretty brilliant.
15. Nicole Richie as Danny Devito in Twins
Celebrities are just the best at costumes. The reality star did a funny throwback in 2013 by dressing up as Danny Devito from the wacky comedy.
Follow Nicole Weaver on Twitter @nikkibernice.
Check out Entertainment Cheat Sheet on Facebook!