Chaka Khan Reveals How She Feels About Collaborating With Ariana Grande Again: 'F*ck Her'
Chaka Khan isn't interested in collaborating with Ariana Grande — and made that perfectly clear during a recent interview with VladTV.
Though the soulful singers worked together last year, the music legend has little to no desire to step back into the recording studio with the pop princess. In fact, Khan is so disinclined to record another song with Grande that when asked if she would like to work with the Grammy winner again, she simply said, "F*ck her."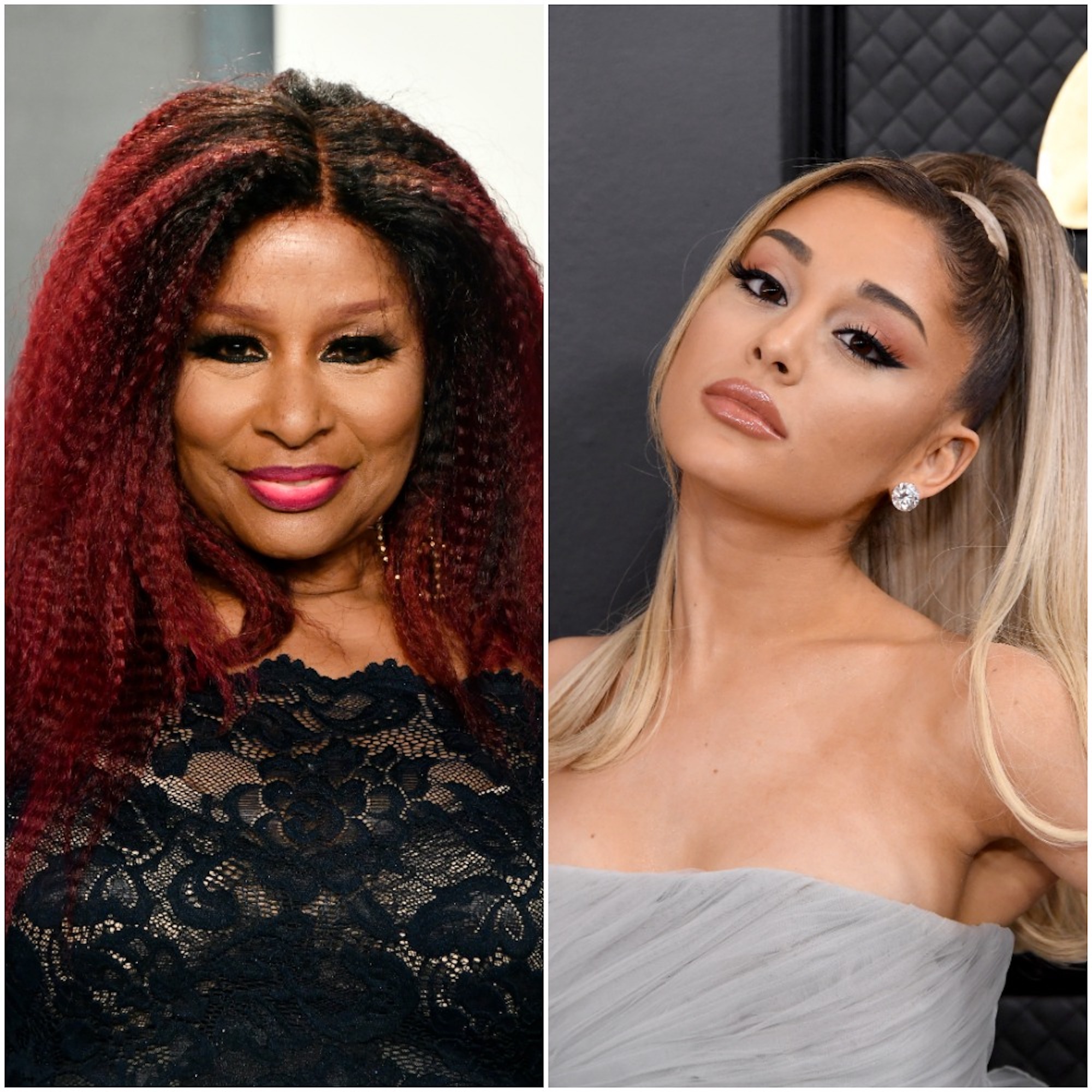 Chaka Khan thinks Ariana Grande is "alright"
Seeing as Ariana Grande is one of the biggest superstars in the music industry, you would think that everyone would be jumping at the chance to collaborate with her.
However, Chaka Khan isn't one of those people and expressed that while recently chatting with VladTV's Luenell.
During the interview, Chaka, whose career has spanned for almost five decades, was asked if there were any artists that she would like to work with.
When the "Ain't Nobody" singer couldn't come up with any names, Luenell began mentioning a few musicians and eventually threw out Ariana Grande as a possible collaborator.
RELATED: Chaka Khan Hated Kanye West Sampling 'Through the Fire': 'It Was an Insult'
But much to everyone's surprise, Chaka replied to that suggestion with, "F*ck her," and dismissed the young singer as just "alright."
After giving her response, the Queen of Soul explained why she wouldn't want to collaborate with the pop princess.
"She's good on her own," Khan added. "She don't need me. Plus, I don't wanna sing with another woman."
Khan prefers to work solo
Even though Khan and Grande recorded "Nobody" — a song off of the Charlie's Angels movie soundtrack — back in 2019, the soul singer isn't interested in doing another duet with the "7 Rings" hitmaker.
In fact, she's not too keen on the idea of working with any female singer moving forward, revealing to Luenell that she prefers to sing her songs solo.
"I ain't got nothing to say with a woman," she explained. "You say it by yourself. We ain't gonna talk about no man. We not gon' do none of that stuff. It's not happening."
Luenell then joked that only a "boss b*tch" can say things like that, and Chaka agreed. "And I could do it. I'm not gon' do no song with no heffa," she added.
Tell us how you really feel, Chaka.
Chaka Khan previously gave her honest opinion about working with Grande
Though her lack of interest in working with another woman is one of the main reasons Chaka Khan doesn't want to collaborate with Grande again, her not being a fan of their song "Nobody" could be another hint as to why she feels this way.
In October 2019, the singer shared her refreshingly honest opinion about the track with the chart-topper during Variety's Power of Women luncheon.
"It's a great song," Khan began. "It's a cute song."
Khan then shared her unfiltered — and somewhat cathartic — outlook on the single, claiming that it wasn't a song that had the makings to "change the world."
"It's a song, y' know, about Charlie's Angels," she continued. "It's, you know, it's… It's not gonna change the world, okay? It's a good song in the movie."