Chef Adam Glick from 'Below Deck Med' Makes Van Living Look Amazing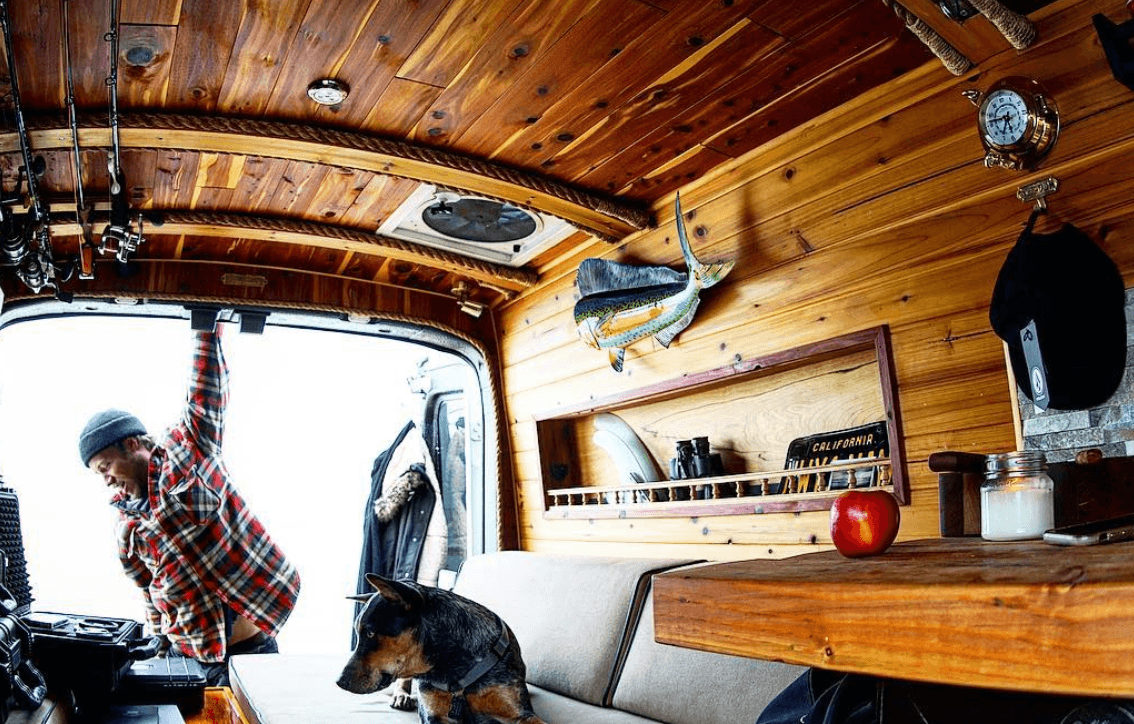 Chef Adam Glick from Below Deck Mediterranean has hinted in the past that he lived a simple lifestyle. The chef even commented a few times on the show that he lived in a van when he wasn't on charter. Which had viewers curious about what exactly that entailed.
Glick recently shared "home renovation" images of his van on Instagram, which likely has tiny home fans salivating.  So what updates did Glick just make to his home as he zigzags throughout the country with his trusted pup "Tex" by his side?
Not living in a 'van down by the river'
Glick's van is similar to a tiny house and is outfitted with many comforts of home. He refers to his van as the "grey squirrel" which is often featured on a YouTube. In fact, the "grey squirrel" is a bit of a luxury move. Glick describes where he used to live in the past. He revealed on Instagram he used to live in the back of a pickup truck. "Believe it or not I actually sleep better in confined spaces because of it," he wrote.
Even though the van is small, he still makes plenty of room for guests. Some Below Deck Med pals dropped by in June.
He even has room for a pet
Glick rescued a dog about six months ago. "Since I rescued him just six months ago, he's gone coast to coast not once but twice," Glick wrote on Instagram. "He loves the open road so I'm starting to consider a winter drive across the south, through his homeland of Texas all the way to Florida."
Tex has his own story on Glick's page too. Glick features his early days with the pup. And how Tex quickly becomes Glick's co-pilot and van captain. The twosome share a number of amazing adventures, visiting breathtaking waterfalls and paddleboarding on a lake.
Glick featured updates on his Instagram story
He had new "CLR" windows installed to the van before a big trip. "Such a warm feeling this van has to it!" he posts on his story. The van also includes two sleeping areas, a sink, and cooktop.
Glick writes on his Instagram story, "This is a trip. I've waited three years for this window to be designed. Finally, the time has come."  He also has a series on Instagram called "Van Door" where he throws open the van door to reveal where he is located. Sometimes he reveals a snowy mountaintop. Other times he's right on the beach.
And discusses how far he's gone
Glick says he's put 50,000 miles on the van and looks forward to clocking 50,000 more.  He also told Heavy what it is like cooking and living in the van. "I think the cool thing is that working in a galley is incredibly tight quarters and it really teaches you to be a handy chef. Everything has a place. Everything is always in its place, just a very tiny operation. When that led into me doing this adventure stuff, I realized I had all these big, expensive pans and fancy equipment, but you don't need any of that stuff to make good food."
Check out The Cheat Sheet on Facebook!