'Chicago Fire' Fans Should Prepare Themselves for a Shocking Death in the Season Premiere
The season premiere of Chicago Fire is going to be rough. The hit NBC show returns to TV on September 25, and fans should prepare themselves for a shocking episode, co-creator Derek Haas told Us Weekly.
Everyone is in jeopardy in the season premiere of 'Chicago Fire' 
Season 7 of Chicago Fire ended with a cliffhanger, with almost everyone from Truck 81 trapped in the basement of a mattress factory that was on the verge of exploding. Season 8 will pick up just moments after the events of the finale, as fans watch the disaster play out on screen, with devastating results. 
"We're in the basement, the boiler's about to explode. There's fire everywhere and all of our characters in jeopardy," Haas shared with Us Weekly. Someone won't make it out of alive, he confirmed to the magazine, adding that another character will suffer devastating injuries in the incident. 
Engine 51 is dealing with a 'real tragedy'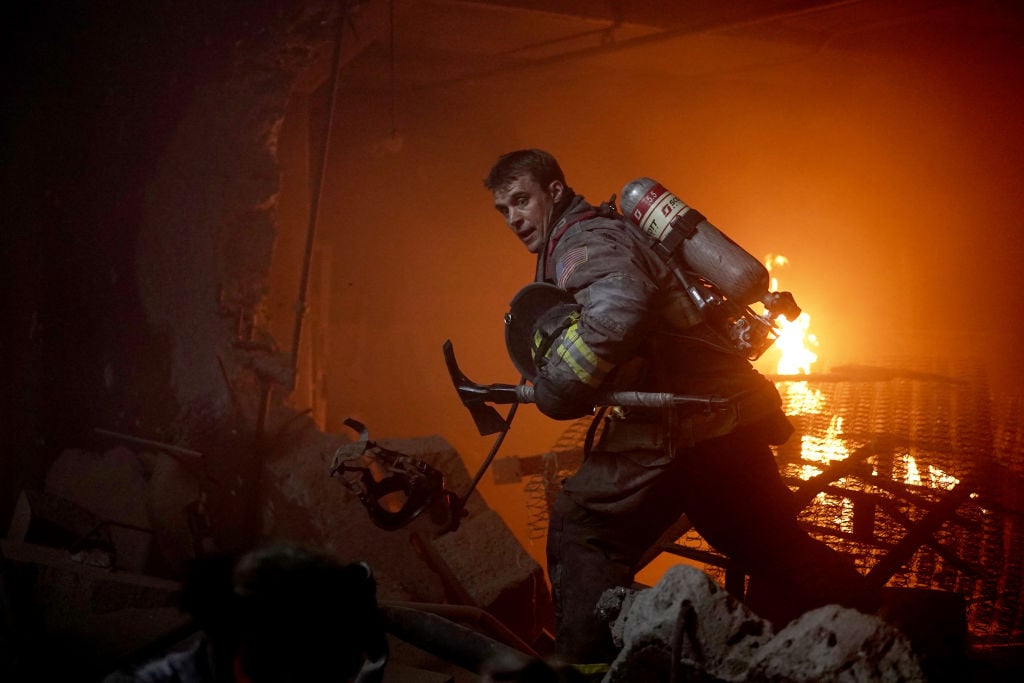 In the interview, Haas warned viewers that they should be prepared for the worst. 
"It's not one of those promotion fake-outs, which we've certainly been guilty of in the past," he said. "There's going to be a real tragedy that will involve, not only our 51 family, but also innocent people. This is a real nasty call to start out the season."
As for who will be exiting Chicago Fire after the season premiere, we'll have to wait and see. Even Haas was unsure about who would die when the season 7 finale aired in May. 
"Sometimes you write yourself, as they say, into a corner and you just say, 'OK, you know what? I'm going to write this as a finale, and then I know I'm going to have a couple of months to think about how we're going got resolve this,'" he said. "About two weeks after our hiatus started, I was talking to our head writers and that's when we came up with where this was going to go."
Which 'Chicago Fire' character will die? 
Naturally, there are plenty of theories about who might die in the next Chicago Fire episode. Chances are, Matthew Casey (Jesse Spencer) and Kelly Severide (Taylor Kinney) are safe, as both actors have signed on for another season of the show. But Christopher Hermann (David Eigenberg) and Darren Ritter (Daniel Kyri) are both in serious jeopardy. Both were standing right in front of the boiler at the episode's end, with Ritter ignoring Hermann's pleas for him to get out. 
Kyri is a recurring guest star on the show, which could mean that Ritter is most likely the character who doesn't make it out of the basement alive. After all, it's easier to write off a guest star than a series regular. And perhaps Hermann is the seriously injured firefighter who also has to cope with the fallout from Ritter's death. This seems especially likely given that Eigenberg is reportedly returning to the show for season 8, when he'll take a new firefighter named Blake Gallo (Alberto Rosende) under his wing, according to Deadline. 
Chicago Fire Season 8 premieres September 25 at 9/8c on NBC.