Chris Bukowski and Katie Morton Are 'Together and Very Happy' Says 'BIP' Alum
Bachelor in Paradise fans are worried about Chris Bukowski and Katie Morton and honestly, we can understand why. After last week proved to be particularly brutal for fans of the Bachelor franchise, all eyes are on Bukowski and Morton. On October 30, 2019, Tayshia Adams announced that she and John Paul Jones had split, primarily …
Bachelor in Paradise fans are worried about Chris Bukowski and Katie Morton and honestly, we can understand why. After last week proved to be particularly brutal for fans of the Bachelor franchise, all eyes are on Bukowski and Morton. On October 30, 2019, Tayshia Adams announced that she and John Paul Jones had split, primarily due to the strain of a long-distance relationship. Less than 24 hours later, Demi Burnett and Kristian Haggerty both announced that they'd called off their engagement and were officially going their own separate ways. Now, fans are concerned Morton and Bukowski are next.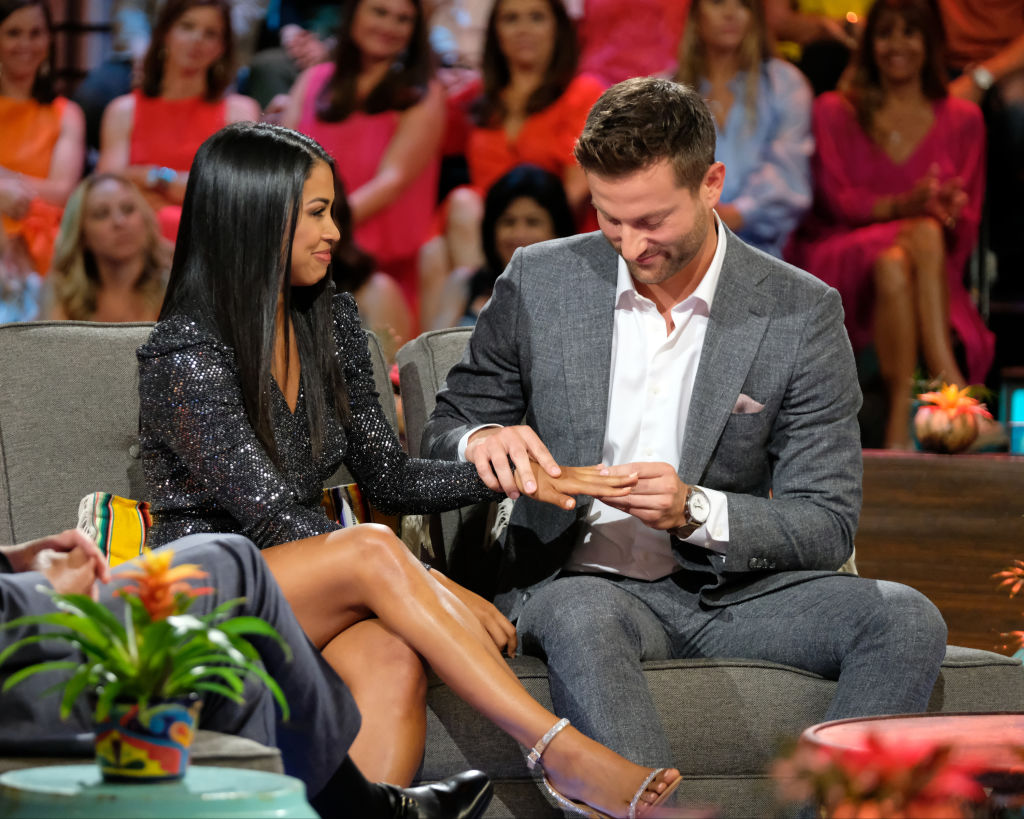 Katie Morton and Chris Bukowski
But, this is far from the first time that Bachelor in Paradise fans have expressed concern about the status of Morton and Bukowski's relationship. Though the pair left the beach engaged, their journey on the show was far from easy. They seemed to truly struggle with communication. Morton encouraged Bukowski to go out on dates with other women when she truly wanted to be exclusive with him. Meanwhile, Bukowski seemed to be very emotionally distant at times. The pair even struggled after they got engaged and they famously argued during the Bachelor in Paradise reunion special.
Bachelor in Paradise alums reunite
Though the pair seems to be in a better place now, a recent Instagram photo recently sparked more break up rumors. On November 3, 2019, Bachelor in Paradise alum, Jared Haibon, posted a picture of himself and his wife, Ashley Iaconetti at a vineyard event with fellow alums, Joe Amabile, Kendall Long, Krystal Nielson, Chris Randone, and Morton. Fans immediately noticed that Morton was the only one whose partner was not in attendance. Many of them immediately jumped to the conclusion that she and Bukowski had broken up.
Fans speculate about the engaged couple on Instagram
"Not surprised if Katie and Chris broke up. If they haven't they will. The man has deep-seated issues and can't commit. They weren't meant to be. He wasn't into her. She needs to move on and find someone who deserves her," one Bachelor in Paradise fan commented on the photo. "Does this confirm Katie and Chris broke up," another fan questioned. "Chris and Katie don't make sense I like her she seems nice but super desperate and poor Chris is almost trapped into something he's not into at all," another person chimed in. Chris Bukowski, why weren't you there," one person questioned.
Of course, many fans rushed to the defense of Bukowski and Morton, reminding people that the couple had no obligation to be together or post about each other all the time. Still, many fans weren't appeased by this argument. "Let's address the reason why we always are doubting their relationship. Maybe if they posted more of their love story. We could start to see more of the 'love' story and the doubt would fade. Things are earned not given," one Bachelor in Paradise enthusiast penned.
Jared Haibon confirms the couple is still together
Seeing that his post was causing quite the discussion, Haibon took it upon himself to comment on one of the fans posts' that asked where Bukowski was. "He couldn't make it but him and Katie are still together They're together and very happy," Haibon wrote back. So, Bachelor in Paradise fans can rest easy, Morton and Bukowski are still happily engaged with no plans to change that anytime soon.