Chris Evans Almost Revealed 'Avengers: Endgame' Spoiler During Press Conference
It's got to be hard to keep spoilers about Avengers: Endgame under wraps. It's also got to be a challenge for the movie's stars to be asked any number of questions about the film by the press and not be able to say anything or feel nervous that they might accidentally let something slip.
At today's Avengers: Endgame press conference, Chris Evans almost let a spoiler out of the bag — but was cut off before he could finish his thought.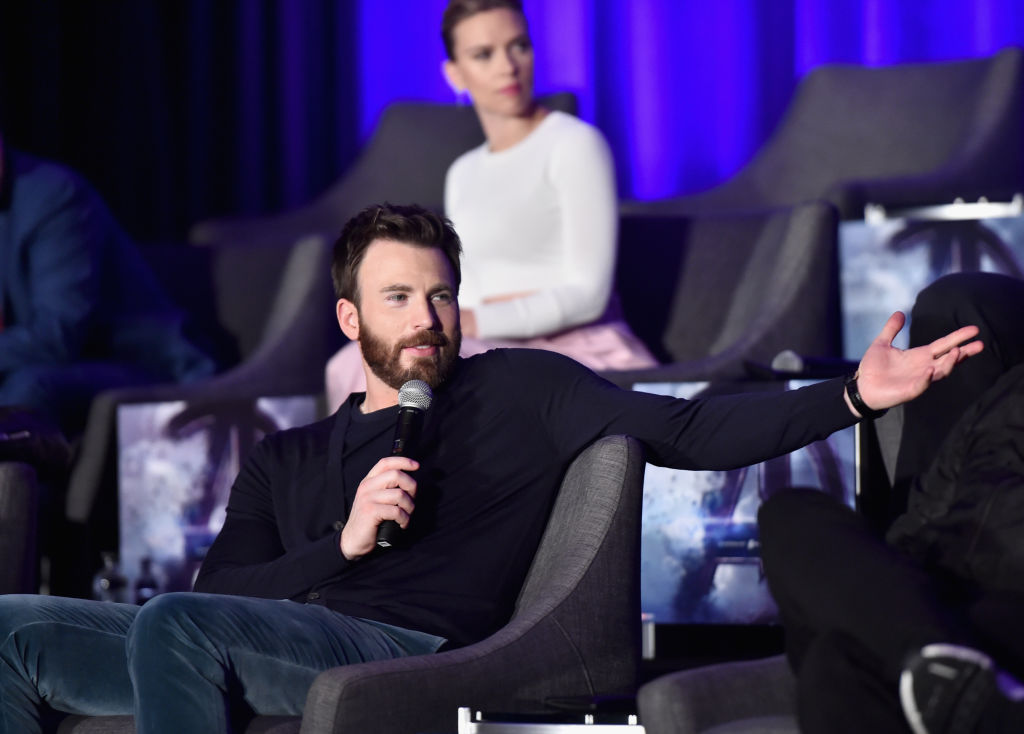 Avengers: Endgame press conference was a fun setup
While it might have been scarce on actual details, the Avengers: Endgame press conference in Los Angeles today did have a bit of fun with the cast and directors assembled.
First up, they recognized all of the fallen heroes who died at the end of Infinity War, representing them with a peppering of empty chairs among the cast and directors.
Iron Man director and star Jon Favreau, who hosted the event, noted: "Post-Snap, there's a few empty seats, so I'd like to welcome back the people that you see here onstage."
The following were in attendance at the event: Marvel Studios head Kevin Feige, Endgame directors Anthony and Joe Russo, Robert Downey Jr., Chris Evans, Mark Ruffalo, Danai Gurira, Chris Hemsworth, Don Cheadle, Scarlett Johansson, Paul Rudd, Karen Gillan, Jeremy Renner, and Brie Larson.
The cast of Avengers: Endgame were tight lipped
It was unlikely that anyone was going to spill the beans during the press event, but if anyone would have loose lips, it would have been Mark Ruffalo. It's honestly a wonder they let him speak about the Marvel movies any more.
During the press conference, however, Ruffalo did remark how "bittersweet" the moment was, noting: "It's the family you wish you had, in a way. There's something very bittersweet about this moment. As actors, we're like vagabonds. We kind of bounce around. We have these intense relationships and then you don't see anybody until you get nominated for something or you're nominated in something and you end up at an awards ceremony.
Larson explained an interesting challenge with Endgame
Since Larson was playing Carol Danvers for the first time on Avengers: Endgame, filming it before Captain Marvel, she shared the unique challenges she had to work with.
The actress shared: "I had to stumble and figure out who this character was, with no script for this and no script for Captain Marvel, and perform for the first time in front of legends.
She added: "There's a balance: as big as it is, it still feels like a bunch of kids doing what I was doing over my summer break, making movies in my garage. There's still this sense of wonder and play and encouragement. This film deals with heavy subject matters, so you're bouncing between things that are deep and serious, then we're going off and playing Boggle — which I am very good at."
Did Chris Evans almost reveal a spoiler?
Evans kicked off one answer by appearing to tread into spoiler territory, but was quickly cut off by director Joe Russo giving a buzzer sound to get him to stop his train of thought.
Evans said of his character Captain America: "I can give broad strokes. The completion of the arc, that's safe to say, right? This movie does provide an ending to a lot of…" After he was cut off, he continued, "He's been through so much. There's been so many wonderful elements of working on this movie. The friendships and connections I've made over 10 years now, it feels like a family."