Why Chris Evans Feels Sorry for 'Avengers: Endgame' Co-Star Scarlett Johansson
Chris Evans and Scarlett Johansson have been co-starring as Steve Rogers/Captain America and Natasha Romanoff/Black Widow, respectively, in the Marvel Cinematic Universe since 2012's The Avengers.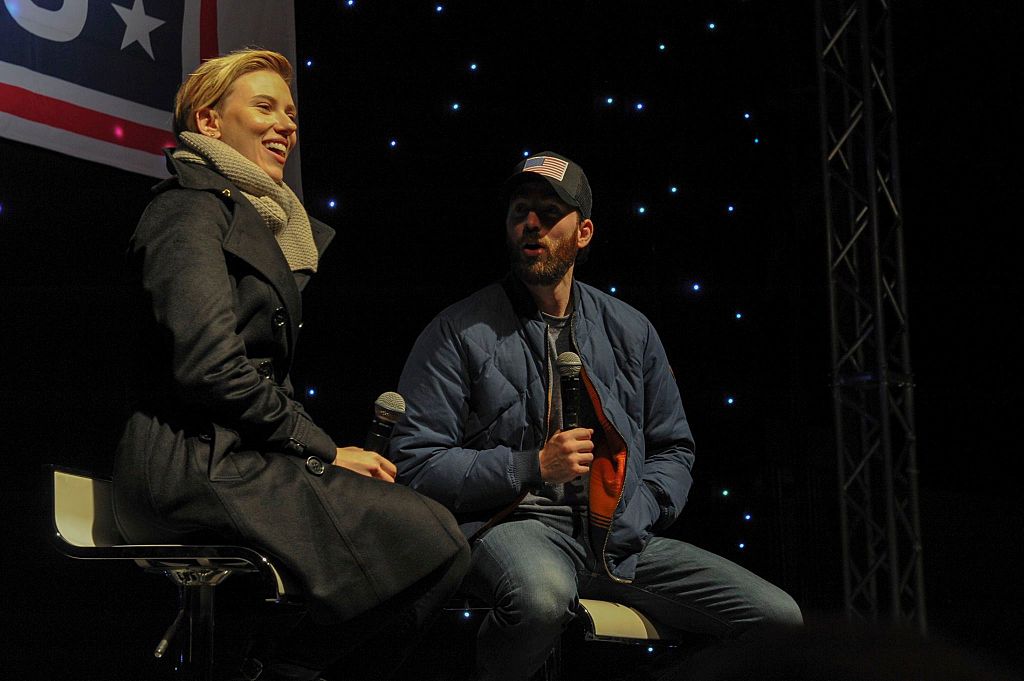 While Evans has starred in The Avengers saga, as well as Captain America standalone movies, Scarlett Johansson's first independent Black Widow film is still on the horizon. However, this is not why he used the phrase "Poor Scarlett" to describe his text messages with his co-star.

During an interview with ET, Chris Evans and Mark Ruffalo discussed the "text chain" that exists between the OG Six. The OG six, for those of you unfamiliar with the affectionate label, is what the six main superheroes from the first Avengers movie call themselves. Thus, the OG six group text includes Chris Evans, Scarlett Johansson, Mark Ruffalo, Robert Downey Jr., Jeremy Renner, and Chris Hemsworth. As you can see, only one woman exists in this text chain: Ms. Johansson.

Chris Evans: "Poor Scarlett"

When discussing the text chain, Chris Evans and Mark Ruffalo both laughed, before Chris Evans explained the text chain as "inappropriate" and "fun" before pausing and uttering the words "poor Scarlett."

Based on Chris Evans' account of the OG Six text chain, viewers can assume that there's a decent amount of testosterone fueling the conversations, leaving Scarlett Johansson looking for a little feminine energy.

While we're sure the messages are all in good fun, "poor Scarlett" is probably an accurate account of just how "inappropriate" and ridiculous the conversations become. However, fans of the series should be happy to know that, as Chris Evans told ET, The OG Six "never really fall out of contact." Given their on-screen chemistry, it's no surprise that the original cast is close in real life, and tend to keep in touch.

How does Scarlett Johansson feel about the text chain between herself and fellow 'Avengers: Endgame co-stars?

Speaking on behalf of the text chain, Scarlett Johansson told ET news, according to MSN, that "it's brutal" and she has to remove herself from the chain every so often. So, it appears Scarlett comes and goes from the text chain depending on just how out of hand it gets.

Though Scarlett Johansson has grown accustomed to working with mostly men in the MCU, she revealed that working on Avengers: Endgame was a big relief, as she got to work with more female co-stars, including Danai Gurira. While fans know Scarlett Johansson loves her fellow co-stars, having a few more girls on set proved nice. The actress stated:

"I will say this one thing: As the universe has expanded and is finally reflective of what's going on in the world and in the zeitgeist, I felt an enormous sense of relief because it was a big testosterone bust for a really long time and it was hard for me."

And while the Marvel Cinematic journey may be coming to an end for Chris Evans and a few other 'Avengers: Endgame stars (reportedly). One pivotal member of the OG Six, Johansson, will finally be receiving the standalone film audiences have been asking for, as a Black Widow movie is currently in pre-production.