Chris Harrison Is Proud Of The 'Bachelor In Paradise' Episode That Introduces Demi Burnett's Girlfriend
Last night's Bachelor In Paradise episode introduced a same-sex relationship to Bachelor Nation for the first time in the franchise's history.
When Demi Burnett arrived in Paradise this summer, she had an open mind. She had been dating a woman back in Los Angeles but came to Mexico to keep her options open and get to the heart of what exactly she was looking for in a partner.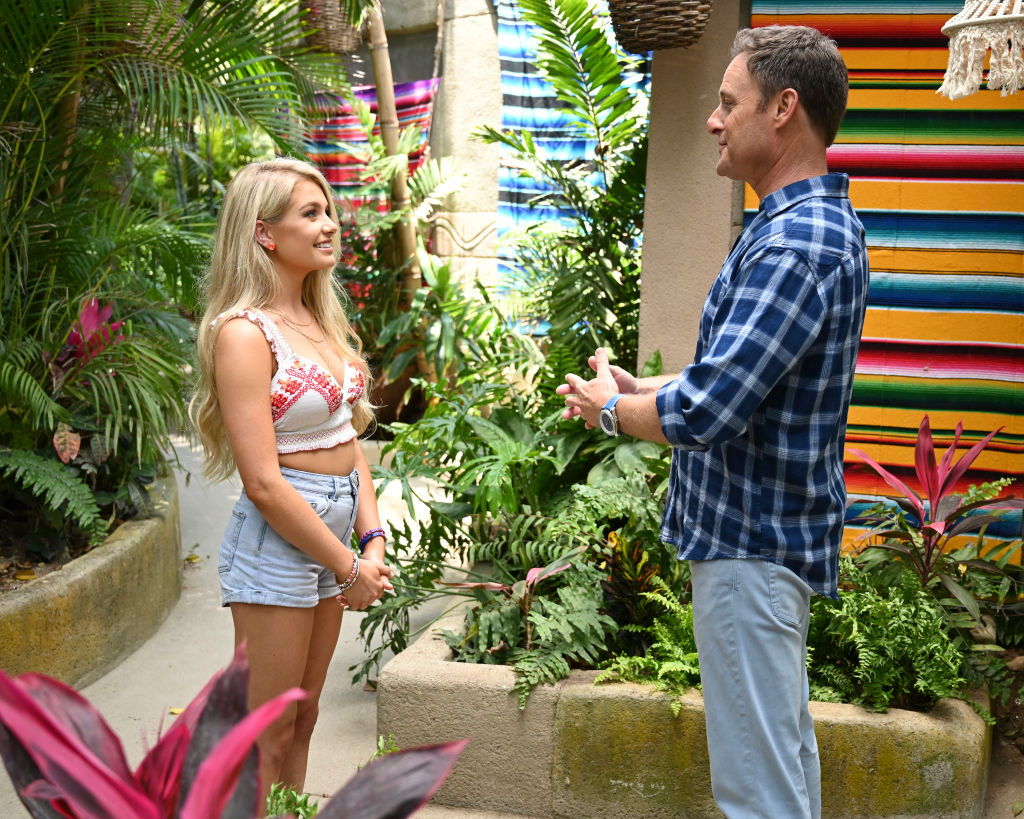 Derek Peth and Demi Burnett
Right away, Burnett hit it off with contestant Derek Peth. She was communicative with him about dating a woman prior to leaving for Mexico, and she was even honest about how much she missed her.
"I'm so confused," she told him. "I have this girl that I can't stop thinking about and then I have you, an amazing guy, in front of me that has blown my mind with how great of a person you are. And I'm trying to figure it out, but right now I'm just really torn."
Peth was understanding, kind, and mature throughout his conversations with Burnett.
As of last night's episode, the woman Burnett was missing, Kristian Haggerty, joined the cast of Bachelor In Paradise–an obvious producer move to drum up drama and a heartbreaking, sticky development for Peth.
When he learned of his new castmate, Peth asked Burnett if she'd introduce him to Haggerty. He greeted Haggerty with a hug and the two had a civil, respectful introduction. Later, Peth told the camera he wanted to meet Haggerty before she met everyone else because he knew it'd put Burnett's mind at ease.
Chris Harrison is proud of the Kristian Haggerty episode of 'Bachelor In Paradise'
Bachelor In Paradise host Chris Harrison recently took to Twitter to comment on the production of the episode.
"I'm extremely proud of the television we produced tonight. #BachelorinParadise," he wrote.
The post received mixed responses from Bachelor In Paradise fans.
"I must have missed the season Kristian was on. Now anyone can come on BIP?" responded one fan.
"The most boring and staged episode I've ever seen…if Demi was dating a man, he would have never been allowed to come back on the show. This was way over produced, and obviously planned the entire time. Looks like a lot of people are disappointed," wrote another.
"I love that Demi found love but why is she still on the show??" commented another.
Some Bachelor In Paradise fans applauded Harrison's post, but they seem to be in the minority.
"I am a 57 yr old man who has NEVER missed a single episode of ANY of the Bachelor franchise , no matter what….not bypass surgery or 3 fights with cancer. I want you to know that you did good tonight. Be proud," wrote one fan.
Read more: 'Bachelor In Paradise' Bartender Wells Adams Thinks Derek Peth Should Be The Next Bachelor