Chris Harrison Reveals He Thought Hannah Brown Was A 'Huge Mistake' For 'The Bachelorette'
Hannah Brown's season of The Bachelorette is just about upon us and many viewers are still nervous as to whether Miss Alabama Hannah can pull it off or not. Bachelor Nation has been speaking its mind, unfiltered, since ABC first made the announcement.
As it turns out, in addition to Bachelorette fans as well as franchise alums, the show's producers (most notably, Chris Harrison) were also nervous about the network's choice.
During Colton Underwood's season of The Bachelor, we knew her as the quirky southern pageant queen who had a heck of a time making toasts. She didn't exactly scream 'Bachelorette.' But when ABC brought a handful of women in to interview for the position, she must have really shone.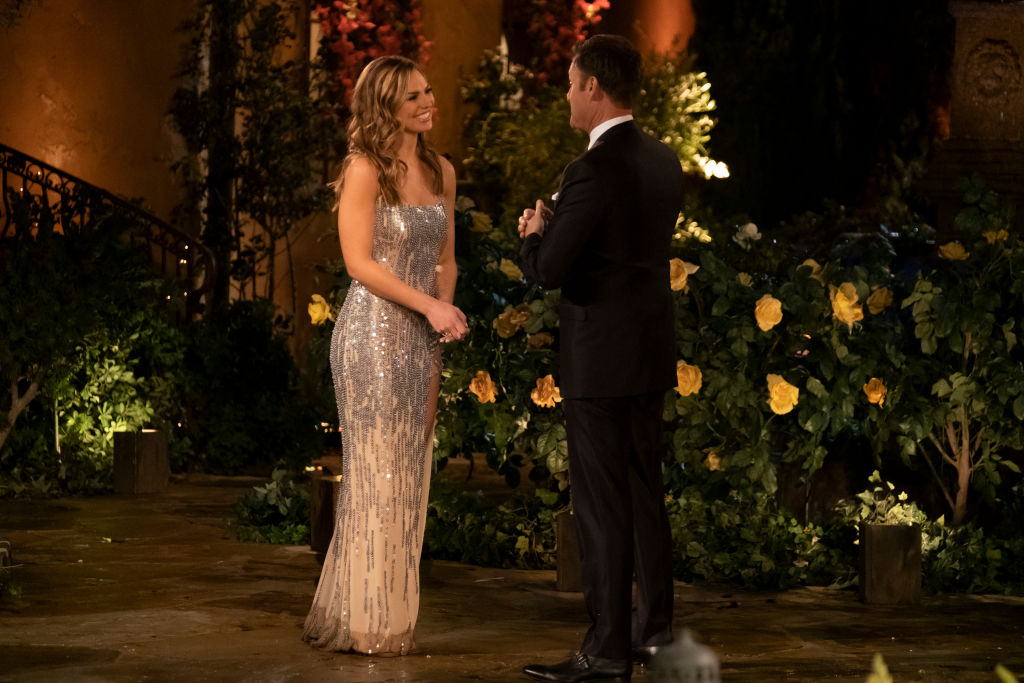 During her "Women Tell All" episode on Colton's season, she was incredibly poised–we saw a side of her we hadn't really seen before. But then came her Bachelorette tidbit during Colton's finale, and she was back to being Awkward Hannah.
"From the moment Harrison brought Hannah B. out on stage in front of the live audience, she was painfully awkward. So awkward, it's as if the show's producers told her to lean into her awkward tendencies, as if they believe them to be charming," we've previously reported on The Cheat Sheet. "Hopefully, the show will see how viewers at home responded to the absolutely brutal interactions between her and some of her eligible bachelors and realize we'd all like the "Women Tell All" version of Hannah B. back, not this cringe-worthy "adorkable" one. Because when the bachelorette is uncomfortable, the audience is uncomfortable. We want to feel like she's in control and running the show. We don't want to be squirming in our seats rooting for her to just get through simple interactions."
Chris Harrison was worried after Hannah Brown's first 'Bachelorette' appearance
Just like the rest of us watching along at home, Chris Harrison felt worried after Hannah Brown's first stint as The Bachelorette during Colton's finale.
"I left that special thinking, 'Oh, dear Lord, did we just make a huge mistake?'" Chris told The Hollywood Reporter.
He continued: "Whoever was skeptical after the After the Final Rose special and was scared: I was in that boat. I was scared to death!"
Chris Harrison now thinks Hannah Brown's season will be well-received
There isn't a world where the host/producer of the show tells America that Hannah Brown's season of The Bachelorette is going to be a bad season. But it seems he really has had a change of heart.
"After night one — actually, about an hour into filming that first night — I realized: this was the woman. This was Hannah. She came in firing on all cylinders, controlled the situation, was funny, sweet, powerful and all the things that we knew she was. That's when I thought, "Ok, this is Hannah." So if you're scared to death, just give it a second. You'll be OK, just as I was," he said.
Read more: 'The Bachelorette': A Look At Hannah Brown's Ex-Boyfriends
Check out The Cheat Sheet on Facebook!