Chris Harrison Says 'The Bachelor' Can't Feature Too Much Diversity For Fear Of The Show Getting Cancelled
'Bachelor' host Chris Harrison gets candid about the show's diversity issue.
In the past few years, The Bachelor franchise has made some strides in creating a more diverse show. In 2017, The Bachelorette featured its first black star (Rachel Lindsay), and the most recent season of Bachelor In Paradise featured the show's first same-sex engagement (Demi Burnett and Kristian Haggerty–who have since split up).
The show still has a long way to go, though, to be considered inclusive.
Franchise host Chris Harrison recently spoke to a group of journalism students at the University of Southern California about "diversity and the behind-the-scenes of the reality television series," according to The Daily Trojan.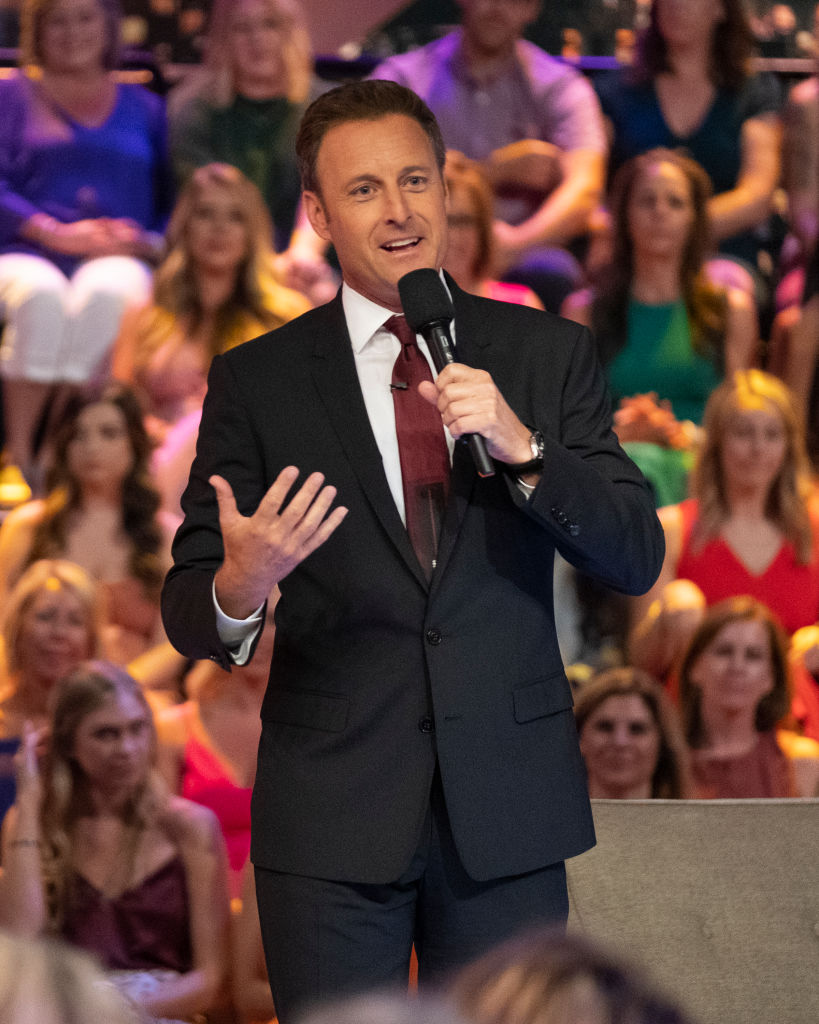 The discussion went over-time because Harrison took so many student questions.
Chris Harrison addresses the diversity issue
One student, after professing her love for the show, asked Harrison if the producers are conscious of the audience's desire to see more diversity and if we can expect better representation in the future.
Harrison agreed that when the show first began in 2002 it did not do a great job of casting diverse contestants. He does feel representation has improved through the years, but that he and the producers can't make any "great social statements" anytime soon.
"It was incumbent on us to change that narrative, and we have done that," he said. "Over the last several years, we have taken great strides in … trying to make you feel more represented. While I would love to only make great social statements and really change the world, I can't just do that because we have to stay on the air … or I'm not making a social statement to anyone."
Harrison went on to say that he feels The Bachelor team can't force diversity on its viewers.
"You have to take it as it comes … because then it's organic and then it feels right," he said. "When you try to force things is when it backfires on you … We took that step in that we had our first African American, but I didn't look at her and go, 'So happy she's Black.' I'm happy that she's a badass woman, and oh by the way she also happens to be African American."
Another student asked Harrison about the likelihood of a gay Bachelor ever taking place.
Harrison said he does not know if that will ever happen.
The franchise's host believes that The Bachelor's role isn't to change society, but rather, to change as society changes. He used Lindsay and Burnett as examples of the show evolving with the culture.
Harrison also mentioned that many of the people who work on The Bachelor behind-the-scenes are of different races and sexual orientations.
'The Bachelor' is very much 'real,' according to Chris Harrison
The host also discussed how much of the show is "real," and how much is produced–a hot Bachelor Nation topic, especially after this last season of Bachelor In Paradise.
Harrison assured the audience that the contestants are real people who he and the producers truly care about.  
"You kind of have to take your hand off the wheel and let stuff happen," he said.
Harrison said that what the contestants say is never scripted, but that producers construct environments that force contestants to "deal with each other" in interesting ways.
Read more: 'BIP' Fans Think Katie Morton And Chris Bukowski Broke Up Because Of These Instagram Posts