Chris Hemsworth and More Celebrities Who Acted With Their Spouses in Movies
Actors have often fallen in love on set after playing love interests. Some of the same ones later try to recreate the spark by c0-starring in a movie again after walking down the aisle. After all, when looking for two people who can have chemistry, why not pick people who love each other in real life?
Sometimes, this has led to good movies and other times, not so much. There are also some interesting stories about how the couple managed to work together. So which spouses liked working together? Here are 20 celebrity couples who acted together in movies.
1. Chris Hemsworth and Elsa Pataky in 12 Strong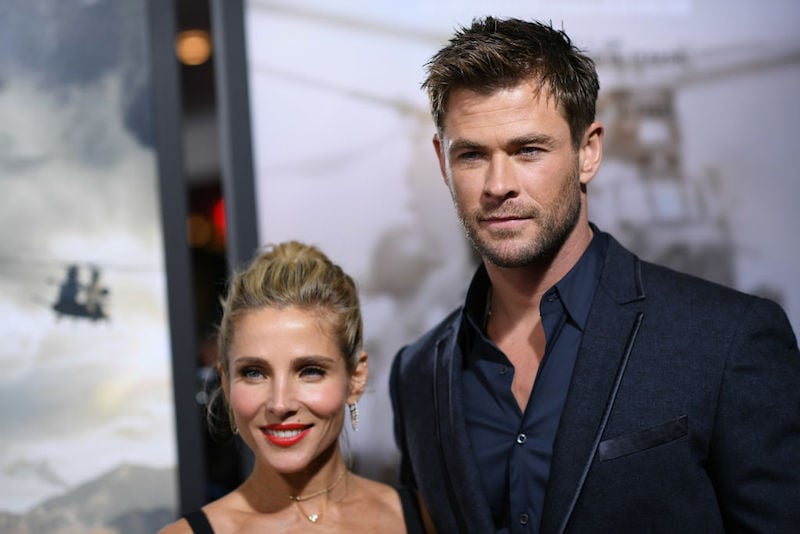 The two actors are part of huge franchises, with Chris Hemsworth playing Thor and Elsa Pataky playing Elena in the Fast & Furious franchise. They have also been married since 2010 and have three kids together: daughter India and twin sons Tristan and Sasha.
Their latest movie is 12 Strong where they also portray a married couple, which made their job easier. Hemsworth told Cinema Blend:
Obviously, it was much easier with Elsa playing my wife. I felt like we've been rehearsing more than seven years for this part. We joked while we were filming, 'If we don't have any on-camera chemistry in this movie then we're in trouble.'
Pataky also talked about how this experience is different for them at the movie's premiere. "It's like we're going to the movies but we are in the movie, which is great. It's fun," she told ET. "We are both excited. Usually, it's me supporting him and now, this time, I have a role here. So it's interesting to just watch us and we're both excited [in] the same way."
Next: These two married actors starred in two movies together in 2017.

2. Alison Brie and Dave Franco in The Disaster Artist, The Little Hours, and The Lego Movie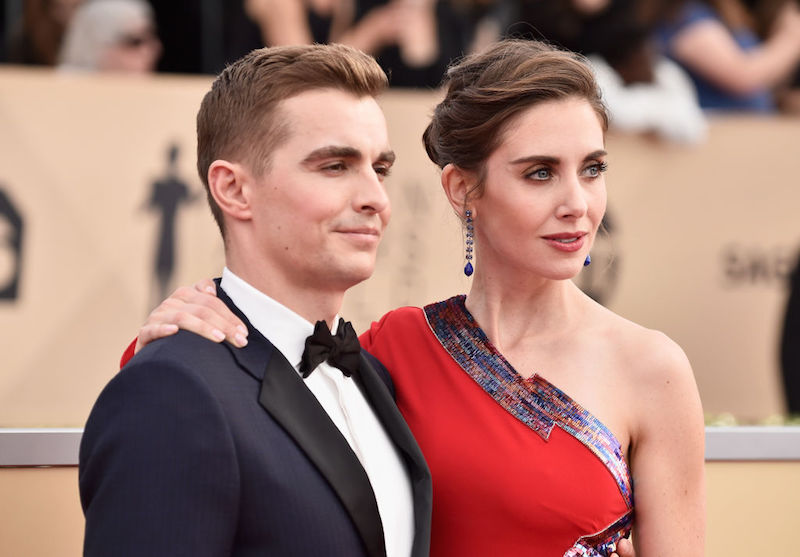 The married couple walked down the aisle in 2017 and appeared on screen together twice the same year. Alison Brie played Dave Franco's love interest in The Disaster Artist. Given James Franco also co-starred in the movie, it was clearly a total family affair.
But it wasn't the first time the spouses played love interests together. Franco told InStyle:
I've been lucky enough to work with Alison a few times this past year. It was a little scary going into the first project, because we were playing love interests in that one as well. In the back of my mind, I was scared that there might not be chemistry between us onscreen, and that would be weird! But on the contrary, it was so easy to act with her.
Next: This Oscar-nominated movie had married movie stars play a couple that divorced.

3. Will and Jada Pinkett-Smith in Ali
Will Smith played Muhammad Ali and Jada Pinkett-Smith played his first wife in the biopic. The movie is still one of the actor's best, and it got him an Oscar nomination.
The experience impacted them both to the point where they thought about spending a year in Johannesburg with their family because they didn't want their kids to be "completely miseducated" about their heritage, according to ABC News.
Next: These two celebrities made movies before, during, and after their marriage.

4. Courteney Cox and David Arquette in Scream 2, The Shrink Is In, The Tripper, and more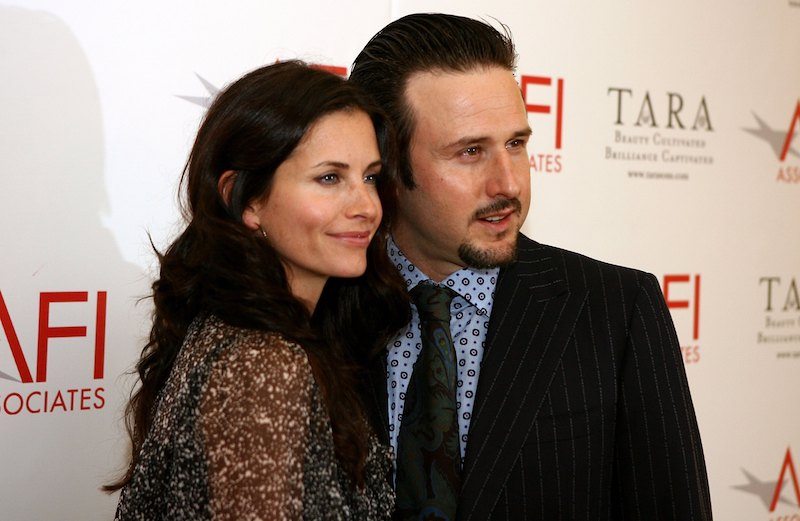 The two actors have a long and interesting history with each other and the Wes Craven franchise. They met on the set of the first Scream movie and were married by the time of the sequel. However, they divorced in 2013. They still came back to work together for the later sequels though.
Cox claimed it's actually better working with Arquette now than the first time around. "I love him so much," she told Entertainment Weekly. "We are the closest of friends. I would say we're probably better now than we were during that movie."
They worked on eight movies together in total, six of which occurred were while they were married.
Next: These movie stars did three movies together before their divorce.

5. Nicole Kidman and Tom Cruise in Far and Away and Eyes Wide Shut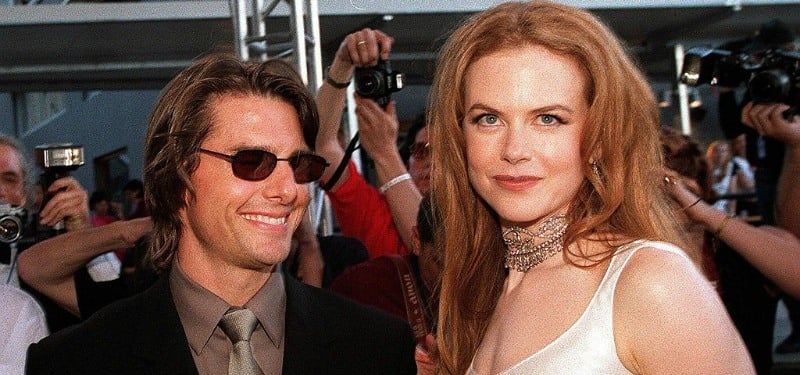 The celebrity couple met on the set of Days of Thunder and wed in 1999. They reunited for the movie Far and Away, which featured Tom Cruise's terrible Irish accent.
They also later starred in Eyes Wide Shut together before divorcing in 2001.
Next: These two actors have been married for 19 years and recently made a movie together.

6. Annette Bening and Warren Beatty in Love Affair, Bugsy, and more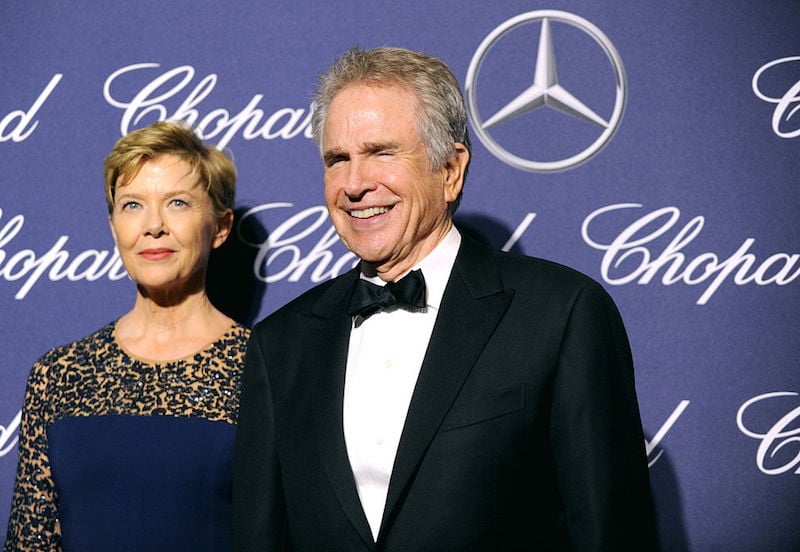 The celebrity couple has been married since 1992. Since then, they have worked together on four movies: Love Affair, Bugsy, Forever Hollywood, and Rules Don't Apply. The last one was in 2016, and although Warren Beatty has had a long-running career, he still puts his marriage first.
"What I think is that having four kids, and having the marriage that I have, is the best thing that has ever happened to me," he told Deadline.
Next: This actress would often have to act repulsed by her husband onscreen.

7. Ben Stiller and Christine Taylor in Zoolander, Tropic Thunder, and more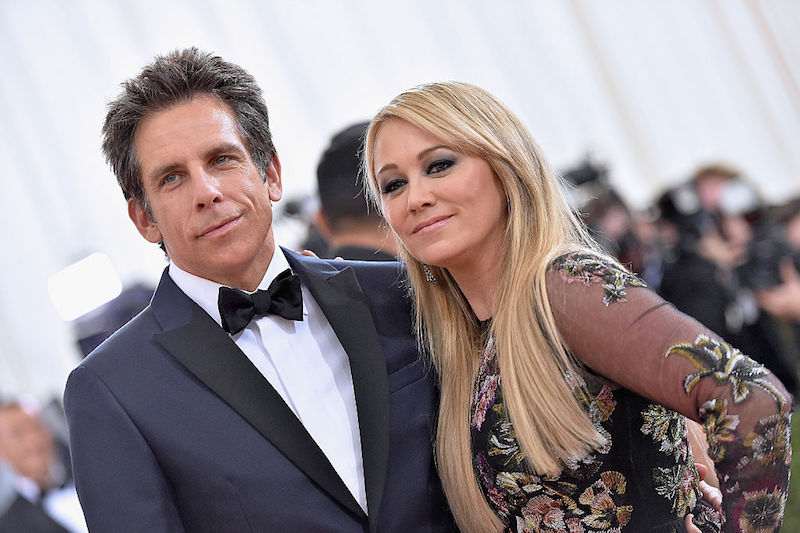 The couple got married in 2000. They then went on to do five scripted movies together: Zoolander, Dodgeball: A True Underdog Story, Tropic Thunder, Zoolander 2, and Little Boxes. 
Christine Taylor would sometimes have to act repulsed by Ben Stiller's characters and talked about that while promoting Dodgeball: A True Underdog Story. "To me, he's my husband, he can't look bad in anything," she said, referring to his unitard to Black Film.
She continued, "That being said, I loved being the nemesis. I loved it. I loved being repulsed, and it was just a great experience all [around]. I mean, we had a blast."
They lasted for quite some time for Hollywood and had two kids, but shockingly announced their separation in 2017.
Next: This couple scandalously got together on the set of one movie and later made another.

8. Brad Pitt and Angelina Jolie in By the Sea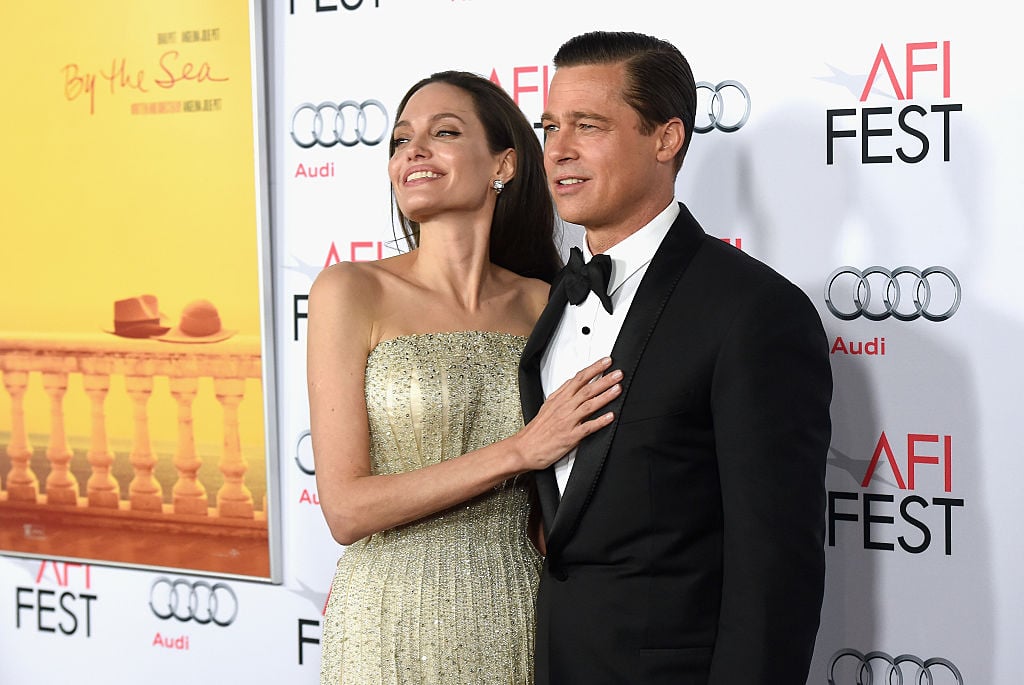 The couple famously met and fell in love on the set of Mr. & Mrs. Smith. But they reunited on screen again in By the Sea a year after they were officially married.
The couple is now separated and moving forward with a divorce.
Next: You might not have noticed but this funny actor puts his wife in a lot of his movies.

9. Adam and Jackie Sandler in Big Daddy, 50 First Dates, Eight Crazy Nights, Grown Ups, and more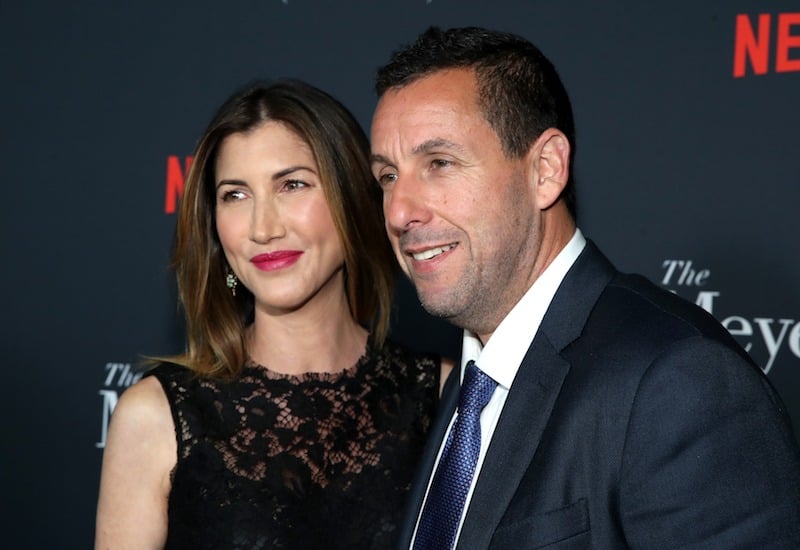 The comedian has made it to the point in his career where he can produce most of his stuff, so that means he has a lot of power in casting. He has actually been putting his wife, Jackie Sandler, in most of his movies along with other family members.
She appeared in Pixels, as did their two kids and his nephew.
Next: When this couple worked together, they fought over cleavage.

10. Kristen Bell and Dax Shepard in CHIPS, When in Rome, and The Boss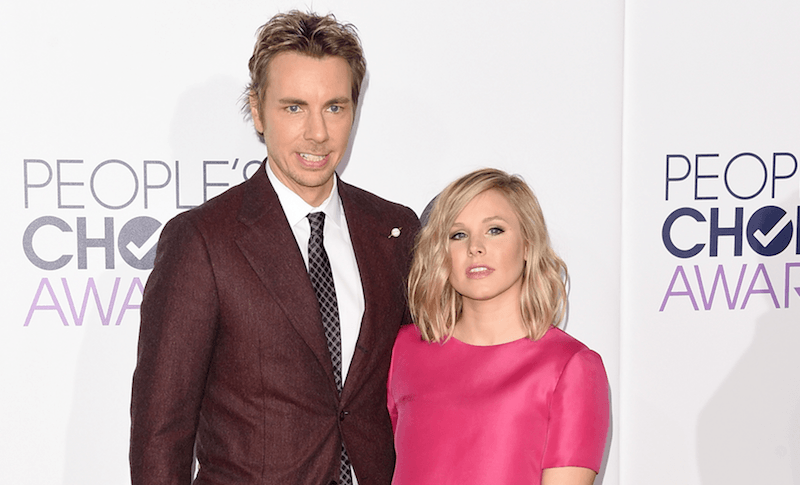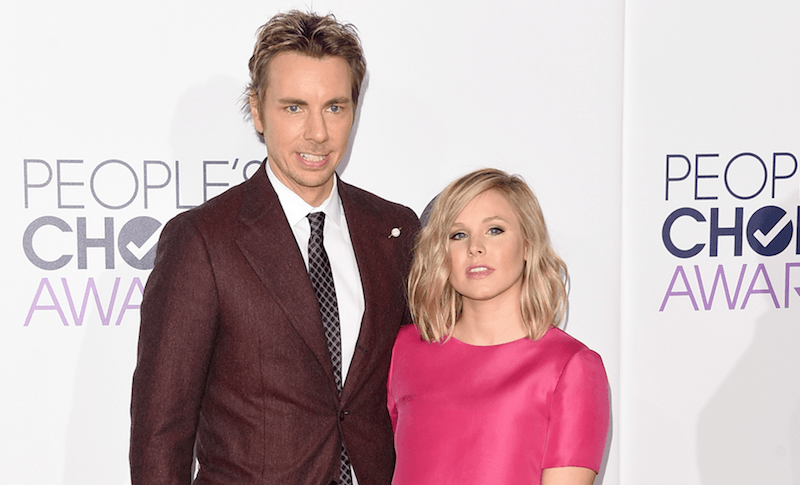 The celebrity couple has been married since 2013 after they met on the set of Hit and Run. They have done multiple movies since, but Dax Shepard directed and starred in the movie adaption of CHIPS. 
Kristen Bell was cast as a trophy wife named Karen in the movie. By that time, they were married for four years. They actually disagreed on how much cleavage she would show.
"When I came out with a chest that size, he said, 'It looks great, but you need to zip the bathing suit up a little bit,'" she told E! News. "And I was like, 'Honey, I get these one time. I want a lot of cleavage. I want this to look aggressive.' … it was the one disagreement we had on set."
Next: This couple are in a mostly silent horror movie together.

11. John Krasinski and Emily Blunt in A Quiet Place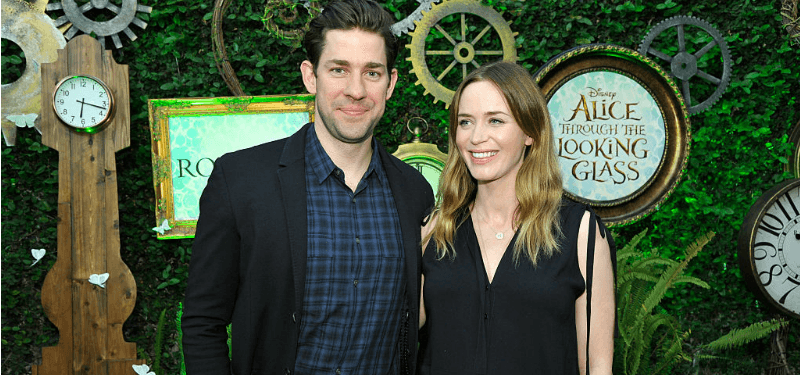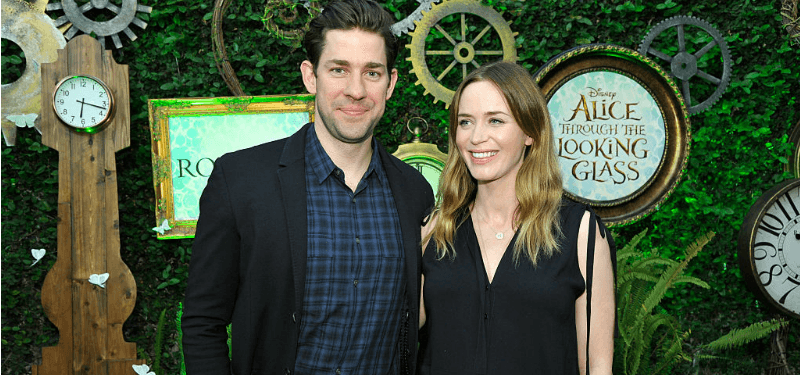 The two play parents in this quiet horror movie, which John Krasinski actually directed. In real life, they have been married since 2010 and have two children together. Krasinski had nothing but nice things to say about Emily Blunt's acting.
"The air changes in the room when she starts doing what she does," he told Vanity Fair. "It's so honest and so pure and so powerful. It's like a superpower that she can just unlock and do so specifically with not many attempts. For me, I love acting, and I'm so lucky to be doing it. But she's on another plane."
They both were also involved in The Muppets, Don Jon, The Wind Rises, and Animal Crackers.
Next: This singer and actor starred in a bad movie together.

12. Madonna and Sean Penn in Shanghai Surprise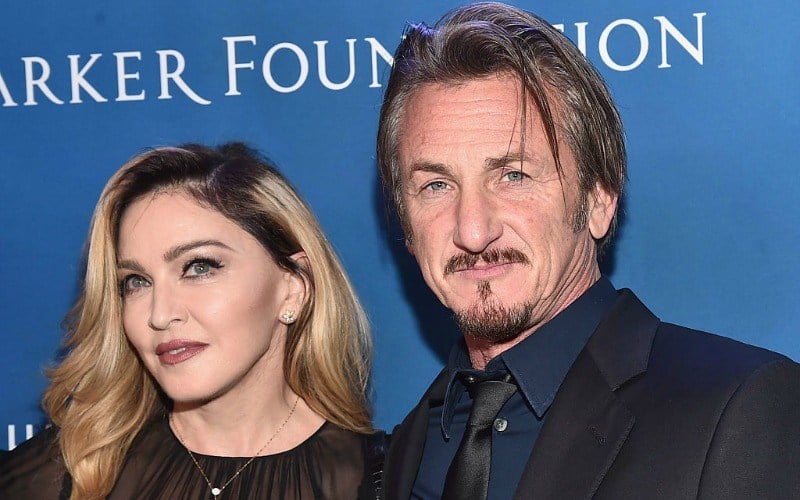 The pop star married the actor in 1985. A year later, their crime movie was released and it was panned by critics. The relationship also fell apart, and the two divorced in 1989.
Next: This Hollywood couple married twice and did more than 10 movies together.

13. Richard Burton and Elizabeth Taylor in Who's Afraid of Virginia Woolf?, The Taming of the Shrew, and more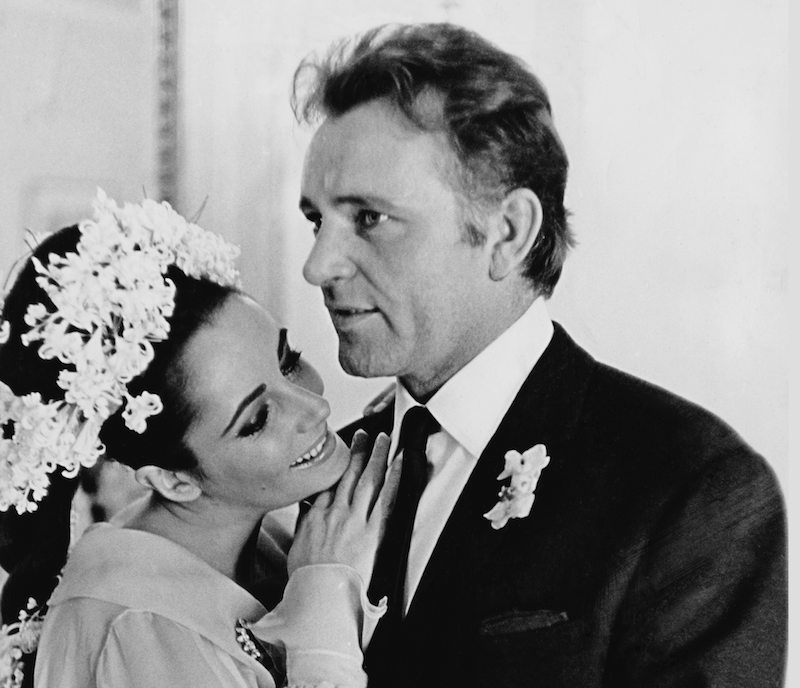 One of the biggest Hollywood love stories is between Richard Burton and Elizabeth Taylor. They had a famously tumultuous relationship and actually married twice.
The first time was from 1975 to 1976. Their second marriages lasted from 1964 to 1974. In the end, they made 11 movies together.
Next: This couple from the U.K. did movies and television together.

14. Kenneth Branagh and Emma Thompson in Dead Again, Much Ado About Nothing, and more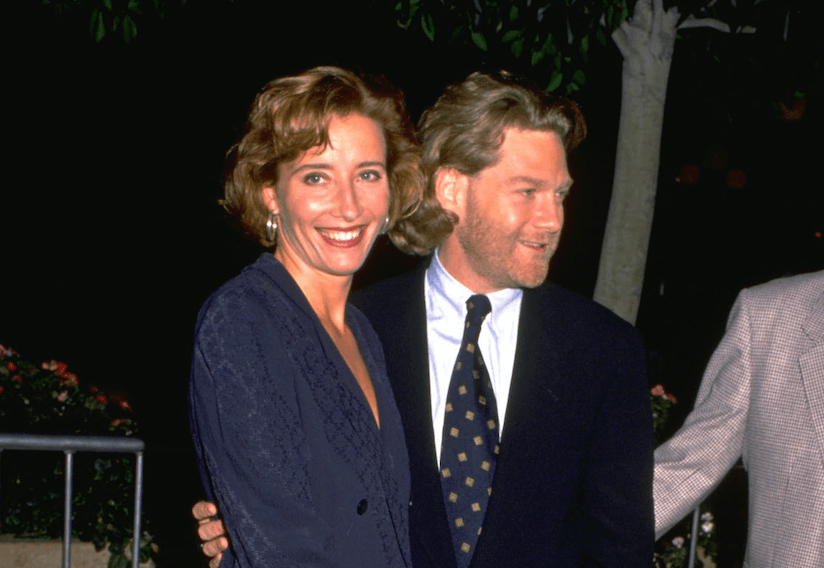 The two were married from 1989 to 1995. During that time, they did five movies and a mini-series together. The first time they paired up was in 1989's Look Back in Anger. They then went on to do Dead Again, Much Ado About Nothing, Henry V, Peter's Friends, and Fortunes of War.
After their divorce, they actually reunited, starring in The Boat That Rocked in 2009.
Next: Bogie starred in multiple movies with his wife.

15. Humphrey Bogart and Lauren Bacall in The Big Sleep, Dark Passage, and Key Largo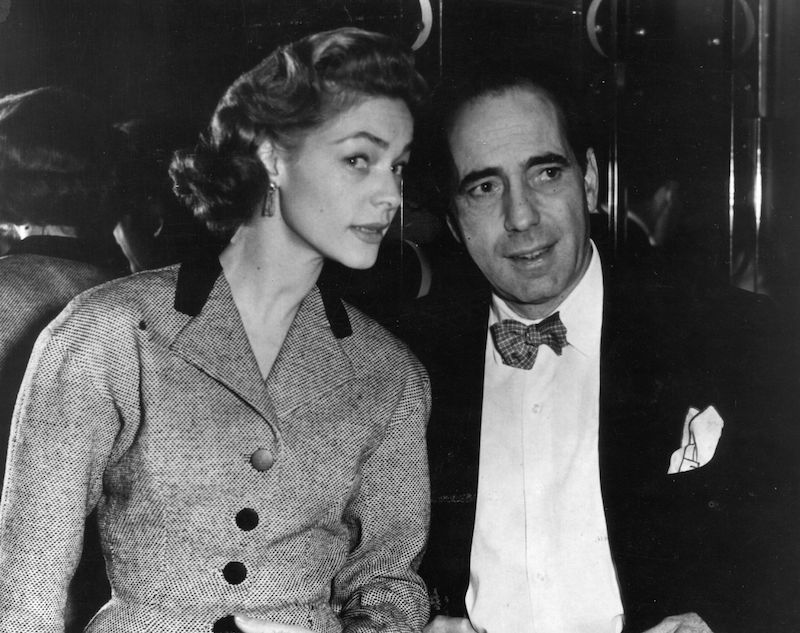 Humphrey Bogart and Lauren Bacall previously starred in To Have and Have Not together in 1944. They then were married from 1945 to 1957. During that time, they made three more movies together and had two children.
Next: This couple did a remake together before their messy divorce.

16. Alec Baldwin and Kim Basinger in The Getaway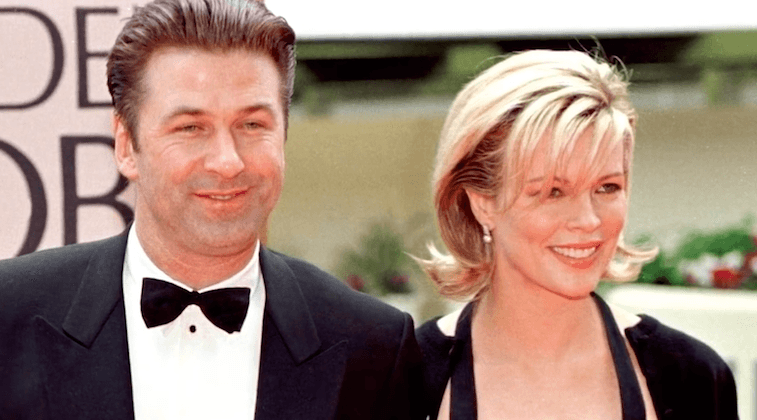 The actors met on the set of The Marrying Man and were then married from 1993 to 2002. In 1994, their remake of the adventure movie, The Getaway, was released. That was their last movie.
They had a daughter together and eventually went on to have a messy divorce.
Next: This couple was married for 50 years and did a lot of work together.

17. Paul Newman and Joanne Woodward in Harry & Son, Paris Blues, and more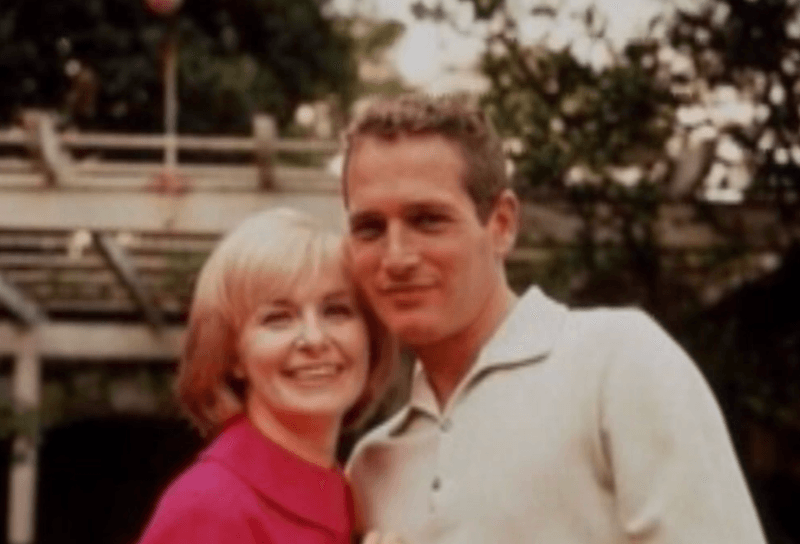 The couple first met on the set of The Long, Hot Summer and got married in 1958.
They were married for 50 years, and during that time, they did nine movies together: Rally Round the Flag, Boys!, Harry & Son, Paris Blues, From the Terrace, WUSA, Winning, The Drowning Pool, A New Kind of Love, and Mr. & Mrs. Bridge.
Next: This funny couple did some work together before separating.

18. Chris Pratt and Anna Faris in What's Your Number? and more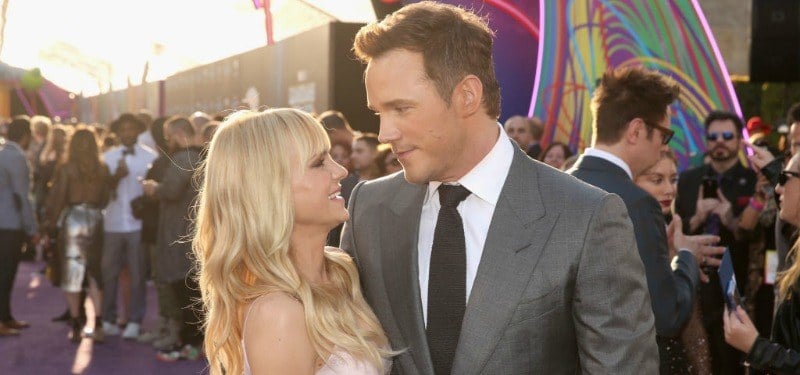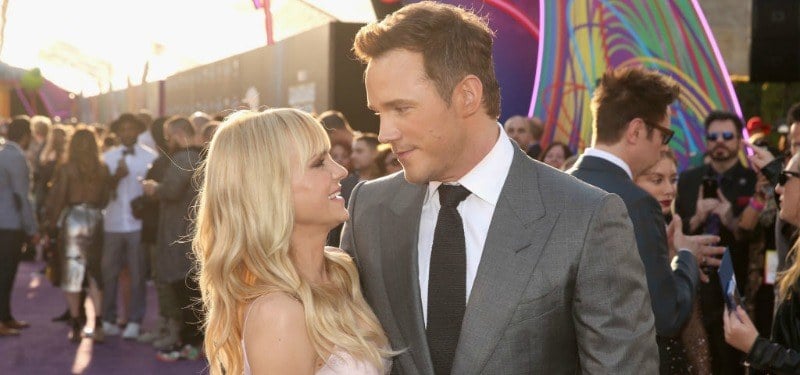 The funny stars got married in 2009 after meeting on the set of Take Me Home Tonight. They went on to do two more movies together: What's Your Number? and Movie 43.
In 2017, they announced they were separating so their time working together is probably over.
Next: These stars were in a fake movie together.

19. Ashton Kutcher and Mila Kunis in Annie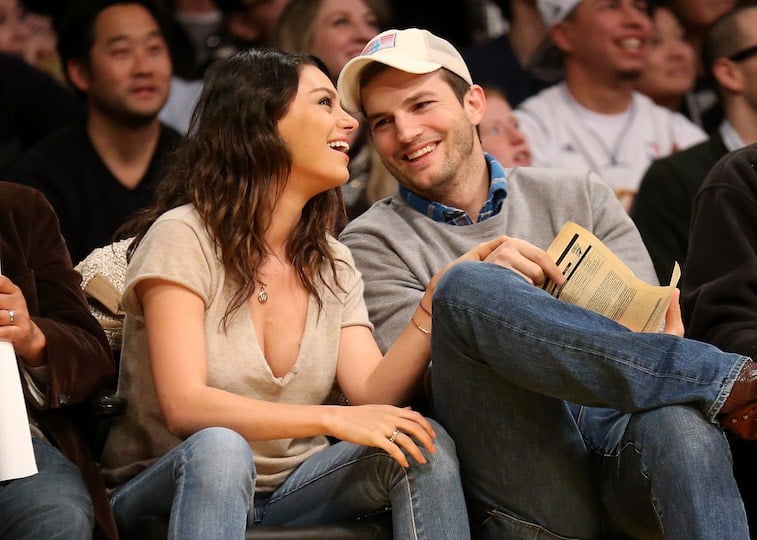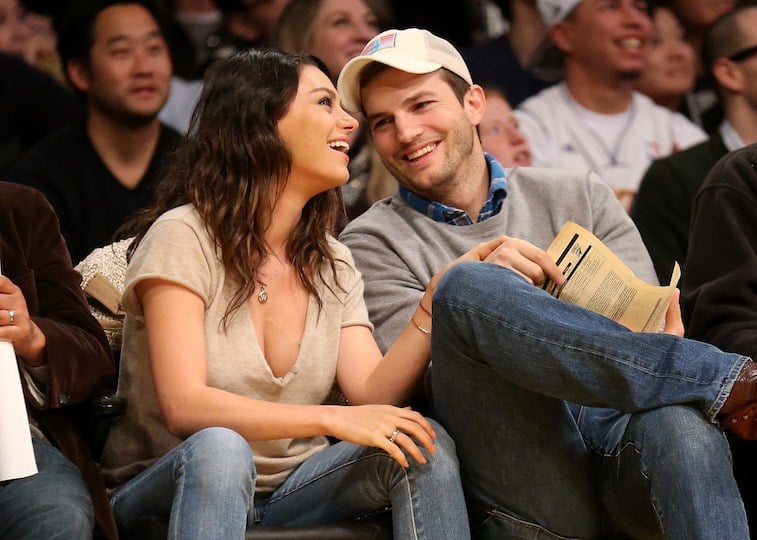 The movie stars got married in 2015. Since then, they have done one movie together, Annie. In it, they play actors who star in a fake movie called Moonquake Lake, in which a woman who is half-fish falls in love with a man. It's crazy but looks fun.
Next: This couple did a movie together but someone else was cast as the husband's love interest.

20. Leighton Meester and Adam Brody in Life Partners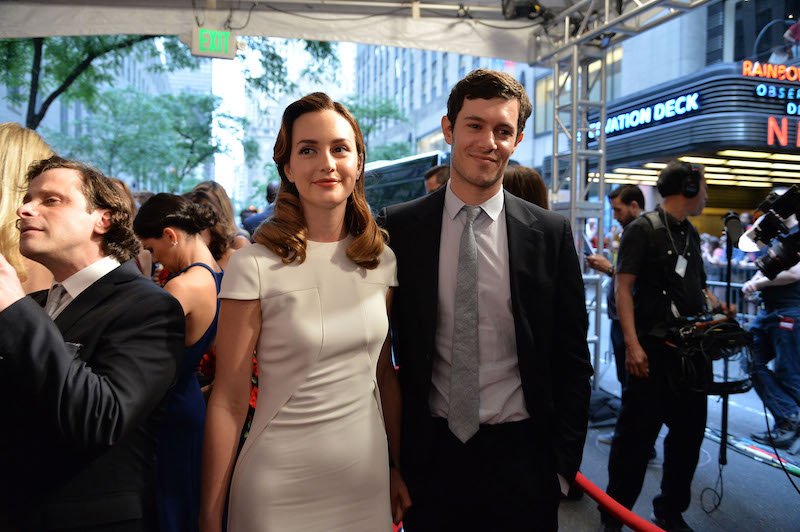 The television stars got married in 2014. After that, they starred in a little movie called Life Partners. Instead of playing a couple that falls in love, Leighton Meester plays a woman who is hurt when her friend gets a boyfriend. Her co-star, Gillian Jacobs, is the one who has the love story with Adam Brody.
Follow Nicole Weaver on Twitter @nikkibernice.
Read more: Till Death Do Us Part: 25 of the Longest-Lasting Celebrity Marriages
Check out The Cheat Sheet on Facebook!