Chris Hemsworth, Chrissy Teigen, and Other Celebrities Who Do Their Own Grocery Shopping
These days, going grocery shopping has become one of the most tedious tasks we can do. And it's easy to be jealous of the celebrities who have someone doing all of their grocery shopping for them — not to mention their personal chefs. But, surprisingly, there are quite a few ultra-famous A-listers who head to the grocery store all on their own. Yes, those celebs do exist.
Ariana Grande 
The "Thank U, Next" singer might perform in front of thousands by night, but during the day, she's just like the rest of us — sort of. Grande was once spotted at a Pennsylvania Target and Whole Foods in the same day, and the singer reportedly loves the popular grocery chain. Grande once Tweeted that she "loves Whole Foods so much, there actually aren't words."
Chris Hemsworth
Marvel star Chris Hemsworth is another celebrity who loves Whole Foods. Hemsworth and his wife, Elsa Pataky, were spotted taking a trip to Whole Foods with their daughter back in 2013. It seems to be the celebrity grocery store of choice, but we're not hating — their store-made macaroni and cheese is unreal.  
Taylor Swift
Megastar Taylor Swift certainly isn't shy about her love for Whole Foods. Yes, another celebrity who loves this chain health food store isn't exactly shocking, but Swift has been shopping there for years. She's been photographed in the store on several occasions, and in 2014, she was spotted walking through Los Angeles with her recyclable Whole Foods bag in tow.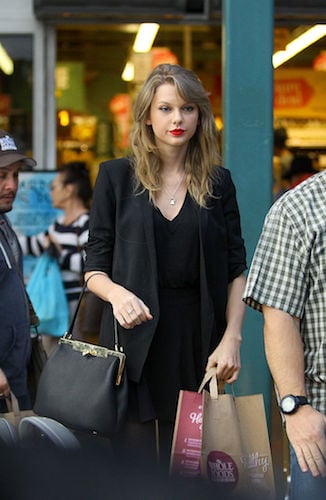 Zac Efron
OK, if Zac Efron weren't Zac Efron, he probably never would have gotten away with skateboarding through a grocery store. But his rugged good looks and superstardom were clearly enough to help him avoid any trouble when he went skating through his local Gelson's supermarket in California. When he's picking out food items, he either holds it under his arm or leaves it on the ground next to his basket — probably more convenient than trying to find a parking spot.
Chrissy Teigen  
Chrissy Teigen not only does her own food shopping, but she even has her kids in tow. Teigen and her daughter, Luna, have been spotted filling up their shopping cart at their local grocery store. She might be a supermodel, but when the cameras are off, she's a super mom. And judging from the photos, she totally loves Captain Crunch cereal.
Michelle Obama
She might be a former first lady, but these days, she's a celebrity. Michelle Obama still likes to pick out her own fruits and vegetables. Granted, she probably didn't shop at her local grocery store while living at the White House, but now that her husband is no longer president, she has a bit more freedom to do what she wants. According to Moneyversed, Obama was once spotted wearing a hat and sunglasses while shopping at Target, proving she won't let anything stop her from buying her favorite foods, clothes, and literally anything else — because Target has everything.