Chris Hemsworth Keeps It Real: Helps Out at His Kids' School
Chris Hemsworth is too cool for school. No, really. In addition to killing it at the box office with the movie Avengers: Endgame, Hemsworth is also tackling daddy duties. Last week, he put in some time at his kids' school to help make lunches — and he's really good at it.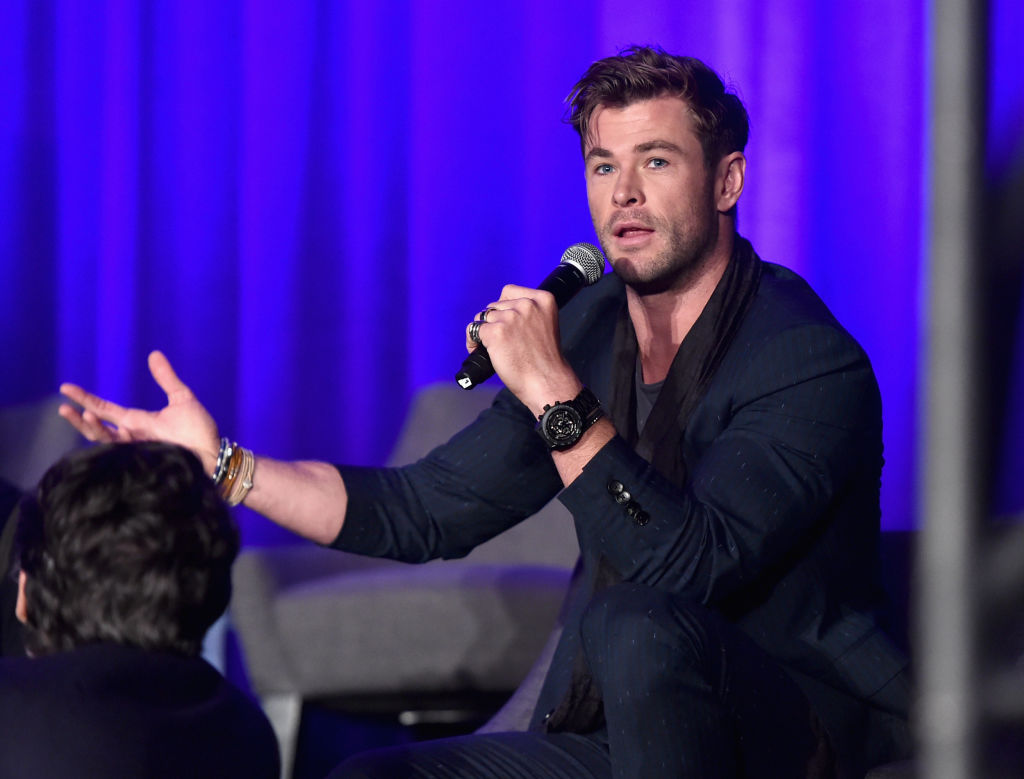 Hemsworth makes school lunches
If Hemsworth's wife, Elsa Pataky, hadn't taken video of the Thor star in action, you never would have believed the school put him to work in the kitchen. Hemsworth is seen working with other parents to assemble piles of sushi rolls for the hungry kids and sings "Roll, roll, roll your boat" as he works.
Pataky posted the video on her Instagram Story, captioning one story "Another dad to help in the canteen today!" and another "Always helpful to have a superhero in the kitchen!!"
The couple has three children, daughter India, 6, and twin sons Sasha and Tristan, 5.
Hemsworth hopes to instill these values
Hemworth is proving he's more than ust a handsome superhero and actively participating in his ids' school life, after ust coming off the press tour for Avengers: Endgame.
Last year he spoke about parenting and the values he wants to pass on to his children, telling GQ Australia: "I remember saving up for a surfboard when I was younger. The surfboard was 600 bucks and I saved up for a whole year with dad's help. I didn't even want to surf on it for fear of damaging it. It taught me so many lessons about appreciation and working hard for something."
He continued: "When I think about my kids, I don't want them to miss that joy. Elsa and I talk a lot about how we instill that same appreciation and respect for things."
Hemsworth further explained: "I don't want them to feel like they're privileged in any way. The fact that we have money and their parents are famous, that somehow they're special, that scares me because we grew up with no money."
Hemsworth's parenting fail came under fire
Hemsworth isn't always the perfect parent, he readily admitted during an appearance on Jimmy Kimmel Live with his Avengers: Endgame castmates, when he shared a parenting fail that wasn't his finest moment.
The actor recalled taking his daughter India on a Disneyland ride and, when she was denied entry because she wasn't tall enough, he explained that he put candy bars in his daughter's shoes to make her appear tall enough for the ride.
She was able to get on, but there's a reason for height restrictions, he discovered. He explained: "She wasn't tall enough and she was really upset. And I was like 'Nah, forget this. Come here.' So I grabbed a couple of Snickers bars and slammed it in the back of her shoe under her heel, so I propped her up."
He added: "We're at the top and I'm looking at her and she's strapped in and the seat is massive on her and I'm like 'We beat the system, honey!'"
She wasn't so secure in her seat, however, as he said, "I grab onto her, she is screaming the whole way down." He added, "So, don't do that. She's fine, she's well."