Chris Hemsworth Turned To This Surprising Diet To Bulk Up For 'Avengers Endgame'
It takes a lot of hard work for Chris Hemsworth to maintain the enviable physique required of him to play Marvel's Thor. The actor maintains his strength through weightlifting but mixes things up with frequent boxing workouts and trips to the yoga studio. When it comes to food, Hemsworth has to keep close tabs on what he eats – though he turned to an unexpected diet to bulk up for Avengers: Endgame.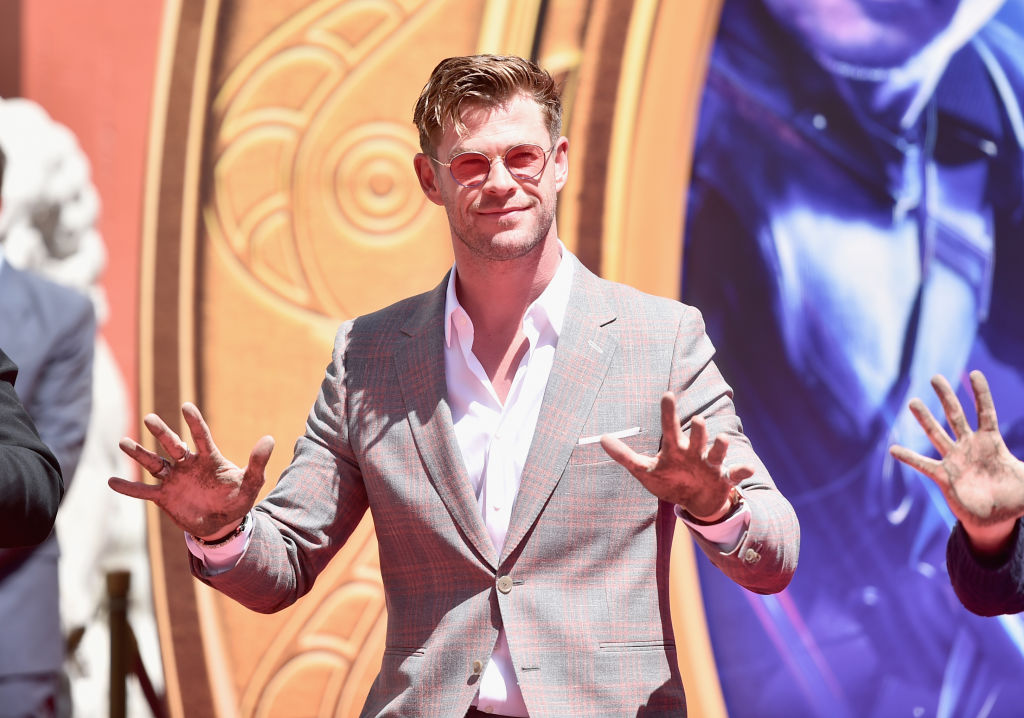 Hemsworth goes vegan
Hemsworth spends hours in the gym every week keeping his body in top shape, but his diet is just as important to his regime as anything else. While the Ragnarok star ate a high-protein diet leading up to filming Endgame, he switched to vegan once production started.
According to Food Network, Chris Hemsworth's personal trainer, Luke Zocchi, explained how they were both surprised that he was able to keep his muscle gains while on a plant-based diet.
"He tried it out and we were actually surprised," Zocchi shared.
Zocchi added that Hemsworth stuck to a diet of mostly bean and veggie burgers. He ate around six times a day, spreading out his meals every two hours, while filming was underway. There is a strong likelihood that Hemsworth was inspired to go vegan by his younger brother, Liam Hemsworth, who has been on the diet for at least four years.
Liam previously revealed that he is constantly encouraging his older brother to eat more veggies and plant-based foods.
Based on how Hemsworth looked in Endgame, it is safe to say that the new routine is working out. The only downside to Hemsworth's new diet is that it turned him a bit gassy.
Chris Hemsworth opens up about fat Thor
Hemsworth's level of fitness was a little difficult to see in Endgame because producers gave us a heavier version of Thor throughout the film. Thor's hefty appearance shocked most fans, and he looked closer to Santa Clause than the God of Thunder.
Hemsworth, of course, did not actually gain any weight for the role. Instead, producers covered him in a realistic fat suit, which made the actor experience something most men never do in their lifetime.
In a recent interview, Hemsworth revealed that wearing the fat suit made him feel like he was pregnant. Hemsworth revealed that the suit weight close to 90 pounds and was easily the main attraction on set.
In fact, Chris Hemsworth explained how people would often come up to him between takes and rub his belly. In this way, the Endgame star knows exactly what it is like to carry around a baby in public. The only difference is that Hemsworth got to ditch the suit at the end of the day and obviously did not have to go through with having an actual baby.
What's ahead for Hemsworth?
In addition to the fat suit, producers made Hemsworth wear weights on his legs and arms so that he could replicate the gait of an overweight person. Although wearing all of these contraptions was challenging, Hemsworth appreciated the new take on Thor, which allowed him to move the character in new directions.
Whether or not Thor's new look is here to stay is yet to be seen, but there is no denying that it was one of the more lighthearted parts of Endgame.
Hemsworth also confessed that he would love the chance to reprise his role as Thor in future films. He is down with appearing in the upcoming Guardians of the Galaxy as well, something that was teased in Endgame.
Unfortunately, Hemsworth has no idea when Guardians of the Galaxy will start filming. Director James Gunn is currently working on The Suicide Squad, so it might be a few more months until development gets underway. Chris Hemsworth also did not give us any new updates on future Thor projects, though the success of Ragnarok increases the chances that Marvel gives him one more solo outing.
Marvel has not commented on its future slate of movies, though the studio is expected to reveal more information at this year's San Diego Comic-Con.