Chris Rock Proves Comedic Directing Prowess With New Film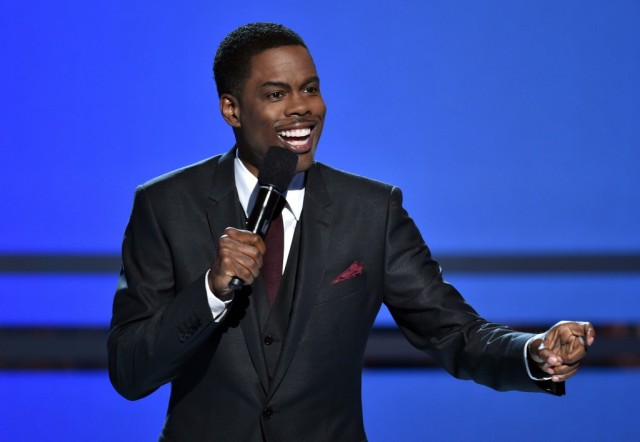 While Chris Rock is one of the most well-known comedians of our time, he hasn't always been quite as successful in his film career. Though he's appeared in recent hits like Grown Ups (alongside an ensemble cast including Adam Sandler and Kevin James) and the animated Madagascar franchise, his previous starring and directorial efforts, like 2003's Head of State and 2007's I Think I Love My Wife, were both poorly received. But his latest film project, entitled Top Five, seems poised to turn things around.
According to Deadline, the new comedy, which Rock directs and stars in, has fueled an all-out bidding war between several major studios at the Toronto International Film Festival. Per the report, Sony, Paramount, Fox Searchlight, Open Road, Relativity, Lionsgate, and A24 are all looking to buy Rock's latest flick, even if it means forking over the big bucks. Though no sale has been confirmed just yet, the most recent update revealed that the bidding had gone up to $12.5 million, with Paramount in the lead.
It's a big sale for a film festival deal, but it perhaps shouldn't come as that much of a surprise given the big name cast in Top Five, which is already being dubbed a smash and which Deadline calls "Rock's most commercial vehicle so far." The flick follows Rock as Andre Allen, a comedian and recovering alcoholic turned actor who is looking to reboot his career and change the public's perception of him by committing to a serious, more dramatic role. The plan ends up backfiring, but he catapults back to fame after announcing his impending televised marriage to a reality star (played by Gabrielle Union). For the sake of publicity, Andre agrees to an interview with a New Yorker reporter (Rosario Dawson), but it turns into quite the eventful task.
In addition to the aforementioned actors, the movie is chock full of cameos from fellow comedic stars, including Adam Sandler, Kevin Hart, Tracy Morgan, Jerry Seinfeld, Cedric the Entertainer, Whoopi Goldberg, and Jay Pharoah. Charlie Rose, Taraji P. Henson, and Gabourey Sidibe also make brief appearances in the movie. As if that wasn't marketable enough, Jay-Z and Kanye West are reportedly producing the film alongside Scott Rudin and Barry Diller's IAC films — which is appropriate since, per Deadline, the title Top Five actually refers to top hip hop stars.
But studios aren't the only ones to have a big response to the movie. According to the LA Times, the flick is already winning over audiences. It scored major laughs and a raucous reaction during its high energy, star-studded debut at the TIFF — a premiere that has since been described as having an atmosphere more like that of a music concert than a film festival.
Given all of the positive buzz it has already garnered, it seems as if the movie is set for a bright future. At the very least, it marks a significant turning of a corner for Rock as both an actor and a filmmaker. After several missteps, it seems the comedian has finally managed to find and successfully showcase his directorial voice in Top Five – and audiences are responding to it in all the right ways.
As for its potential release, we'll have to stay tuned to see which studio ends up picking it up for distribution, but hopefully the movie will hit theaters sooner rather than later.
More From Entertainment Cheat Sheet:
Want more great content like this? Sign up here to receive the best of Cheat Sheet delivered daily. No spam; just tailored content straight to your inbox.