Chrissy Teigen Responds to John Legend's 'Baby, It's Cold Outside' Remake Controversy in a Way Only She Can
Chrissy Teigen responded to the controversy surrounding her husband, John Legend's remake of "Baby, It's Cold Outside," featuring Kelly Clarkson in a way that only she can. 
During a guest appearance on Clarkson's talk show, The Kelly Clarkson Show, which aired on Nov. 19, 2019, the 33-year-old known addressed backlash the new version's been receiving due to a change in the lyrics, according to People.
Why they changed the lyrics
Clarkson and Legend, both coaches on NBC's The Voice, tweaked the controversial lyrics to be more suitable to the times in the wake of the #MeToo movement. 
They changed the original lyrics involving lines like "Say, what's in this drink?" "I really can't" and "The answer is no" to the following: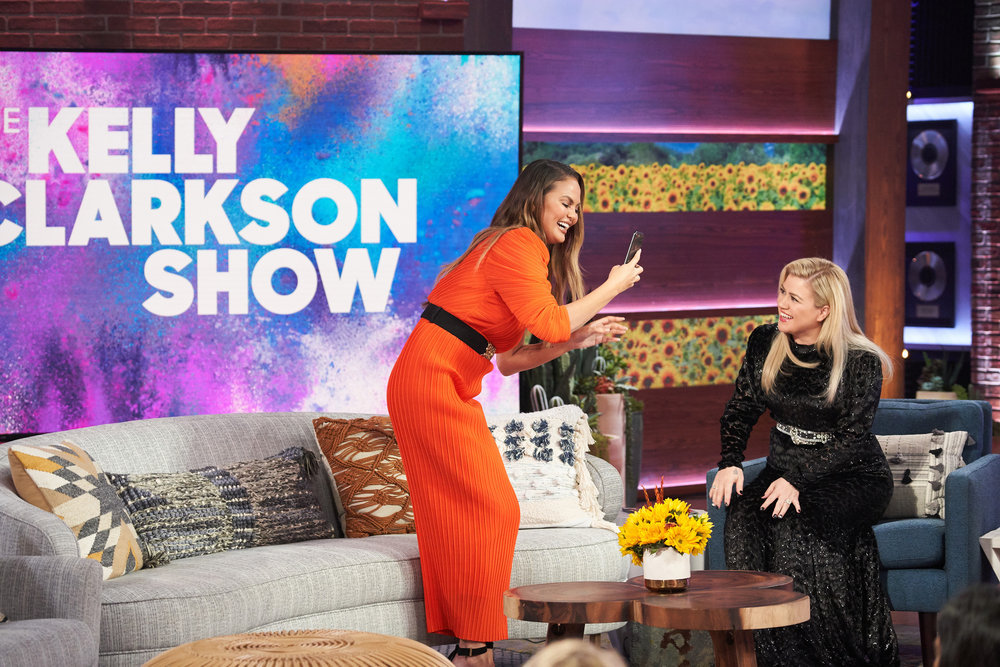 "What will my friends think? If I have one more drink? It's your body, and your choice," and "I really can't stay (Baby, it's cold outside)/ I've gotta go away (I can call you a ride) and "My mother will start to worry (I'll call a car and tell 'em to hurry)."
The remake is included on the deluxe edition of Legend's Christmas album, A Legendary Christmas, originally released in Oct. 2018. 
She joked Legend and Clarkson 'ruined Christmas'
During their conversation about the song on the show, Clarkson told her guest that people have said she and Legend "ruined Christmas." Teigen responded with a joke saying, "You did ruin Christmas." 
"People got so mad," Clarkson said referring to the original version of the song by Frank Loesser. "He [Legend] had this idea — with the #MeToo movement they pulled 'Baby, It's Cold Outside' from any radio, like a lot of radio stations at Christmas." Out of that came the reimagined version of the classic song. 
Teigen jokes 'it's not Christmas' without 'creepy song'
Continuing to poke fun at the controversy, the author and TV star worth an estimated $13 million, made another joke about all the criticism the song's been getting, most notably from Sharon Osbourne, co-host of The Talk. 
"Well then Sharon [Osbourne] assumed you guys like burned them all in the backyard or something and that they can never listen to the original ever again," she told Clarkson and her live studio audience. "If I can't have my creepy song, it's not Christmas," she jokingly added. "I want date-rapey songs."
After Clarkson said she didn't take offense with the original, Teigen agreed and added that people should move on. 
"Exactly, like I'm not offendable, like I hear it all," the cookbook author said. "It's hard to offend me. I wasn't mad about the song, I don't care what you guys do, but to be like 'Ugh I hate this now.'"
"Oh my God, get over it," she added. "Go off, Sharon."
This wasn't the first time Teigen responded to the controversy about the song. At the 2019 Baby2Baby gala on Nov. 9, 2019, where she received the Giving Tree Award, she spoke with Entertainment Tonight about Osbourne's reaction to the remake.
"Sharon's always going to have something to say, it's her job," Teigen said. "I remember those days of getting to talk s**t for money. It's very fun."
Osbourne called the lyric change 'ridiculous'
During an episode of The Talk that aired on Nov. 4, 2019, the 67-year-old likened changing the lyrics to altering a classic painting.
"It's, to me, like a master painting," she said. "You go and see these beautiful nudes in museums all over the world, they're spectacular. Would it be right for me to go and draw a bikini top on one of those nudes? It's still an art form, it's a piece of art." 
She went on to call the lyric change "ridiculous" concluding that if Legend didn't like the words to the song he shouldn't have recorded it.