Chrissy Teigen Slammed Donald Trump After He Called Her a 'Filthy Mouthed Wife' on Twitter
And just like that — Chrissy Teigen and President Donald Trump are feuding again.
This time, the celebrities got into it after Trump took to Twitter to complain about not getting enough credit for the passage of criminal justice reform legislation. He called out people like John Legend and his "filthy-mouthed wife," who had "nothing to do with" his efforts but have taken the "praise" — which did not sit well with Teigen.
She responded with a barrage of jaw-dropping, NSFW tweets that you can see below.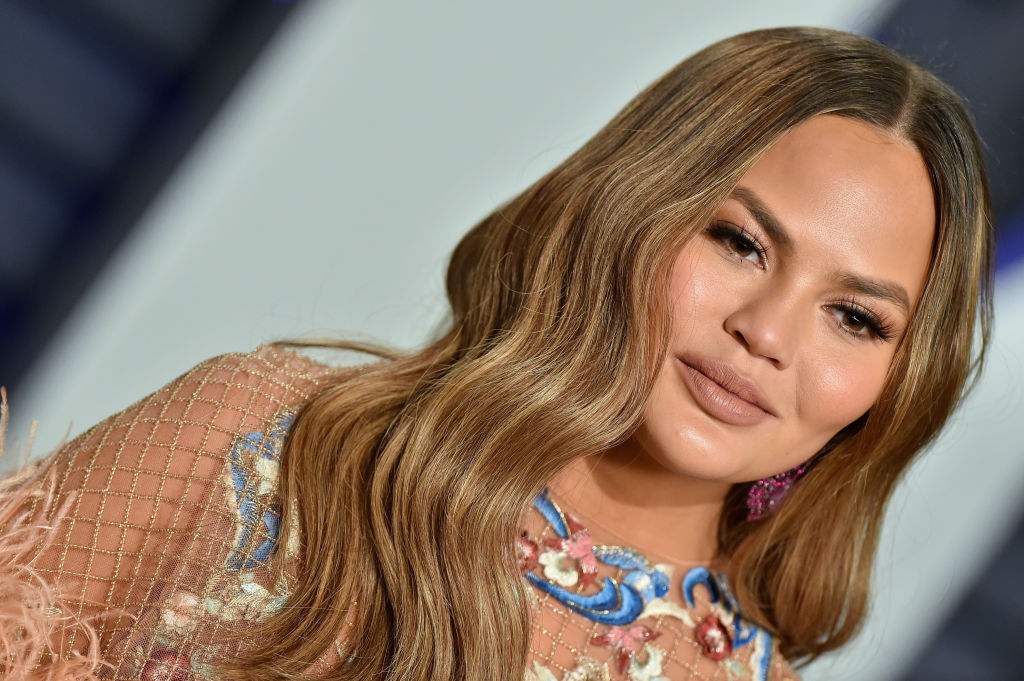 A closer look at Trump's tweets
Trump made the remarks in a series of tweets posted on the evening of Sept. 8. They came after Legend appeared on MSNBC for a town hall on criminal justice reform, which was hosted by NBC Nightly News anchor Lester Holt.
In the special, Legend talked about his organization Free America, which aims to "amplify the voices of individuals impacted by the criminal justice system and those who are working to change it," according to its official website.
But the program did not mention the groundbreaking First Step Act that Trump signed into law back in December. Among other things, it gives nonviolent inmates a chance to earn shorter sentences for good behavior.
So, Trump seemingly got upset that the program did not recognize his efforts. However, as The Washington Post points out, Holt hosted a special before the town hall showing Trump signing the bill in the oval office.
"When all of the people pushing so hard for Criminal Justice Reform were unable to come even close to getting it done, they came to me as a group and asked for my help. I got it done with a group of Senators & others who would never have gone for it. Obama couldn't come close," Trump wrote. "I SIGNED IT INTO LAW, no one else did, & Republicans deserve much credit. But now that it is passed, people that had virtually nothing to do with it are taking the praise."
"Guys like boring musician @johnlegend, and his filthy mouthed wife, are talking now about how great it is," he continued. "But I didn't see them around when we needed help getting it passed."
Teigen's response was fiery
"lol what a p*ssy a** b*tch," she wrote in a Sept. 9 tweet. "[Trump] tagged everyone but me. an honor, mister president."
In a follow-up tweet, Teigen shared a photo of herself creating a sign celebrating her daughter Luna's second year of school. "Luna, remember the night before your first day of school? When mommy was making your sign and the p*ssy a** b*tch president had his 9th meltdown of the day," read the caption.
"the absolute best part of his tweet is I literally didn't speak in the special, nor was I mentioned. I'm cackling at the pointless addition of me because he cannot not be a b*tch," Teigen wrote in a third tweet.
Legend seemed just as perplexed by Trump's posts.
"Imagine being president of a whole country and spending your Sunday night hate-watching MSNBC hoping somebody–ANYBODY–will praise you," he tweeted on Sept. 9. "Melania, please praise this man.  He needs you."
As of writing, Trump has not responded to their tweets.
It's not the first time that they've sparred. Teigen has criticized Trump since at least 2012 when she told him that she "hate[d]" him on Twitter. He also once blocked the television star on the social media platform, but that obviously hasn't stopped him from talking about her (and vice versa).
That said, it seems like it's only a matter of time before they get into it again. We'll see.