Chrissy Teigen Thinks Jim and Pam From 'The Office' Are Divorced Now
Are The Office's Jim and Pam still together or did they get a divorce? Chrissy Teigen thinks they didn't live happily ever after.
Did The Office's Jim and Pam stay married or did they eventually split up? While most fans of The Office firmly believe a love like Jim and Pam's is forever, one celebrity has other ideas. Chrissy Teigen thinks that the famous TV couple's relationship would have ended in divorce… and she's got some shaky math to support her prediction.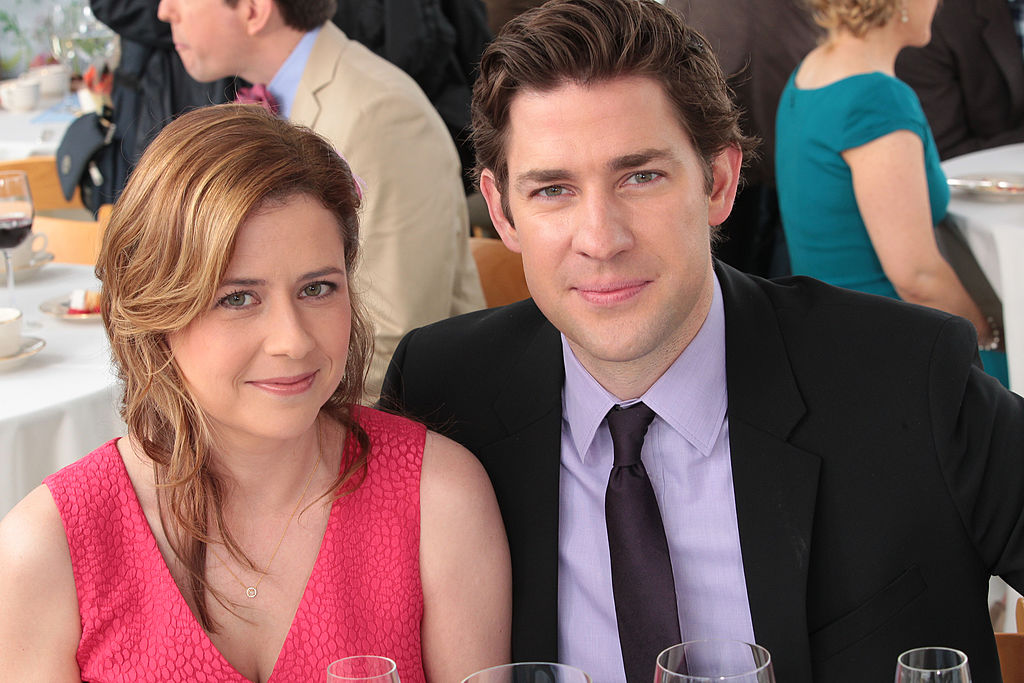 Chrissy Teigen predicts Jim and Pam's future
The recent 10 year anniversary of Jim and Pam's iconic wedding episode of The Office prompted plenty of discussion recently about what happened to Jim and Pam in the future. Teigen had some thoughts but, unfortunately, she doesn't think the couple had a happy ending.
On Sunday, Teigen took to Twitter to share her thoughts on what became of Jim Halpert (John Krasinski) and Pam Beesly (Jenna Fischer), beginning with a poll that asked her millions of followers to vote on whether they believe the couple are still together, separated, divorced, or have an open marriage.
It seems like a no-brainer, right? Most fans predicted that the two stayed together, with the next highest number of votes a tie between separated and open marriage. The divorced option had the least votes.
Teigen wasn't buying it, however, tweeting: "guys I'm loving your endless love optimism here but I didn't ask what you HOPE for, I asked what you actually think!!"
She thinks Jim and Pam got divorced
Teigen doesn't think that things ended so happily for the couple, however, predicting: "I think they're together but Philly Jim likes a taste of the high life and bottle service with athletes and Pam still can't figure out her phone so he never has to answer FaceTimes and he never gets caught."
She continued: "Pam is unhappy but content with their income and children so she's like whatever and draws things for Etsy like cozy home signs (wait is this me)." Teigen added: "They never went to Austin. You know it and I know it. I talk about moving to Austin every other day and here I am. Not in Austin."
Then she employed a little math, with a disclaimer that it wasn't her best subject, but statistically speaking one of The Office's couples had to have split. She tweeted: "Actually you know what? Phyllis and Bob are def still together. Dwight and Angela still together. Michael and Holly definitely together. Mathematically (i got a C+) SOMEONE here has to be divorced. It's Jim and Pam."
Fans weighed in on Teigen's prediction
Many fans could see Teigen's point of view, with comments such as: "i think they're probably separated… pam was always never super committed to anything" and "Definitely divorce. I could see Jim resenting Pam for a few choices."
Most fans, however, are forever loving Jim and Pam's relationship, with one person tweeting: "They were each other's true loves, Chrissy! Don't be pessimistic! They're still together and even go to soul cycle, do date nights and have board game parties on the weekends."
Another lifelong fan of the couple noted: "She offered to uproot their life for him to fulfill his dreams — I stand by my still together vote!!"