Chrissy Teigen's Favorite Pizza Toppings Will Either Anger Or Inspire You
Chrissy Teigen started out her career as a model, though these days, she is known for being a social media star as well as a TV host. The 33-year-old is famous for sharing her witty, honest thoughts on many different subjects and, of course, food is one of them. Teigen has a lot of things that she enjoys eating, but she also likes a pizza flavor that would make some people wince in disgust. Read on below to find out more about Teigen's eating habit.
Chrissy Teigen is a serious foodie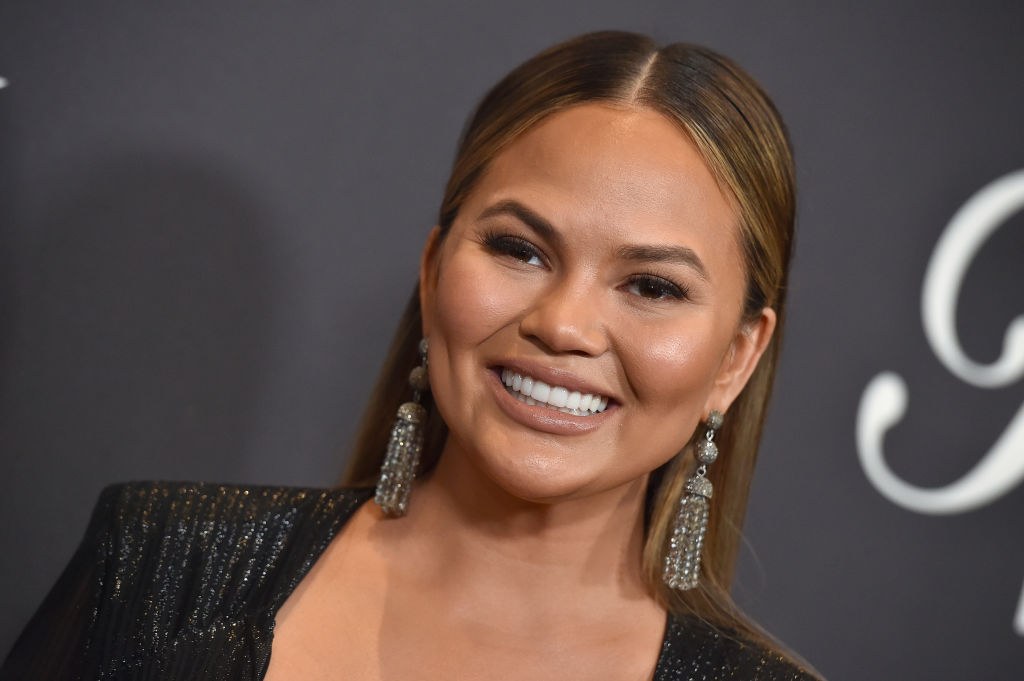 First things first, it's important to note that Teigen is a serious foodie. Anyone who follows her on social media is aware that food is a huge part of her life. In fact, Teigen definitely enjoys cooking and has already released two best-selling cookbooks as well as a cookware line. It's quite obvious that when it comes to the kitchen, Teigen really knows her stuff.
Chrissy Teigen loves international cuisines
A big part of enjoying food is stepping out of one's comfort zone and trying dishes from other cultures. Teigen understands this completely.
Teigen herself is part Thai, so she has made it no secret that Thai food is a big favorite of hers. She lives in Los Angeles, so she loves eating out at a few of her favorite Thai restaurants in the city and ordering dishes such as pad see ew and boat noodles.
She enjoys food from other Asian countries as well, such as Vietnamese pho, Japanese sushi, and Korean barbecue.
These days, Teigen also loves Italian and Mediterranean dishes. "Mediterranean food is so affordable and so amazing," she told Eater, revealing that she is looking to include some Mediterranean-inspired recipes in her next cookbook.
Chrissy Teigen also eats fast food
Celebrities are known to go on strict diets and cut out unhealthy food from their life, but Teigen is very open about her love for fast food. She shared with Refinery29 that some of her favorite fast food chains are Taco Bell, McDonald's, and Wendy's. And even though she has lived in California for a long time now, she actually prefers Shake Shack over In-N-Out.
Chrissy Teigen enjoys pineapple on her pizza
Teigen's preference for Shake Shack over In-and-Out might already put some fans on the defensive, but she has another controversial opinion out in the open: She likes pineapple on her pizza.
According to Teigen, she loves to eat pizza with pineapple and Canadian bacon, though the cookbook author also pointed out in an interview that "the best part about a pizza is you can do whatever you want with it and it doesn't make it any less of a pizza."
As for why she thinks some people hate pineapple on pizza, Teigen said: "I think anyone else [who is against it] is just like jumping on the bandwagon of hating it. They're like, 'Ugh, I'm supposed to hate this, so…'"
There are some things that Chrissy Teigen does not like to eat
Teigen definitely has a very diverse taste for food and it can seem like she loves everything. However, there actually are some things that she is not a huge fan of. For example, she does not drink coffee. This is more of a health issue than one related to her taste buds as coffee makes her nauseous. However, she does enjoy the taste of coffee itself.
Additionally, Teigen does not like capers and fennel. Innards are out for her too: She said that "even if it's fried and delicious I'm not doing liver or bone marrow. I don't need to pretend that I have taste."