Cindy Crawford May Be Trying to Live Way Closer to Daughter Kaia Gerber While She's Dating Pete Davidson
In the world of celebrity romance, it's hard to keep up with who's dating who. And while we recall when Pete Davidson was dating — and then engaged to — Ariana Grande, Davidson's love life has all been a blur since then. From Kate Beckinsale to Margaret Qualley, Davidson's dabbled in romances with plenty of notable names. But now, he's getting more attention than ever for dating Cindy Crawford's supermodel daughter, Kaia Gerber.
Gerber and Davidson kept their romance low-key at first, but now, they've been all over New York City and Malibu together. And while Crawford lives in Malibu with her daughter when Gerber's around, it looks like Crawford is looking for a new place in Manhattan. Here's what we know about the residences Crawford's eyeing up.
Kaia Gerber may be jumping into her relationship with Pete Davidson too fast
Gerber is only 18 years old, which means there's an eight year age gap between her and Davidson. But they're not letting the speculative or rude comments stop their love.
It's suspected Gerber and Davidson first met when they both walked the runway for Alexander Wang back in June 2019. While this was far from Gerber's first modeling gig, it was Davidson's debut as a runway model. After that, they appeared to hit it off, and the two were spotted going on dates in both Malibu and New York City as early as October 2019.
It's tough to say how serious the relationship really is. But sources have come forth and said Gerber's planning on a future with Davidson.
"Kaia's talking about Pete being 'The One' and quietly telling friends she can see herself growing old with this guy and having his babies," a source told Radar Online. "They're all over each other right now and it wouldn't surprise anyone if [a pregnancy] happens sooner than later."
Sources claim Cindy Crawford appears to be OK with the romance
It can be tough for parents to accept that their kids are growing up, and that's particularly true for families in the public eye. As for how Crawford feels about Gerber dating Davidson, there have been mixed reports.
One insider spoke to Radar Online and said that Gerber's father, Rande, and Crawford are prepared for their daughter to make her own decisions. The insider said they "treat Kaia like an adult. They have always treated her more like an adult than a child. … They have always treated her like a grownup. She's mature and that is how they treat her."
This conflicts with another report, however. Page Six reports another source said, "I think they're just hoping this could all fizzle out. [Kaia's] traveling and working constantly — how serious can [she and Davidson] get?"
Crawford was spotted looking for a place in Manhattan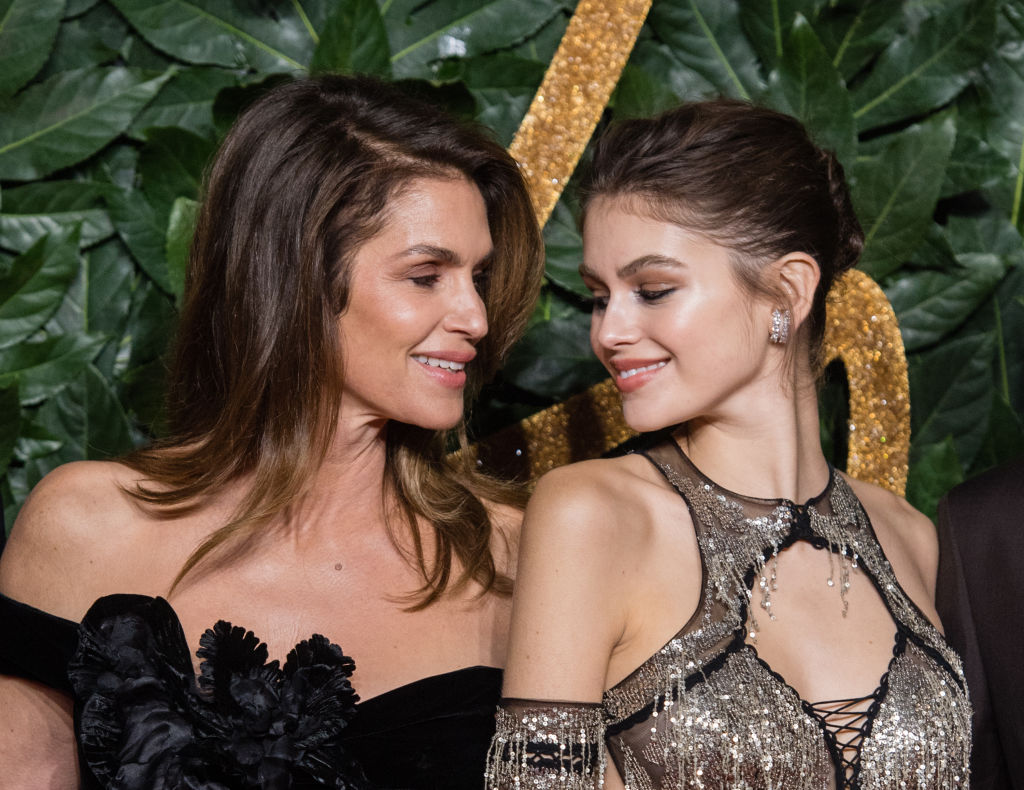 Crawford typically resides in Malibu with Gerber, but Gerber's been spotted more often in New York City. This is likely due to work, but her relationship with Davidson might also be bringing her back to the Big Apple. And it seems Crawford is now drawn to NYC as well.
According to the New York Post, Crawford and Rande are eyeing up a $10 million Manhattan penthouse. And before that, the couple looked at a $13 million full-floor condo nearby. The Manhattan penthouse reportedly spans a full floor and has three bedrooms, three bathrooms, an open kitchen, a 50-foot entertaining space, and a private roof terrace.
The Post reminds us Gerber's parents sold their Malibu compound in 2018 and just kept 2.75 acres of it, so perhaps a move to New York City has been in the works for some time. And we're betting proximity to Gerber is drawing Crawford to NYC, too. As for if Gerber's relationship with Davidson has anything to do with it, we're not sure just yet — but the timing does look suspicious!
Check out Showbiz Cheat Sheet on Facebook!