12 Classic Westerns That Everyone Should See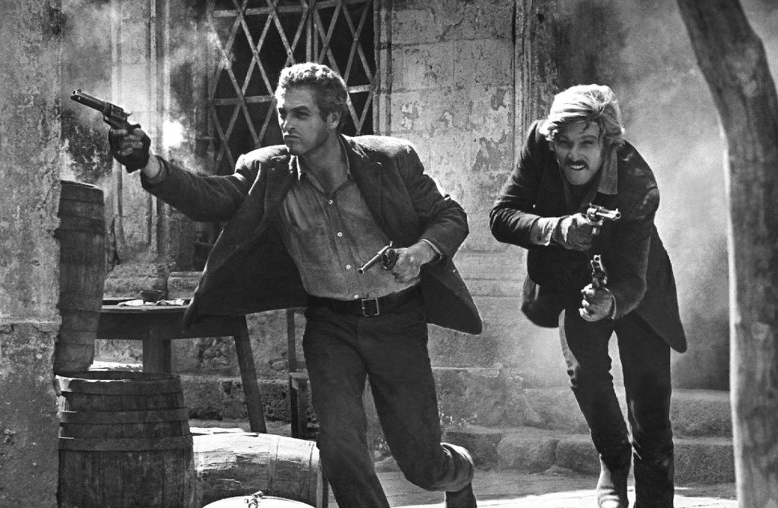 When it comes to movies, everyone has a favorite genre. Perhaps you can't wait for the next superhero film or zombie movie. Maybe you just love horror films or perhaps romantic comedies are more your thing. Whatever the case may be, whenever a film in your favorite genre hits theaters you likely can't wait to head over to your local theater to take in the next story. For many old-school cinephiles, the ultimate genre is probably the Western.
In more recent decades, films starring cowboys and other characters inhabiting the Old West have been on the decline, with more and more films aiming to reinvent Western tropes for the modern age (No Country for Old Men, for instance) rather than stick to the format that resulted in some of the best and most beloved Western movies ever made.
With movies like Antoine Fuqua's The Magnificent Seven remake returning to the mainstream, it seems like as good of a time as any to review the genre's history and touch base with some of the best Westerns to ever grace the silver screen. For the record, we're limiting our selections to one entry per franchise. So don't expect more than one film from Sergio Leone's Dollars Trilogy on here.
1. The Treasure of the Sierra Madre (1948)
Based on the 1927 adventure novel by B. Traven, this film — written and directed by John Huston — stars Humphrey Bogart and Tim Holt as two Americans who travel to Mexico to prospect for gold. Now considered a classic, the film took a rather novel approach to Westerns and remains remarkably close to its source material.
2. High Noon (1952)
Gary Cooper earned a reputation as something of an American folk hero throughout his many big-screen roles. As far as his work in Westerns, this film stands as his highest achievement and earned him an Academy Award for his role as a town marshal who takes on a ruthless gang all by himself.
3. The Searchers (1956)
One of the most iconic movie cowboys of all time, John Wayne, takes the lead in this John Ford classic. Wayne stars as a war veteran who, along with his adoptive nephew (Jeffrey Hunter) searches for his lost niece (Natalie Wood). Considered a masterpiece, the film stands as one of the best Ford and Wayne collaborations ever made.
4. The Magnificent Seven (1960)
Purists may harp on the fact that this ensemble Western is getting the remake treatment, but it's actually based on Akira Kurosawa's immortal 1954 film, Seven Samurai. That being said, the cast — which includes Yul Brynner, Charles Bronson, and Steve McQueen — is so much damn fun to watch. What a crowd pleaser.
5. The Good, the Bad and the Ugly (1966)
Routinely considered not only one of the best Westerns but one of the best films ever made period, this Sergio Leone masterpiece features Clint Eastwood at the height of his cowboy powers. Every frame of it (as well as its iconic Ennio Morricone score) is unforgettable. No wonder why the film has become the gold standard for all Westerns to follow.
6. Once Upon a Time in the West (1968)
Henry Fonda and Charles Bronson face off in this one, which is another Sergio Leone masterpiece. The former, uncharacteristically plays the bad guy this time around, while Bronson came onboard when Clint Eastwood declined the role, likely since it followed so closely to his Dollars Trilogy with Leone.
7. Butch Cassidy and the Sundance Kid (1969)
Often considered one of the first true buddy films, this movie stars Paul Newman and Robert Redford as two outlaws on the run from authorities after committing a string of train robberies. The charisma of its two stars is thankfully supported by an Oscar-winning script that helped make the film a cinematic landmark.
8. The Wild Bunch (1969)
Director Sam Peckinpah gathered an ensemble cast that included William Holden, Ernest Borgnine, and Robert Ryan to headline this Western about a gang of aging outlaws. The film was controversial at the time of its release for the extreme violence depicted on-screen and is renowned for its innovative filmmaking style.
9. Blazing Saddles (1974)
Comedy legend Mel Brooks directed this comedy, one of the few to successfully parody the Western. Cleavon Little plays a former slave who becomes the sheriff of a small town and teams up with Gene Wilder's alcoholic gunslinger to defend it. In addition to those two actors, the film features standout work from Harvey Korman and Madeline Kahn in supporting roles.
10. Unforgiven (1992)
Clint Eastwood taps back into his storied relationship with the Western for this Oscar-winning epic centering on an aging outlaw looking for redemption. The film serves as an epilogue of sorts to this chapter of Eastwood's career and features memorable turns by Morgan Freeman and Gene Hackman, who won an Academy Award for his role.
11. Tombstone (1993)
In the years following the success of Unforgiven, lots of films hoped to capitalize on what Hollywood perceived to be a renewed interest in Westerns. Most still didn't land, but this biopic about Wyatt Earp (Kurt Russell), Doc Holliday (Val Kilmer), and other classic gunslingers probably came the closest to making a legitimate splash.
12. True Grit (2010)
Remakes of classic releases are always risky, but directors Joel and Ethan Coen pull it off with this one, which arguably surpasses the 1969 original film. Jeff Bridges steps into the role once filled by John Wayne, and the film received 10 Academy Award nominations for its trouble as well as heaps of critical praise.
Follow Robert Yaniz Jr. on Twitter @CrookedTable
Check out Entertainment Cheat Sheet on Facebook!