'Claws' Season 3 Premiere: Are Desna and Roller Rekindling Their Romance?
Desna and her girls are back for Claws Season 3, and they have a new nemesis, casino owners Max and Melba Lovestone. Desna wants to find the person who tried to kill her, shooting Virginia instead, and relies on Roller to help her. Will former flames Desna and Roller end up rekindling their romance or will this mission drive them farther apart?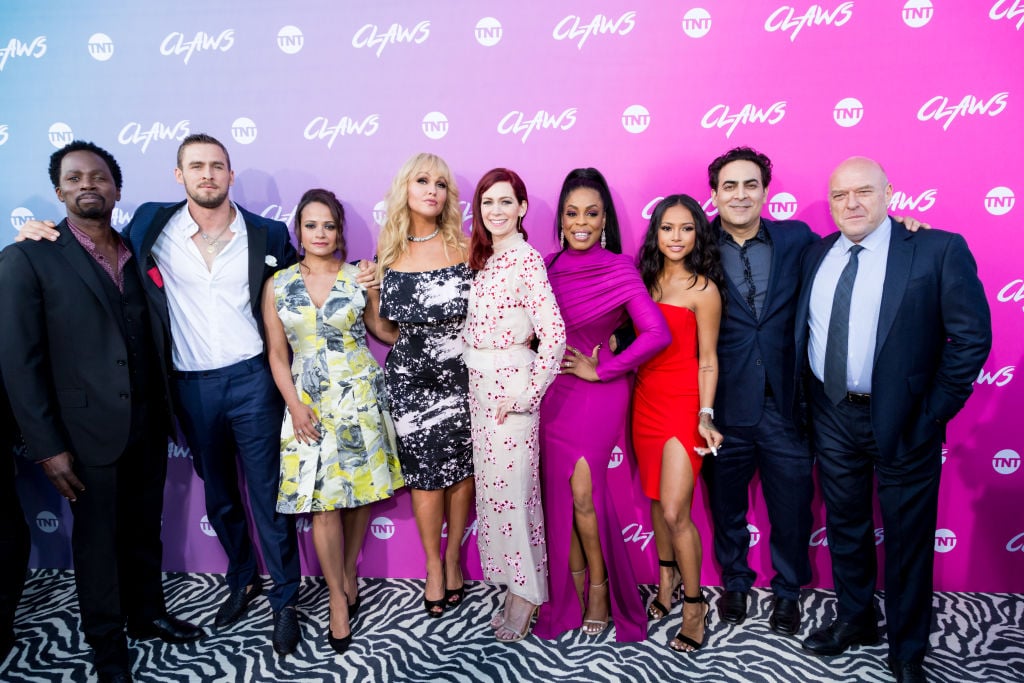 ** SPOILER ALERT ** This article contains information revealed in the Season 3 premiere episode.

Virginia takes a bullet meant for Desna

Claws Season 2 ended with Virginia pushing Desna out of the way and getting shot instead. She survived the shooting because the bullet missed her cranium. She will be fine; however, she only needs a corneal transplant from an "elderly reiki healer."

Dean takes her shooting hard as he realizes she has a "23.8% chance of living." He attempted to take Desna's gun to the crime scene, in a Lyft, to find evidence and vowed to locate and kill the shooter.
Desna talked him out of it but asked Dr. Ken to speak to Dean to make sure he's okay. During Dean and Dr. Ken's conversation, he admits to killing someone (Zlata last season) although Dr. Ken doesn't believe him.

Polly also escaped from her voluntary ward to come to the hospital and be next to Virginia. Jenn came back into town from Tampa to support Virginia also. After Virginia woke up in the hospital bed, she is entirely different, explaining to Dean that her getting shot is a part of a "divine order." Dean also tried to give Virginia her cell phone, which she declined for the first time.

How did Desna and Roller avenge her shooting?

Desna initially thought it was the casino owners, Max and Melba Lovestone, trying to kill her so they can get her out of their casino business; especially after they showed up at the hospital and gave Desna a $50,000 check.
But, Uncle Daddy told Desna that Clint tried to kill her because he was upset that she would not cut a deal with them. Roller ran Clint over in a car, and he and Desna dropped his body in the swamp.

But, the real attempted murderer, revealed at the end of the episode, is Uncle Daddy's boy toy, Toby. Toby said he couldn't forgive Desna for the way she treated Uncle Daddy. However, Uncle Daddy told him to leave her alone even though he may also still have a grudge against Desna.

Are Desna and Roller getting back together?

Desna had a hard time dealing with Clint's murder, and Roller calmed her down. He explained to her they're in it together, "it's you and me." They kissed and ended up hooking up in the car. Roller then told Desna he's changed and wants to be exclusive with Desna again.
However, Desna tells Roller that she is dealing with too much, including the newfound battle with the Lovestones, and wants to focus on herself. She wants to continue hooking up with Roller, but nothing more serious than that.
Watch Claws Sundays at 9 P.M. on TNT!