Coco Gauff Shares the Heartfelt Advice She Received From Michelle Obama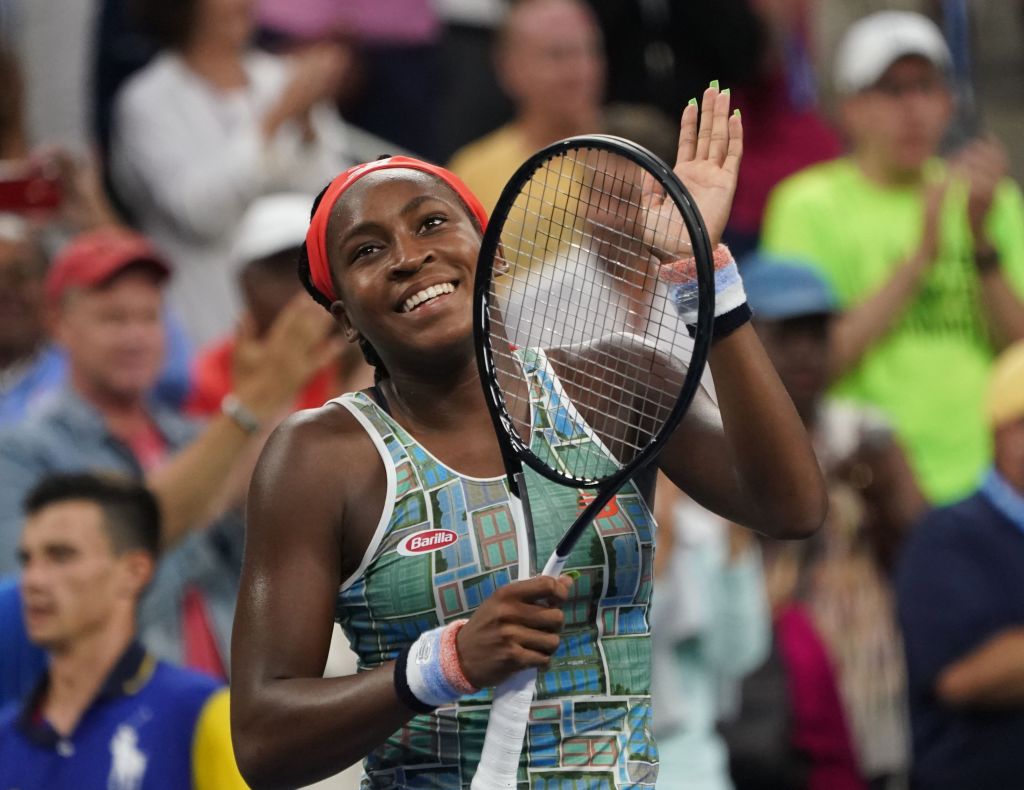 It's been six weeks since Cori "Coco" Gauff's historic journey to Wimbledon's fourth round. The 15-year-old prodigy is currently competing in her first senior U.S. Open in Flushing Meadows. For this competition, the talented young athlete carries wisdom from her role model and now friend, Michelle Obama.
Coco Gauff meets a role model
Shortly after Gauff kicked off Wimbledon with an impressive, straight-set win over Venus Williams, Michelle Obama published a tweet to congratulate Gauff.
It was an incredible day for Gauff. She not only had the chance to compete against Williams, one of her tennis idols, but she also got a tweet from the former U.S. First Lady. According to USA Today Sports, Gauff is a big fan of Obama's latest book, Becoming.
Gauff was in Washington earlier in August for the Citi Open when she got an invitation to visit with Obama. The tennis player was "super excited" and explained that it was cool to know that one of her role models knows that she exists. During the meeting, the author gave Gauff a signed copy of her autobiography. Gauff presented Obama with a signed tennis racquet.
Obama said on Twitter that she thought Gauff was a wonderful young woman and an example of what the next generation can do. Gauff responded with a tweet saying the Michelle Obama was her idol and that her wisdom would be taken with her over the course of her tennis career. Gauff called Obama a true inspiration and thanked her for her time.
Michelle Obama's words of wisdom
The youngest player to ever qualify for the Wimbledon main draw was thrilled when Obama wanted to meet her. Aside from meeting and exchanging gifts, the pair talked about the challenges faced in the spotlight.
Just what was the advice given?
Obama told her to "stay focused and stay calm." Obama explained that people weren't going to like her at all times. She went on to say that the same people supporting her now might be the people pulling her down in the future. Gauff said that Obama told her to only care about the opinions of those who really love and care for her.
Gauff told USA Today Sports that Obama teaches young people to avoid feeding into any negativity. Obama told her to stay on her path and that she would reach her goals. 
That's exactly what the teen plans to do. She explained that she was excited, not nervous, about playing in the U.S. Open. Gauff said she wasn't feeling pressure. She knew a lot of people were excited about her appearance. She was grateful for her second main-draw Slam at the age of 15 and she planned to approach it with a positive mindset and to have fun.
It obviously worked because Gauff and her partner Caty McNally won the doubles title at Citi Open.
A promising future for Coco Gauff
New to celebrity and the spotlight, she was grateful to get advice from someone who's often been under the scrutiny of the public. In her opinion, Michelle Obama handles everything gracefully.
ThinkProgress reported that Gauff said Obama was on "one of the biggest platforms ever in the world." She was certain Obama had heard some nasty things as a result. She wanted to know how the former First Lady handled the scrutiny.
While the last several weeks have been a whirlwind tour for the teen, she says that's she's grateful people are coming along on her journey. She's happy that little girls might find a role model in her.
"I'm happy that they see me as a role model," she said according to ThinkProgress. The rising star is hoping she can be the best role model. She explained that while she was still learning life herself, she hoped they could also learn from her.