Colbert or Conan: Which Late-Night Talk Show Host Has the Higher Net Worth?
Stephen Colbert and Conan O'Brien are two of network television's most popular talk show hosts. Both men appear in the late night time slot and are two of the top-four late-night talk show hosts in terms of salary and ratings (along with Jimmy Fallon and Jimmy Kimmel). But between Colbert and O'Brien, who has the higher net worth?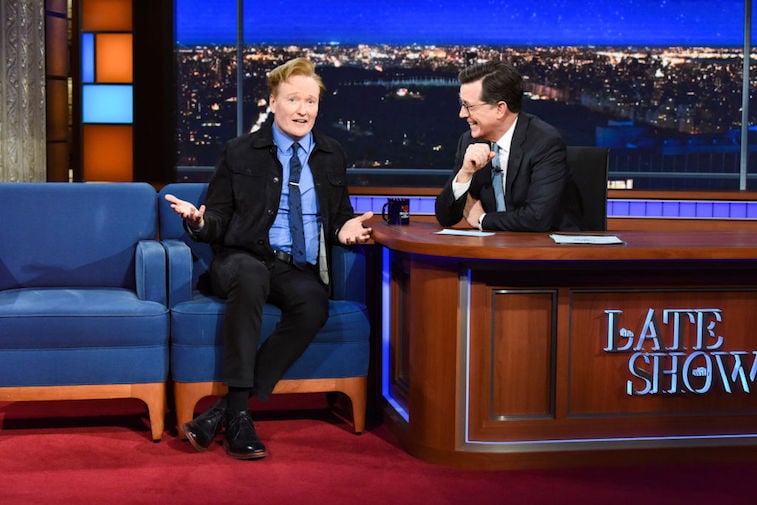 Stephen Colbert is worth an estimated $45 million
While Colbert was studying in college, he had no intention of becoming a comedian. He planned on getting into acting, but after college, he took an improvisation class and discovered he actually had a love and a knack for comedy. He eventually moved to New York, where his career started to take off. He worked on the comedy show Exit 57 and then as a writer for The Dana Carvey Show. He made appearances on various shows, including The Daily Show, before finally landing his own late night spot in 2005.
The Colbert Report was a parody show of a typical news report, and it turned Colbert into a household name. He hosted the show until 2014, when he then switched to hosting The Late Show with Stephen Colbert, which he took over following David Letterman as host. Since then, he's dabbled in politics and has used his platform to take various political stands. His long career in the entertainment industry has earned him a solid net worth of $45 million, though some estimates put it at $50 million.
Conan O'Brien is worth an estimated $85 million
O'Brien gained notoriety in comedy when he was hired by Saturday Night Live as a writer. Previously, O'Brien had written for two other shows, but neither was as popular as SNL. He quit the show in 1991 and began working as a writer for The Simpsons. O'Brien was offered a late night time slot back in 1993 as the host of Late Night with Conan O'Brien. He hosted Late Night until 2010, when he then took over on The Late Show for Jay Leno. But the show's ratings dropped and there was a conflict with the time slot, and O'Brien eventually left the show. In 2010, he began hosting Conan, which he is still the host of today. O'Brien has been in the industry for about the same amount of time as the other three most popular late night hosts, but the opportunities he was given in his early years helped him accumulate a net worth around $85 million.
O'Brien is the lowest paid of the top four talk show hosts
Despite his massive net worth, O'Brien actually gets paid less than Colbert, Kimmel, and Fallon. According to NBC, Fallon, who makes $16 million per year, is the highest paid host. He is followed by Kimmel and Colbert, who tie with $15 million annually. But O'Brien comes in last, making only $12 million per year — quite a bit less than his competition. He likely has the highest net worth because he's been a talk show host for longer than the other three. He's more seasoned and has been able to accumulate more money over time. Plus, he reportedly made $45 million when he left The Tonight Show, per his contract.
Check out The Cheat Sheet on Facebook!