'Cold Blooded' and More New True Crime TV Shows You Can't Miss This Fall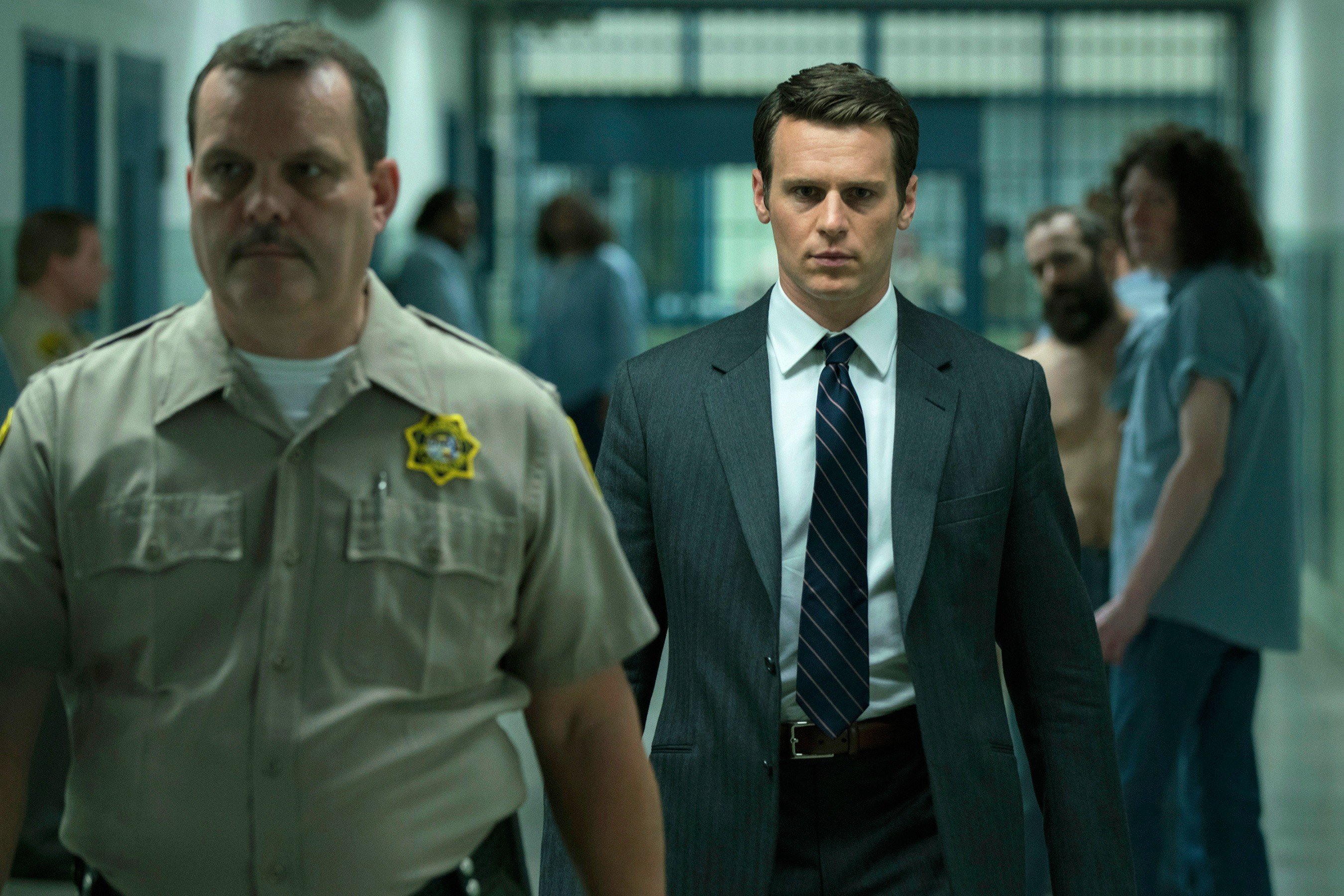 There's never been a better time to be a fan of true crime. Following the success of Netflix's Making a Murderer, HBO's The Jinx, and FX's American Crime Story, true crime documentaries and dramas have flooded the airwaves.
There's even an entire new network now devoted to true crime, with Oxygen marketing itself as the place to go for crime shows. Investigation Discovery also has their share of great true crime programming, and Netflix is continuing to produce great entries in the genre as well.
Those who can't get enough of true crime have several shows on the horizon to look forward to, as well as a few others that came out this fall that you also won't want to miss. Here are some of the true crime series of the season that could become your next TV addiction.
1. Mindhunter, currently streaming
https://www.youtube.com/watch?v=7gZCfRD_zWE
The latest original series from Netflix, Mindhunter, based on the true crime book Mindhunter: Inside the FBI's Elite Serial Crime Unit, follows FBI agents in the 1970s who attempt to understand serial killers. It's not a direct retelling of actual events, but the main FBI agents and the main serial killers are all based on real people.
Real-life agents John Douglas and Robert Ressler inspired the two primary FBI agents in the show. Douglas is a former FBI agent and the author of the book upon which Mindhunter is based, and Ressler is also a former FBI agent and is the person who is credited with coining the term "serial killer." In addition, the show depicts many real-life serial killers, including Edmund Kemper, who killed at least 10 people in the 1960s and 1970s, including his mom and his grandparents.
Also depicted in the show is Jerry Brudos, who abducted and sexually assaulted at least four women, dressing up in women's clothing as he did so. Richard Speck is a character in the series as well; Speck was convicted of killing at least eight people and has previously been depicted on screen in movies like Chicago Massacre: Richard Speck.
Mindhunter has received extremely positive reviews from critics. David Fincher, the acclaimed director who also produces House of Cards, produced and directed many episodes of Mindhunter's first season. Charlize Theron also serves as a producer, though she does not act in the show. Mindhunter's first 10 episodes are currently available on Netflix.
Next: This new Netflix documentary dives into false confessions. 
2. The Confession Tapes, currently streaming
Netflix has produced a string of successful true crime documentaries like Making a Murderer and The Keepers, and their latest is The Confession Tapes. Unlike those other two shows, this one does not follow a single crime for the entire season. Rather, it tells six different stories of cases where police obtained false confessions. In this way, the show is like a natural continuation of the narrative presented in Making a Murderer, a true crime documentary that suggests that its main subject is not guilty of a crime he was convicted for and that features an apparently false confession.
This Netflix documentary attempts to answer the question, "Why would someone confess to a crime they did not commit?" It features interviews with the convicts themselves, as well as video footage from the interrogations. It makes the argument that investigators can coerce anyone into giving a false confession; it's just a matter of when the suspect reaches their breaking point.
If you're looking for that same sense of fear and rage that you got while watching Making a Murderer, The Confession Tapes is one to check out.
Next: This documentary series follows a missing persons case that was never solved.
3. The Disappearance of Maura Murray, currently streaming
The Disappearance of Maura Murray just recently aired its final episode with a new development in the case, and so now's the perfect time to catch up on the full miniseries. The Oxygen documentary is all about the 2004 case of a 21-year-old student who went missing in New Hampshire and who has still never been found.
The last time anyone saw her, she was in a car accident near her home, but by the time cops arrived, she was gone. At first, the theory was that she had run away, as evidenced by the fact that she told her professors she was taking a week off due to a death in the family even though no death had occurred. However, her family believes that she was abducted.
To this day, the Maura Murray case has never been solved, and no one has any idea what happened to her, so Oxygen's documentary is one of those true crime series based on a cold case where there is no real ending. The show examines multiple theories about her disappearance, including the idea that she ran away voluntarily and that she got a ride from a man who murdered her. On the final episode, there's a break in the case that causes New Hampshire State Police to re-open the investigation.
Every episode of The Disappearance of Maura Murray is currently available on Oxygen's website.
Next: A series about a Los Angeles hotel where a mysterious death took place in 2013  
4. Horror at the Cecil Hotel, currently streaming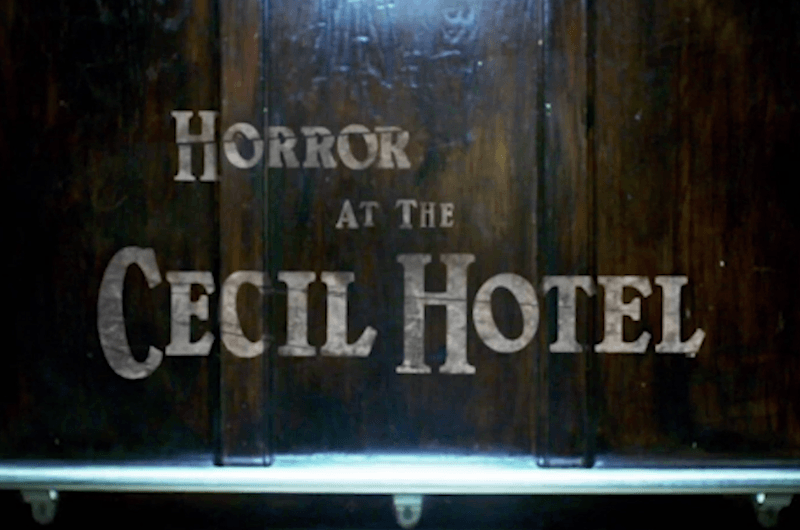 Horror at the Cecil Hotel tells the story of a Los Angeles hotel connected to a number of deaths, including the mysterious death of Elisa Lam. In 2013, a 21-year-old Canadian student was found dead in the water tank of the Cecil Hotel, having gone missing the previous month. Video footage from the hotel showed Lam acting strangely on the elevator, and this footage quickly led to conspiracy theories that Lam was being possessed or was perhaps running from someone. The Los Angeles Police Department ultimately ruled Lam's death as accidental, with police pointing to Lam's bipolar disorder as a factor that may explain her behavior on the elevator tape.
But this wasn't even the only death to be connected to the Cecil Hotel. There have been a variety of other incidents at the hotel over the years, including two serial killers staying there during their murder sprees. Horror at the Cecil Hotel follows these stories, with each episode focusing on a different incident that occurred there.
Those who are just interested in the Elisa Lam story can skip to the second episode, although the first tells the story of Richard Ramirez and the third tells the story of two people being found dead on the sidewalk outside of the hotel. Three episodes of the show are currently available on the Investigation Discovery website.
Next: A series about the murder of a 24-year-old intern in Washington, D.C. 
5. Chandra Levy: An American Murder Mystery, currently streaming
Also from Investigation Discovery comes this true crime documentary miniseries about the murder of Chandra Levy. In 2001, Levy, a 24-year-old intern at the Federal Bureau of Prisons, suddenly disappeared. During the ensuing year-long investigation, it was discovered that Levy had been having an affair with a Congressman, Gary Condit, though Condit denied this. About a year after Levy went missing, her remains were found in a D.C. park.
For years, Levy's murder was considered a cold case, but then in 2009, police charged Ingmar Guandique with the crime. Guandique, an undocumented immigrant, was already in prison for attacking women at that same park where Levy was found; he was a suspect back in 2001, but no charges were brought against him.
A jury ultimately found Guandique guilty of Levy's murder, but a new trial was granted after it was discovered that one of the prosecution's witnesses had committed perjury. The new trial was set to take place in October 2016, but in July 2016, prosecutors said they would not proceed and would instead move to have Guandique deported. In May 2017, Guandique was deported to El Salvador.
A few months after Guandique's deportation, TLC and Investigation Discovery have produced Chandra Levy: An American Murder Mystery, a three-part documentary covering the entire case and featuring new interviews with Levy's parents and with journalists who covered the story. The three episodes are currently available to watch on Investigation Discovery's website, or spliced together as one movie on TLC's website; a cable log-in is required for both.
Next: Another documentary series about how confessions are obtained
6. Criminal Confessions, currently airing
If you make your way through The Confession Tapes and are hungry for more, there's actually another show out this fall about confessions. Oxygen's new documentary series Criminal Confessions is also about the process through which police achieve confessions from suspects.
However, in this one, the confessions are presented as being legitimate and not coerced in the way that those in The Confession Tapes are. The documentary places viewers in the point of view of the investigators, featuring interviews with police officers and detectives who talk about how they get a suspected criminal to confess.
"Criminal Confessions joins Cold Justice as our second series from Dick Wolf, offering armchair detectives at home the thrilling opportunity to watch as both a case, and a confession, come to a head," Oxygen Media's Executive Vice President Rod Aissa told Deadline ahead of the premiere. "The series celebrates the skill and talent of the amazing detectives who are passionately committed to finding the truth and justice."
Criminal Confessions airs new episodes Sundays at 7 p.m. ET. The season will wrap up on Nov. 19.
Next: NBC's own version of 'The People v. OJ Simpson: American Crime Story'
7. Law & Order True Crime: The Menendez Murders, currently airing
Clearly inspired by the success of The People v. OJ Simpson: American Crime Story, in September, NBC launched a Law & Order true crime spinoff called Law & Order True Crime: The Menendez Murders. Unlike the original Law & Order but like American Crime Story, Law & Order True Crime tells one story over the course of a full season, in this case, the trial of Joseph and Erik Menendez, who in 1996 were convicted of killing their parents.
It's hard not to compare the show to The People v. OJ Simpson, as they both tell the true story of a high-profile trial that took place in the mid-1990s and revolved around a murder committed in a wealthy area in California. The Menendez Murders has not earned quite the same level of critical acclaim as The People v. OJ Simpson, but critics have praised the performance of Edie Falco, who plays the Menendez brothers' defense attorney.
It may not be quite as must-see as American Crime Story, but true crime fans will likely find a lot to enjoy, and it should hold you over until the return of American Crime Story in 2018.
Next: This new Netflix original series will be of interest to fans of 'The Handmaid's Tale.'
8. Alias Grace, currently streaming
Fans of The Handmaid's Tale might be interested in checking out Alias Grace, which is another show based on a novel by Margaret Atwood. Although Atwood's 1996 book is historical fiction, it's about the real-life murders of Thomas Kinnear, a farmer, and Nancy Montgomery, his housekeeper. James McDermott, a stablehand, and Grace Marks, a 16-year-old maid, were convicted of the murders in 1843.
The case earned a lot of media attention at the time, especially because of how young Grace Marks was. It also earned a lot of attention because of how many unanswered questions there were about Marks' involvement, with many believing her to have no role in the killings at all.
The new Netflix show is a direct adaptation of Margaret Atwood's novel, and it therefore features many of the same fictionalized elements, including the presence of a doctor who interviews Grace as she maintains that she can not remember the death of Kinnear and Montgomery. In real life, few facts from the case are clear, but with Alias Grace, viewers will be asked to try to understand Grace Marks, albeit a fictional version of her, and question whether or not she could be guilty.
The miniseries, which has received positive reviews from critics, already premiered on CBC and hit Netflix on Nov. 3.
Next: This Lifetime series dramatizes the alleged crimes of a New York millionaire.
9. The Lost Wife of Robert Durst, currently airing
https://www.youtube.com/watch?v=R8fDPIDy0Co
Almost three years after The Jinx aired on HBO, Lifetime is now producing another true crime series about Robert Durst and his alleged crimes, although this one is a dramatization and not a documentary. Fans of the HBO miniseries will recall that Robert Durst's wife Kathie went missing in 1982; her body was never found. Many, including the family of Kathie Durst, believe that Robert Durst killed her, but police have never charged him with a crime.
Robert Durst is currently awaiting trial after being charged with first-degree murder. This is not for the disappearance of Kathie Durst but for the death of his friend Susan Berman, who was shot to death in her home in 2000. The documentary The Jinx heavily suggests that Durst killed Berman. The documentary ends with the filmmaker, Andrew Jarecki, discovering a note written by Durst in which his handwriting appears identical to that of a note written to police informing them of where to find Berman's body; Durst later gets caught on a hot microphone, muttering that he "killed them all, of course."
Although The Jinx focused heavily on the death of Susan Berman in the latter half of the miniseries, it appears that Lifetime's The Lost Wife of Robert Durst will focus entirely on the disappearance of Kathie Durst, with Kathie being played by Katharine McPhee and Robert being played by Daniel Gillies. It began airing on Lifetime on Nov. 4.
Next: A convicted killer speaks in this new A&E show.
10. The Menendez Murders: Erik Tells All, Nov. 10
As NBC is getting ready to wrap up its miniseries about the Menendez murders, A&E is preparing its own, though this one is a documentary in which the filmmakers will speak directly to Eric Menendez. Erik has not spoken about the crime for about a decade, but he will do so in this series.
A&E recently announced that The Menendez Murders: Erik Tells All will "re-examine one of the most fascinating true crime tragedies of the past century through the lens of one of the convicted killers." In the trailer for the show, Erik is heard talking to the documentarians via phone from the Donovan Correctional Facility, where he is currently serving life in prison. He admits to taking part in the murder of his parents and in this series will be explaining what was going through his head.
Next: Another upcoming documentary series that examines the point-of-view of a killer 
11. Dahmer on Dahmer: A Serial Killer Speaks, Nov. 11
Oxygen's upcoming two-episode special Dahmer on Dahmer: A Serial Killer Speaks will revolve around one of the most infamous serial killers of all time, Jeffrey Dahmer, with this coming 25 years after Dahmer stood trial following the murder of at least 17 young boys. Dahmer sought out young men, usually at gay bars or nightclubs, bringing them back to his home and proceeding to drug them, murder them, and rape them.
The title of Oxygen's special refers to the fact that journalist Nancy Glass was able to secure the first television interview with Jeffrey Dahmer back in 1991, and this series will feature interviews with Glass, offering "a fresh look at the infamous serial killer's life through the eyes of the woman who became his closest confidant." It will also feature clips from these interviews, in addition to new interviews with some of the people involved in the Dahmer investigation and with Dahmer's father and stepmother, according to Vulture.
Next: This series takes a look at one of the most notorious unsolved crimes in history.  
12. The Hunt for the Zodiac Killer, Nov. 14
Decades after the original murders took place, the identity of the Zodiac Killer is still one of the most notorious unsolved mysteries in American history, and a new documentary will go into detail about the decades-long search for the true killer.
This five-part miniseries will air on the History Channel, and it features "a team of top investigators and code-breakers, working in tandem with a super-computer, known as CARMEL, the first of its kind programmed to think like a killer." The team apparently believes they have broken "a significant portion" of the Zodiac Killer's Z340 cipher.
The first episode of The Hunt for the Zodiac Killer will air on the History Channel on Nov. 14.
Next: This Lifetime drama tells the real-life story of a young girl's abduction. 
13. I Am Elizabeth Smart, Nov. 18
Coming this November, I Am Elizabeth Smart is a Lifetime movie telling the true story of the abduction of a 14-year-old girl in Salt Lake City, Utah. On the evening of June 5, 2002, Brian David Mitchell entered Smart's bedroom and kidnapped her, with a search effort soon getting underway and lasting for about nine months. After police discovered her and brought her home to her family, Smart said that her kidnapper, who raped her every day, had grand religious delusions and believed himself to be doing the work of God.
I Am Elizabeth Smart is not a documentary but rather a dramatization of the events that occurred during Smart's nine-month abduction. Viewers can rest assured that the film is true to life, as Smart herself produced it. She told reporters in July that the movie is "so well done and accurate."
Next: A new look at one of the most notorious true crime stories in history 
14. Cold Blooded, Nov. 18
Sundance TV's Cold Blooded tells the story once covered in perhaps the most popular true crime book ever written, Truman Capote's In Cold Blood. In November 1959, a four-person family was brutally murdered inside their own home in Kansas. Capote started writing the book about this crime almost immediately and followed the entire case until the execution of the suspects, Dick Hickock and Perry Smith.
Since the release of Capote's book, the story has been adapted onscreen a number of times, including in the 1967 drama In Cold Blood, which received widespread acclaim and was nominated for several Oscars. There was also the 2005 movie Capote, in which Philip Seymour Hoffman plays Truman Capote during the writing of In Cold Blood. But these were dramatizations whereas Cold Blooded is a documentary which Sundance TV says will take "a fresh in-depth look at the legendary case." It boasts new interviews with family members and will air as a two-night event on Nov. 18 and Nov. 19.
Next: A new documentary that promises to find answers about a hip-hop artist's murder
15. Who Killed Tupac?, Nov. 21
https://www.youtube.com/watch?v=Lka9dwDRrdA
In September 1996, rapper Tupac Shakur was shot and killed in Las Vegas. To this day, no one has been arrested for his death, and it's not entirely clear what happened, although an investigation by the Los Angeles Times in 2001 suggested that Shakur was shot by a Compton gang after he had beaten one of its members.
Now, A&E is coming out with a new documentary series investigating the death of Shakur, attempting to come to a conclusion about who was responsible and declaring in its trailer that "the time for justice has come." It includes new interviews with people who knew Shakur, including friends and family members. It will also follow a civil rights attorney who has launched an investigation into Shakur's murder and declares that he will finally solve it.