Cole Sprouse Got Arrested with Black Lives Matter Protestors: What He Wants You to Do Next
On Friday, May 29, peaceful protesters took to the streets of cities from Los Angeles to New York. They marched on behalf of George Floyd as well as the Black Lives Matter movement. Though Floyd's death occurred in Minneapolis, Minnesota, communities across the country took to the streets in solidarity. Celebrities joined by either marching and/or donating to bail funds set up for protestors. Cole Sprouse also joined protestors in Santa Monica, California on May 31.
RELATED: John Cusack Spent the Day Covering Chicago's George Floyd Protests and Police Attacked Him
On June 1, Sprouse wrote a long post on Instagram describing his experience at the Santa Monica protests. Instead of a photo, he posted the text Black Lives Matter on a yellow background. Warning, Sprouse describes intense situations in the post. 
Cole Sprouse does not want this story to be about him
As the star of Riverdale and a celebrity since acting as a young man, Sprouse has been in the spotlight. He does not want his involvement in the arrests to make him the subject of stories, such as this one. Rather, he shared his story to illuminate the Black Lives Matter movement and protests on behalf of the late George Floyd.
"Before the voracious horde of media sensationalism decides to somehow turn it about me, there's a clear need to speak about the circumstances: Black Lives Matter," Sprouse wrote. "Peace, riots, looting, are an absolutely legitimate form of protest. the media is by nature only going to show the most sensational, which only proves a long standing racist agenda."
The circumstances of Cole Sprouse's arrest
Throughout the weekend, peaceful protests gave way to looting, and in some cases video shows provocation by the police. Sprouse described the scene in Santa Monica. 
"I was detained when standing in solidarity, as were many of the final vanguard within Santa Monica," Sprouse wrote. "We were given the option to leave, and were informed that if we did not retreat, we would be arrested. When many did turn to leave, we found another line of police officers blocking our route, at which point, they started zip tying us."
Sprouse felt his own arrest was the least among many concerns for the protestors vulnerable in that situation.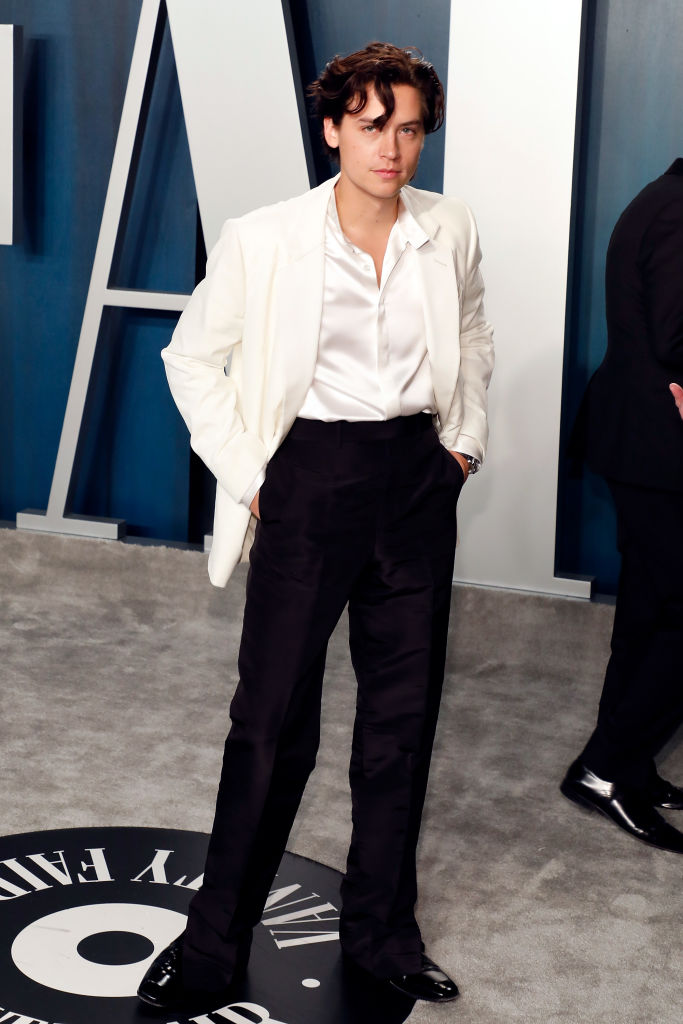 RELATED: How 'Hamilton' and Lin-Manuel Miranda Are Supporting the George Floyd Protests, and How You Can Help
"It needs to be stated that as a straight white man, and a public figure, the institutional consequences of my detainment are nothing in comparison to others within the movement," Sprouse wrote. "This is ABSOLUTELY not a narrative about me, and I hope the media doesn't make it such."
Cole Sprouse hopes to be an example of allyship
This story is not about Cole Sprouse the celebrity. Sprouse was one of many allies on the ground in Santa Monica. He hopes his example can show others, who may not have his fame and resources, how they can help too.
RELATED: How Harry Styles, Colin Kaepernick, John Legend, John Cusack and Other Celebs Are Supporting George Floyd Protests
"This is, and will be, a time about standing ground near others as a situation escalates, providing educated support, demonstrating and doing the right thing," Sprouse said. "This is precisely the time to contemplate what it means to stand as an ally. I hope others in my position do as well."
Further action
Sprouse put a link to a Google Doc (bit.ly/BlackLives/Action) in his Instagram stories. The documents include summaries about victims of police violence in different cities, and resources for donations and protest. He hopes his post will raise awareness for those resources. He also hopes video of his arrest from the police cruisers comes to light. 
RELATED: Killer Mike Called George Floyd's Death 'Murder Porn' in a Powerful Speech to Atlanta Citizens
"I'll speak no more on the subject, as I'm (1) not well versed enough to do so, (2) not the subject of the movement, and (3) uninterested in drawing attention away from the leaders of the #BLM movement," Sprouse wrote. "I will be, again, posting the link in my story to a comprehensive document for donations and support."