Colton Underwood and Cassie Randolph Just Spilled How They Feel About Hannah B. as 'The Bachelorette'
No one could have anticipated the twists and turns of Colton Underwood's season of The Bachelor. From the infamous fence jump to his true love, Cassie Randolph, leaving him, it's still hard to believe the season ended with no rose ceremony and no engagement. Of course, things worked out for Colton and Cassie in the end, as they're happily together and now discussing future plans. And it seems it worked out for Hannah Brown, too.
Hannah B. was the charming pageant girl from Alabama that was immediately a frontrunner to win Colton's heart. Unfortunately, she was left heartbroken when Colton sent her home after she met his family. Now, she's ready for her shot at love as the next Bachelorette — and Colton and Cassie have now shared their opinions about her leading the show, too.
Hannah B.'s season of The Bachelorette is going to be unlike any other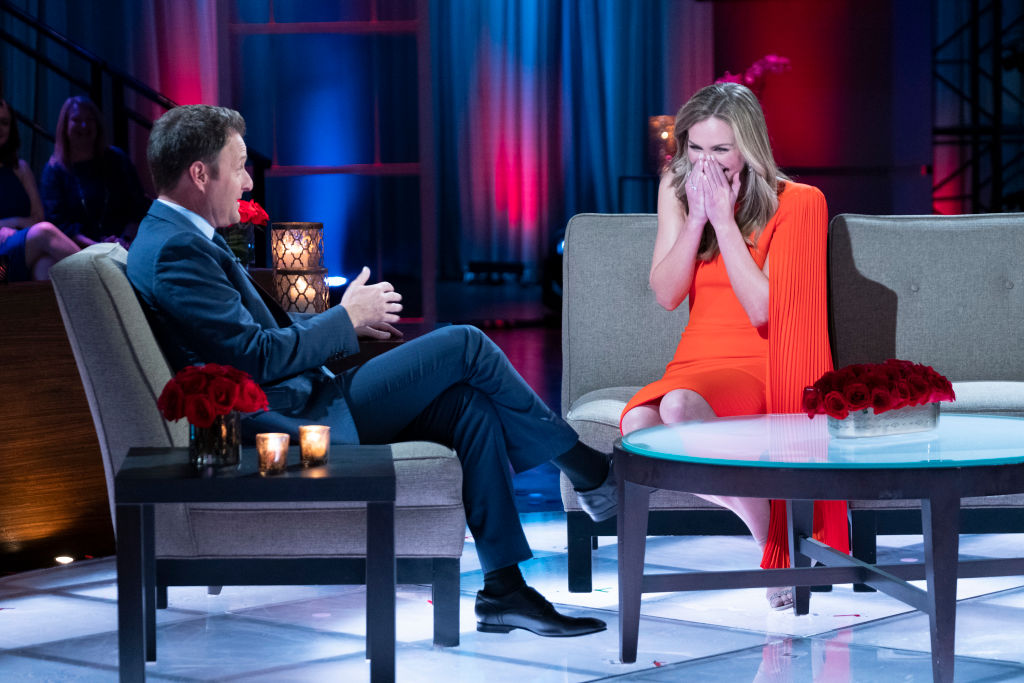 Not only will Hannah B. be the youngest Bachelorette in history (she's only 24), but she also prove to be one of the most interesting leads the show has ever seen. Many other women from Colton's season were considered for the role, too. Rob Mills, an executive from ABC, explained to The Hollywood Reporter that Caelynn, Tayshia, Hannah G., and Demi were also considered here — but there was something undeniably unique about Hannah B. "Part of it was that she thought she was the dark horse, so she came in and had nothing to lose, saying, 'I don't know, I'm just going to be myself,'" Mills said. "There was just something different that we hadn't seen in a Bachelorette before. Very kind of charming and goofy."
Hannah might be a little awkward, but there's no doubt she's ready to find her true love and get married at the end. When on The Ellen DeGeneres Show, Hannah said she was "absolutely" ready to settle down and hopes to find someone who's "just a good human, good heart, kind, strong, but ultimately I want at the end of this to know they know me."
Colton thinks Hannah is 'unapologetically herself'
Colton liked Hannah B. right from the start of his season, and fans were shocked when she got the boot following meeting his parents. Hannah was definitely in love with Colton, too, making the scene all the more heartbreaking. Thankfully, it seems Hannah doesn't hold anything against Colton for sending her home — and Colton is definitely excited to see what Hannah's capable of during her season as well.
Hollywood Life reports that when Colton visited The Ellen DeGeneres Show recently, he shared his thoughts on Hannah B. taking the leading role with guest star Mila Kunis. As he said, "I think it's gonna be a fantastic season. She's unapologetically herself. She has no filter and that makes for good TV and falling in love. I'm very excited!"
Cassie thinks the season will be 'fun to watch'
Cassie competed against Hannah B. and ultimately won Colton's heart. While she spent much of the season deciding on what she wanted out of a relationship and also dodging the shade of the other girls who told Colton she wasn't on the show for the right reasons, it's all water under the bridge for Cassie now. And she's ultimately showing her support for Hannah, too. Hollywood Life reports she said, "It's gonna be fun to watch! I'm so excited to watch her, I think she's gonna be great!"
We're all excited to see Hannah search for love — and Marie Claire reminds us her season airs on May 13. And, from Colton's finale, we also know that Hannah already awarded her first rose to contestant Cam Ayala. We'll have to see which other contestants can catch up to the current frontrunner.
Check out The Cheat Sheet on Facebook!