Concert Review: Ariana Grande Stuns Raleigh With Her Live Vocals
On Nov. 22, Ariana Grande performed a concert of the final leg of her Sweetener World Tour at PNC Arena in Raleigh, N.C. The concert was a make-up date after Grande was forced to cancel her show on June 4 due to being named the headliner of Coachella. At the Raleigh show, Grande stunned the audience with her impressive live vocals.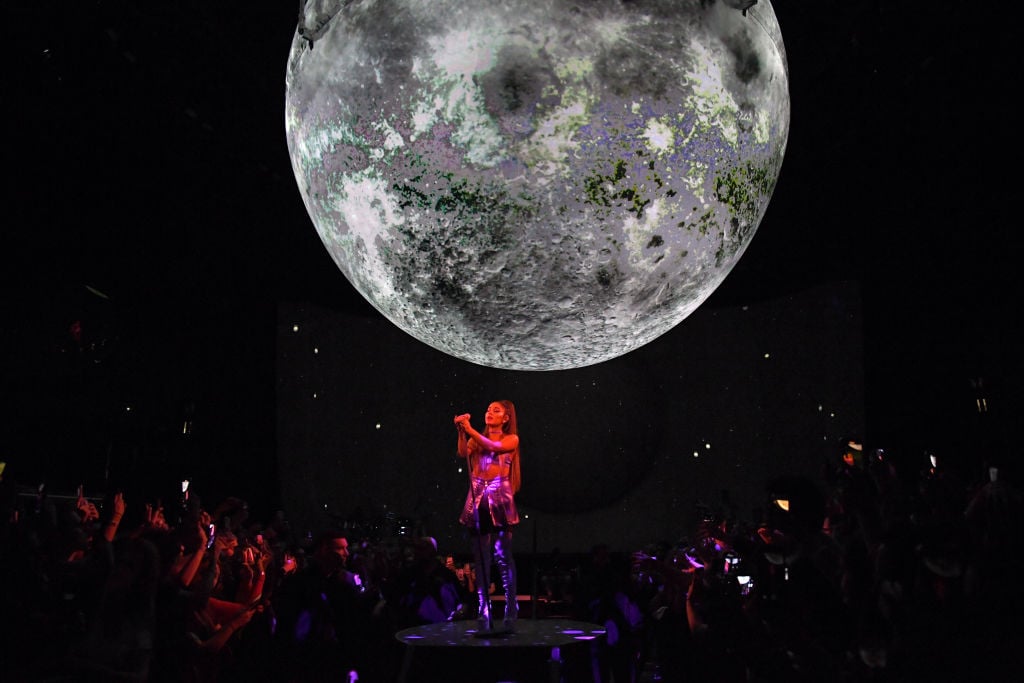 Ariana Grande was just nominated for five Grammy Awards
Grande's Sweetener World Tour is primarily made up of songs from her 2018 album Sweetener and her 2019 album, thank u, next. On Nov. 20, the Recording Academy nominated Grande for five Grammy Awards. Grande's concert in Raleigh came days after a majority of the setlist received Grammy Award nominations.
Her album thank u, next was nominated for Album of the Year and Best Pop Vocal Album. Grande's song "7 rings" received nominations for Best Pop Solo Performance and Record of the Year.
"hello i had to share this here as well i'm sorry. thank u for acknowledging this music my beautiful best friends and i created in just a few weeks together. the acknowledgement is truly more than enough on its own for me and my heart. thank u," Grande wrote in an Instragram post. "pls allow me to bring literally all of my friends who worked on it to sit around me so they can make sure my heart is still beating lmao. so much love and gratitude."
Ariana Grande was sick days before her Raleigh concert
On Nov. 17, Grande canceled her concert stop in Lexington, Ky. due to a sinus infection. She went on to perform in Atlanta on Nov. 19. At Grande's Raleigh concert on Nov. 22, one would have never been able to tell the singer had been sick just days before.
From the moment Grande opened the concert with the a cappella "Raindrops (An Angel Cried)" offstage, her voice ascended throughout PNC Arena. She then came onstage and performed "God Is a Woman," adding riffs and notes not present in the studio version. At the end of the song, Grande wowed the crowd when she let out a whistle note with ease.
The singer mixed up the setlist for the show
To add to the holiday spirit, Grande performed "December," "True Love," "Wit It This Christmas," and "Santa Tell Me" from her 2015 EP, Christmas & Chill. While a majority of the concert featured moon and space aesthetics, for a few minutes PNC Arena was transformed into a winter wonderland.
Grande also added a shortened version of "Get Well Soon" to the setlist after performing "NASA." During the encore, Grande once again incorporated Christmas spirit into her performance of "thank u, next." Grande and her backup singers appeared on stage wearing the Santa outfits from Mean Girls, a movie honored in the song's music video.
With every song in PNC Arena, Grande outperformed the studio version. On albums, Grande's powerful vocals are contained. However, when Grande performs live she is free to sing whatever way she wants to, simply because she can. She's Ariana Grande after all, and her talent makes singing sound effortless.
PNC Arena Setlist
"Raindrops (An Angel Cried)"
"God Is a Woman"
"Bad Idea"
"Break Up With Your Girlfriend, I'm Bored"
"R.E.M."
"Be Alright"
"Sweetener"
"Successful"
"Side to Side"
"7 Rings"
"Breathin"
"Needy"
"Fake Smile"
"Make Up"
Medley: "December," "True Love," Wit It This Christmas," "Santa Tell Me"
"NASA"
"Get Well Soon"
"Everytime"
"The Light Is Coming"
"Into You"
"Dangerous Woman"
"Break Free"
"No Tears Left to Cry"
Encore: "thank u, next"