'Teen Mom 2:' Here's Why Fans Think Kailyn Lowry Might Take In Jenelle Evans' Daughter
Jenelle Evans has had a rough go these past few months; things between her husband, David Eason, and Teen Mom 2 producers have only heated up, and in the show's season finale, there was discussion of Evans being removed from the show. (Evans has since been fired.) Then, her husband allegedly shot and killed the family's dog. The event resulted in Evans' kids being removed from her home. Now, some fans think fellow Teen Mom 2 star Kailyn Lowry could take in Evans' youngest daughter, Ensley.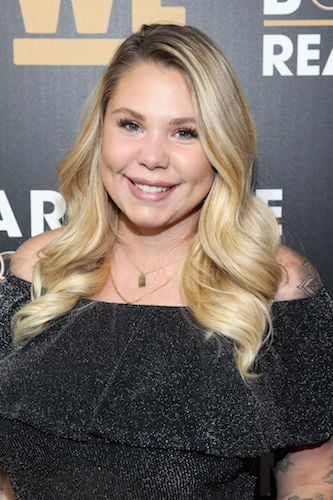 Eason allegedly shot and killed Evans' dog earlier this spring
Earlier this spring, Evans posted a heartbreaking photo saying that her dog had been killed. Around the same time, Evans' ex, Nathan Griffith, called the police and asked them to do a wellness check on his son, Kaiser, because a dog had allegedly been shot right in front of the child. Eventually, the story broke that Eason had allegedly shot and killed the couple's French bulldog, Nugget, for scratching his daughter's face. He posted on social media that neither his dog nor anyone else's would ever get in the way of him protecting his family. Evans was heartbroken over the loss of the dog, but she and Eason are still together.
Child Protective Services later removed all of Evans' kids from her home
After the commotion of the dog became public news, Child Protective Services investigated the situation. They deemed the home to be potentially dangerous to Evans' three kids, Jace, Kaiser, and Ensley, and Evans lost custody of her children immediately. Jace is currently staying with Evans' mother, who is his legal guardian. Kaiser is with his father, and Ensley is staying with Eason's mother. The investigation into the couple is ongoing and likely won't end anytime soon.
Kailyn Lowry has said people keep asking if she'll take in Evans' daughter, Ensley
Teen Mom 2 star Kailyn Lowry and Jenelle Evans have had a rocky relationship throughout the show's eight years. But oddly enough, now that both of Ensley's parents are under investigation, Lowry has said people have been asking her if she'll take Ensley in amid the chaos. According to E!, the MTV star is trying not to get involved. "I'm not considering it at this time but I hope that the children are… Happy and healthy overall," Lowry said. Lowry had released a statement shortly after the story broke saying she hoped Evans and her children are safe and get help for their situation.
It could be a year or more before Evans gets custody of her children again
Evans is looking at a long road ahead to regain custody of her kids. She's been attempting to regain custody of her oldest son, Jace, 9, for years. Now, she has an uphill battle getting her other two children back, since investigations into child welfare can take up to several years. However, despite all of the drama, Evans has still been spotted with her husband, which shows that she's staying by Eason's side no matter what happens. Some suggest if Evans were to divorce Eason, she could get the kids back sooner, but it looks like she is staying focused on her marriage while she waits for the investigation to be complete.
Check out The Cheat Sheet on Facebook!