Could Seth Rogen Give AMC Its Next Hit Comic Show?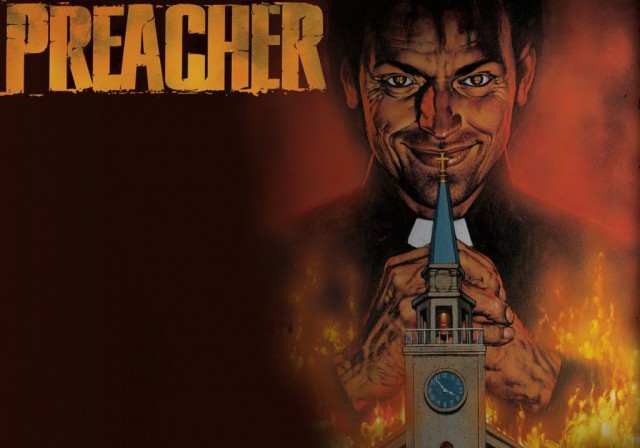 AMC is moving forward with the long-awaited comic book show Preacher. The network has officially ordered a pilot for the project, based on the 1990s Vertigo Comics series by Garth Ennis and Steve Dillon.
Preacher, which ran for 66 issues, chronicles the story of Jesse Custer, a small-town Texas preacher who becomes a supernatural creature and develops the ability to command anyone to do anything he wants. Left with this new power, he hits the road to find God, bringing his ex-girlfriend Tulip O'Hare and the hard-drinking Irish vampire Cassidy along for the ride. Meanwhile, the Saint of Killers, an immortal killer, trails them on their journey, with his sights set on Jesse.
The comic will be adapted for AMC by Seth Rogen and his writing and producing partner, Evan Goldberg. The duo will reportedly split directing duties, as well as executive produce via their production banner Point Grey. Preacher marks a very different kind of project for the two, who have previously helmed Rogen films This Is the End and the upcoming The Interview. But the duo will also have help from an AMC vet.
Sam Catlin, who previously worked as a writer and producer on Breaking Bad, has already penned the script for the pilot and is now set to serve as both the project's showrunner and a co-executive producer. This is the second television adaptation that Rogen and Goldberg have recently taken on. The two are also attached to executive produce FX's animated comedy pilot Bigfoot, based on the books by Graham Roumieu.
"Preacher has been our favorite comic since it first came out," Rogen and Goldberg said in a statement about their participation in the forthcoming adaptation, per Variety. "Garth Ennis is one of our idols and it's an incredible honor to be working on this. We promise we won't make too many dick jokes and ruin it."
Preacher has had a long road getting to screen. The comic book franchise has been a longtime fan favorite, but its storyline has proved too controversial for other networks in the past. Talk of a small-screen adaptation has been going on since as far back as 2006, with Daredevil's Mark Steven Johnson penning a potential script for HBO. The network eventually passed on the project for being too dark and violent. Following HBO's failure to pick up the series, both the Weinstein Co. and Columbia Pictures made attempts to turn into the comics into a potential feature film. Both efforts to bring Preacher to the big screen were eventually abandoned.
AMC nabbed the project with a hefty commitment, after beating out competition from multiple other networks. Though the pilot order is no guarantee that Rogen, Goldberg, and Catlin's take will actually make it to air, it does mark one step closer to the promising series becoming a reality — and it should come as good news to fans who have long since been holding out hope that the comics will eventually get either a movie or TV adaptation.
Casting announcements for the project have not yet been made. The Preacher pilot is set to go into production next summer, for series consideration in 2016.
More from Entertainment Cheat Sheet: