Could 'The Morning Show' Help Jennifer Aniston Finally Shed Her 'Friends' Character, and Earn Her Another Emmy?
'The Morning Show' kicks off on Apple TV+ Friday, November 1, 2019. Will Aniston's acting be good enough to earn her an Emmy?
Apple TV+ is available on November 1, 2019, and they are kicking off their new streaming service with a considerable number of big shows. The most talked-about show to premiere is The Morning Show featuring Jennifer Aniston, Reese Witherspoon, and Steve Carrell. 
Although Aniston has starred in many movies, she is most known for her role as Rachel, on the sitcom, Friends. Will The Morning Show help her become someone new to the public? Could she earn an Emmy for her role? Let's take a look at these questions as well as how to watch the new show today.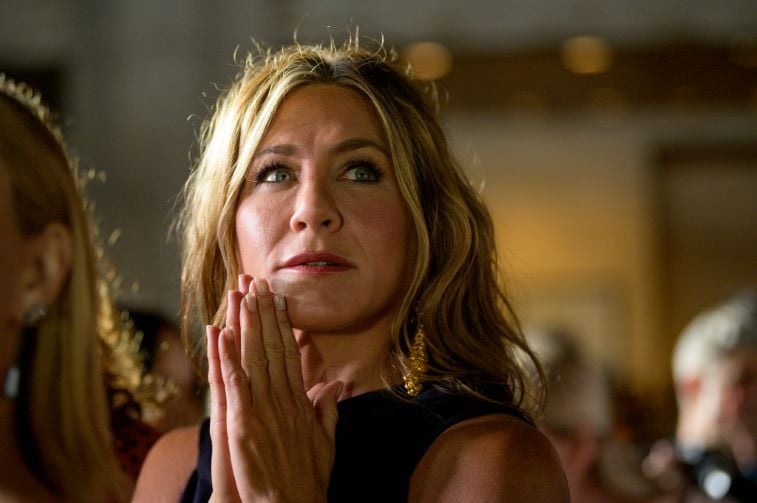 Jennifer Aniston steals the show, literally
A few critics have gotten their hands on the first three episodes of The Morning Show, and they are raving about Aniston's performance. Many are saying it is a must-watch. 
The Awards Daily review of The Morning Show is all about Aniston. They wrote that "Aniston has been accused of never being able to shed her Friends character, but she truly comes into her own in this role. It's hard to imagine anyone else in it."
The writer goes on to say that Aniston has finally found a role that allows "her to show off her dramatic acting chops as well as comedic prowess."
Aniston's character, Alex Levy, is at the center of the show as her costar of a morning news show, has just been fired for sexual misconduct allegations. Levy is forced to continue the show without him. It sounds like Aniston plays the character well and could be up for many awards because of it. 
Could Aniston pick up a Golden Globe or an Emmy for her performance?
Last year, every drama series nominated for a Golden Globe was new except for The Americans. There is a good chance that The Morning Show could pick up several nominations a the Gold Globe Awards. It sounds like Aniston's performance alone will help the series. Throw in the other two big names, Witherspoon and Carell, and it seems like a slam dunk for numerous nominations. 
As for Emmy considerations, with The Game of Thrones ending, there is room in every category for a newcomer. The predictions for Oustanding Drama Series for 2020 include Succession, Pose, Better Call Saul, Killing Eve, Ozark, and This Is Us. That leaves room for two more shows to earn nominations. 
Critics already believe The Morning Show can pick up at least a nomination for the Emmys and the Globes. 
How to watch 'The Morning Show' on Apple TV+ if you do not have an Apple device
Many fans of Aniston would love to watch The Morning Show but are complaining that they do not own an Apple device. You actually do not need an Apple TV or iPad or iPhone to watch the show. 
The subscription fee for the Apple TV+ service is $4.99 monthly on any device. Simply download the Apple+ app to your phone or TV and start streaming. The app will come with a seven-day free trial.
You also could watch for free for one year with any new or refurbished Apple device purchase. 
In a press release, Apple indicated: "This limited time offer applies to both new and refurbished models, including devices from the iPhone Upgrade Program, is not restricted to any specific sales channel (e.g., Apple Store, resellers) and will be available in all countries where Apple TV+ will launch."
The first three episodes of The Morning Show are available exclusively on Apple TV+ beginning November 1, 2019. After that, subsequent episodes will be released weekly.