Could Tim Burton Helm 'Scary Stories to Tell in the Dark'?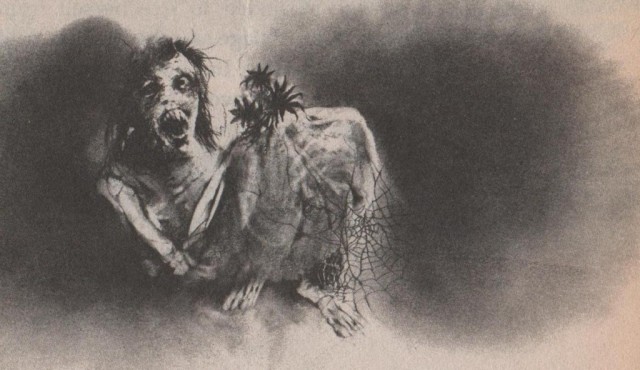 The cult classic book of young adult horror Scary Stories to Tell in the Dark has had a film adaptation in the works for awhile, but that movie has had a big change in its creative team that will result in a very different film than the one that would have been. Deadline reports that CBS Films has ditched the people behind the popular Saw slasher films for the writer John August, who's best known for collaborating with Tim Burton.
August has written with Burton a lot, having worked on the scripts for Big Fish, Charlie and the Chocolate Factory, Corpse Bride, Dark Shadows, and Frankenweenie. The website iO9 has already speculated that with August on board, CBS might be planning to approach Burton to helm.
The book series is famous for being a bit too scary for its targeted audience, telling lurid tales based on folklore and urban legends and giving children of the '80s and '90s nightmares. The first book came out in 1981 and was followed by More Scary Stories to Tell in the Dark in 1984 and Scary Stories to Tell in the Dark 3: More Tales to Chill Your Bones in 1991. The surreal illustrations from Stephen Gammell are equally as terrifying as the tales themselves.
Deadline says that an earlier version of the project had Saw writers Marcus Dunstan and Patrick Melton adapting the script and the publication referred to the change in writers as a shift in gears. While Scary Stories is supposed to be really scary, the book is technically a young adult short story collection and wouldn't draw the same audience with a slasher treatment a la Saw even though that could result in some great visuals inspired by Gammell's artwork and the gruesome tales. Switching to a more Burton-esque approach, whether or not Burton actually signs on to direct, could result in a more young adult friendly but still creepy movie.
Deadline also says that August is "going back to the source material" for his script, though it's uncertain how he'll tie all the horrific bits of urban legend together. Stories from the collections include a tale about a scarecrow that rips off your skin and a girl with spider eggs laid in her face.
Adding a director with Burton's visual brilliance to the project will almost guarantee an awesomely scary looking movie, but the director's skill at book adaptations hasn't been exactly genius. His original movies like Edward Scissorhands and Ed Wood have fared much better than newer attempts at adapting classic children's novels. Charlie and the Chocolate Factory and Alice in Wonderland from the director both got mediocre reviews which said that their spectacular visuals couldn't make up for a lacking story. Those movies have an 82% and a 51% rating on Rotten Tomatoes respectively. While Burton has always favored a creepy aesthetic, he's never been a straight-up horror director, which could also be a problem for Scary Stories.
Still, Burton's ability to balance dark visuals with being young adult appropriate make him an good candidate for the adaptation. Though it's been a while since he's made movies like Sleepy Hollow or Beetlejuice, both of those show that he can definitely be scary when he wants to be. CBS is smart to have their eye on him for this one.
Follow Jacqueline on Twitter @Jacqui_WSCS
More from Entertainment Cheat Sheet:
Want more great content like this? Sign up here to receive the best of Cheat Sheet delivered daily. No spam; just tailored content straight to your inbox.