'Counting On': A Source Claims Josh Duggar Was 'Still Shady' When Courting Anna Duggar
The Duggars are a controversial bunch, and while we're still following many of them via social media and watching them on Counting On, there are a few from the family who've done their best to remain out of the spotlight. Josh Duggar, the oldest of Jim Bob and Michelle Duggar's 19 children, came under fire in May 2015 when scandals of the past were brought to light. And according to a former member of the Duggar family's church, Josh was engaging in dodgy behavior even while he was courting Anna back in the day.
Here's everything the source had to say, as well as what we know of Josh and Anna's past.
Josh and Anna Duggar married back in 2008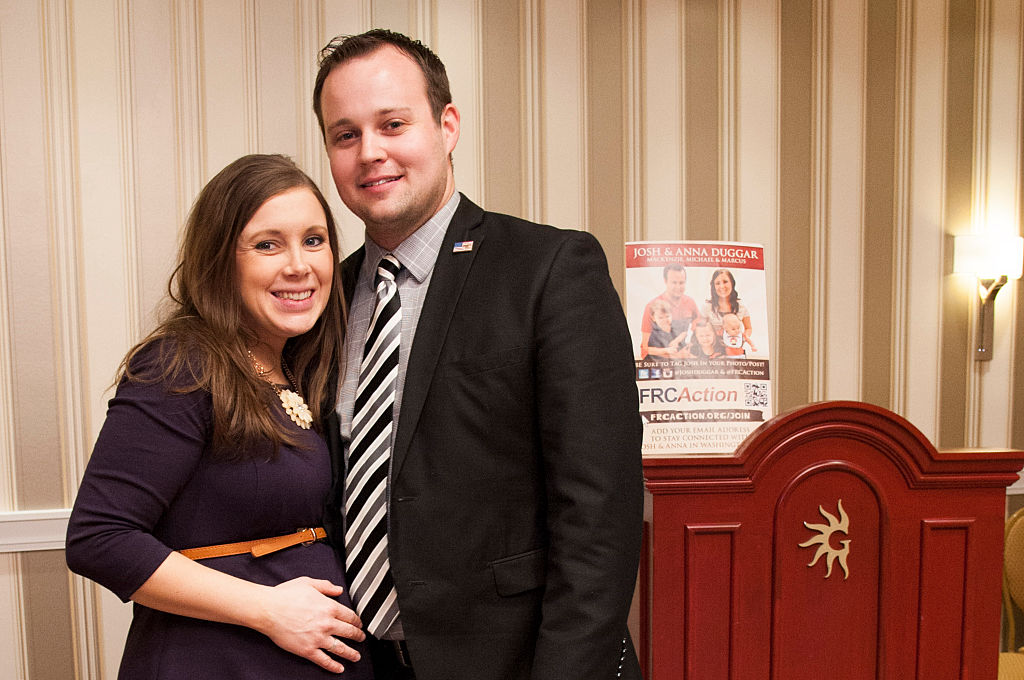 The Duggars are known for their odd dating rituals and short courtships, and it seemed all of these practices started early on with Josh Duggar. People reports Josh met Anna back in 2006. Since they both came from conservative families, both the Duggars and Anna's family were thrilled when the two started to court — and by 2008, they were married. Josh and Anna decided to take on many of the traditional values their parents instilled upon them, like allowing God to decide how many children they would have, for example. "Growing up in a large family, and Joshua in a mega-family, you learn so much more. I think a large family helps you prepare for life," People notes Anna said.
Unfortunately, just a month after Anna gave birth to their fourth baby in 2015, scandals of Josh's past were revealed to the public. A police report from 2006 showed he was investigated for molestation of underage girls, including a few of his own sisters, and it was also revealed that Josh had an account with cheating website Ashley Madison that same year. He later confessed to having a pornography addiction and then vowed to seek treatment.
Despite the scandals of the past, they've managed to stay together and are expecting another child
The Duggars certainly don't believe in divorce, and Anna and Josh have managed to make their marriage work despite the rockiness of the past. In 2017, the couple even released a statement announcing how hard they were working to rebuild their lives — and they also took the opportunity to announce that they were expecting another little boy. "For nearly the last two years, we have quietly worked to save our marriage, focus on our children, and rebuild our lives together as a family," the statement started. "Doing so is never easy after a breach of trust. We've learned that a life of faith and rebuilding a life together is simply done one day at a time."
Today, the couple seem to be making things work — and Anna announced back in April via Instagram that she and Josh were now expecting a sixth child, too. "We are so excited to announce that we are expecting a new little one! As we watch our children grow and thrive — we look forward to baby six joining us this fall!" she captioned the post.
A source mentioned how 'controlled and arranged' their courtship felt
A source who used to be associated with the same church the Duggars are a part of recently came forward to Radar Online to say what they knew about Josh and Anna's relationship. The source claims Jim Bob and Michelle did everything they could to keep Josh's scandal out of the media — and they also mentioned that Josh's famous parents thought him entering a courtship would help him through his issues. "Josh and Anna's relationship seemed pretty controlled and arranged," the source said. "Michelle and Jim Bob thought a relationship would solve some of his problems. That was common in our church."
The source then added that they don't believe Anna knew everything that Josh had done in his past. Not only that, but they added that "he was still shady when he was courting Anna," especially with his phone. "Josh got super anxious once when someone tried to grab his phone and pretend to make a call. He was very upset."
We highly doubt Josh will ever make any appearances on Counting On despite his family forgiving him for his wrongdoings of the past. We'll have to keep up with Josh and Anna's social media accounts to get any further updates on their marriage and upcoming new baby, too.
Check out Showbiz Cheat Sheet on Facebook!