'Counting On': All The Signs Jill Duggar And Derick Dillard Are Expecting Baby No 3
The Duggar family has already made five pregnancy announcements this year but Counting On fans believe there are more to come. When Anna Duggar posted a throwback pic on Instagram, it appeared that she was dropping hints that her sister-in-law Jill Duggar and husband Derick Dillard would soon be announcing that baby number three is on the way.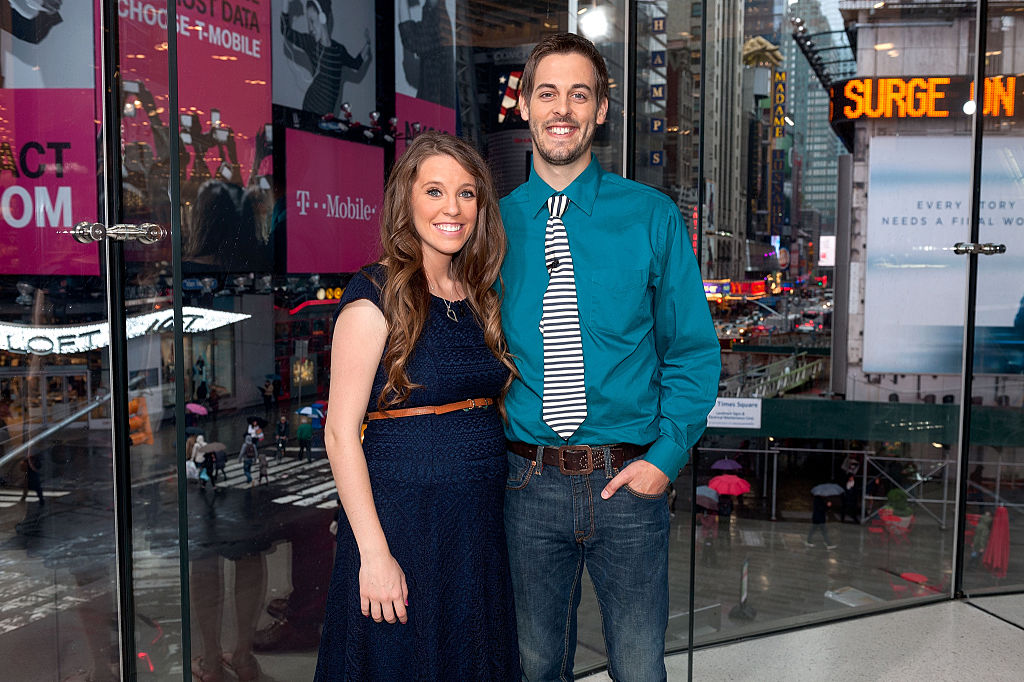 Jill Duggar must be next
Amid all of the Duggar baby announcements, Anna Duggar posted a pic from 2017 that featured herself, Jill, and Joy-Anna Duggar when they were all pregnant at the same time. And, what she wrote in the caption really had fans talking.
For some reason, she left out Cousin Amy – who revealed on Easter Sunday that she and her husband Dillon King were expecting their first child – but,] she did seem to be telling fans that more grand-Duggars were coming. Since Jill was pregnant in the photo she shared, fans are pretty sure Anna was hinting that Jill is about to reveal she is expecting baby number three.
One wrote that Anna's caption was a not-so-subtle implication that Jill Duggar would be the next to announce, while another added that there must be more Duggar babies on the way.
Anna and Joy-Anna have already shared their baby news
The reason this photo appears to be so revealing is that both Anna and Joy-Anna have both announced they are pregnant again. Anna and her husband Josh – plus their five kids Mackynzie, 9, Michael, 7, Marcus, 5, Meredith, 3, and Mason, 19 months – did a big reveal in late April, telling fans baby number six would be here this fall.
Then, just a few days later Joy-Anna and her husband Austin Forsyth posted sonogram pics and told their fans that their son Gideon would soon have a little brother or sister.
The conclusion from Anna's throwback post is that Jill must be getting ready to announce a third pregnancy since she is in the pic with two women who have already revealed they are pregnant right now.
Why did Anna add Jill Duggar?
According to The Hollywood Gossip, Counting On fans all over social media are asking why Anna would post an old picture that featured a very pregnant Jill and write in the caption that more Duggar babies are coming if Jill wasn't also pregnant now.
Jill Duggar and Derick Dillard are already the parents of two boys – Israel and Samuel. But, the women in the Duggar family don't have a history of waiting very long between pregnancies. Samuel is almost two years old, and in Duggar world, that means it's time for another baby.
'Counting On' Stars Jessa and Kendra are pregnant, too
Surely Anna has some pics of Jessa Duggar or Kendra Caldwell to post when she talks about family pregnancies on social media. Jessa and her husband, Ben Seewald, will be welcoming baby number three any day now. Meanwhile, Kendra and Joseph Duggar are expecting their second child later this year.
There are plenty of pregnant Duggar women for Anna to choose from. Therefore, there would be no reason for her to post a photo of a pregnant Jill and ask questions about more Duggar cousins in the caption if she didn't already know Jill and Derick's big secret.
Don't forget Abbie Grace and Lauren
With the exception of Jinger, every Duggar female who has tied the knot has announced a pregnancy during the first year of marriage. Since John-David Duggar and Abbie Grace got married in November, and Josiah married Lauren last June, it's possible – if not likely – that one or both couples will also announce pregnancies soon.
There really is no doubt that more Counting On stars will have baby news to share this year. The only real question is: who will be next?