'Counting On': Are Michelle and Jim Bob Duggar Abusing Their Power Over Their Children?
Derick Dillard's recent Instagram allegations are painting a dark picture of Jim Bob and Michelle Duggar. The family heads have worked tirelessly for nearly two decades to paint their family as wholesome and loving, but Derick appears destined to bring down that squeaky clean image.
Not only did Derick claim that Jim Bob is hoarding earnings from Counting On, but he seemed to indicate that the adult children aren't allowed to head over to the family compound unless Jim Bob is on the premises. While Derick's statements have been pretty dark, opponents of the family have long suggested the famed couple abuses the power they have over their adult children.
Jim Bob and Michelle Duggar are in complete control of dating
Jim Bob seems to be in almost full control over his daughters' dating habits. While the supersized family has pretty strict rules about how they can court, it looks like Jim Bob has taken the rules a step further and doesn't even allow his daughters to meet suitors he doesn't consider acceptable.
The family forces potential suitors to fill out a nearly 400-question survey if they are interested in one of the Duggar girls, and those potential suitors don't even get a first date with the object of their affection unless Jim Bob says so.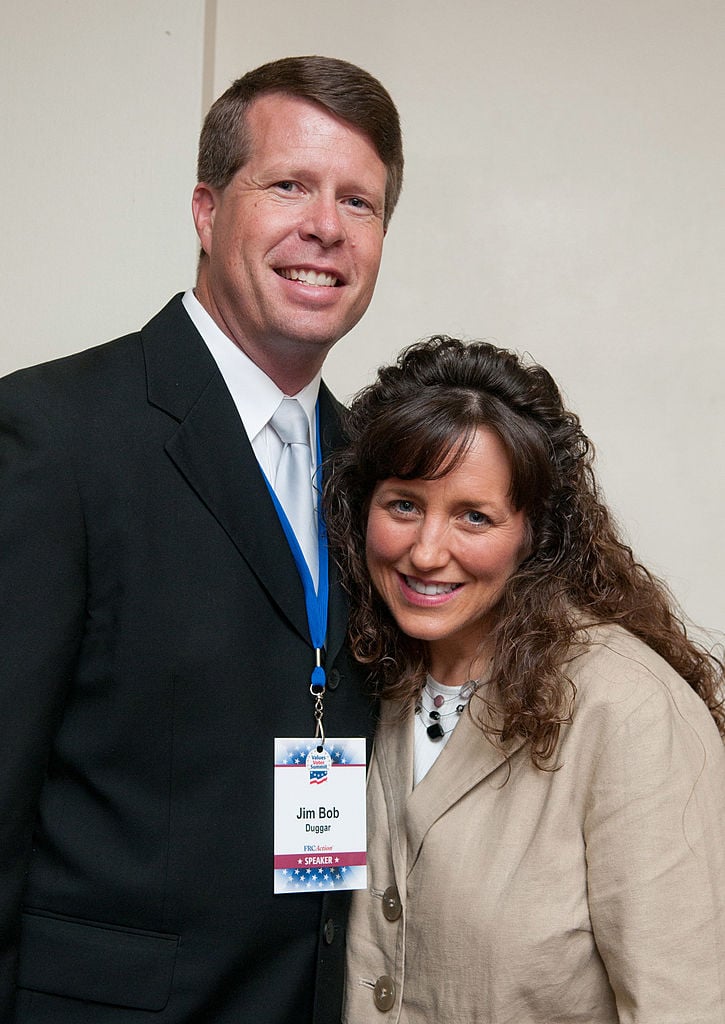 Once a couple is dating, Jim Bob and Michelle are supposed to be looped in on every single communication that happens between the couple, and they are never to be left alone together. Beyond the harsh rules, church insiders have alleged that many of the marriages are arranged, and there have been rumors that Jim Bob controls his sons' courting process, too.
In fact, a couple of love triangles have apparently occurred within the family, and some fans think  Jim Bob has the final say on who gets the girls. Jedidiah Duggar reportedly dated Kendra Caldwell before his brother, Joseph Duggar, swooped in to marry her, according to In Touch. There are also rumors that Jason Duggar and Justin Duggar courted the same girl, too.
Derick alleges he and his wife aren't allowed at the house without consent
A startling allegation from Derick took fans by surprise. While many believed the family's expansive compound served as a massive meeting spot for all of the family's 19 kids, even the ones who are now married, it looks like that might not be the case. On Instagram, Derick said he and his wife are not allowed at the house unless Jim Bob is present.
It appears as though the couple can't even visit at-home siblings without Jim Bob around to monitor the situation. Derick did not clarify if the rule is only for himself and Jill or if it extends to all of the married adult children. If it applies to all of the children, some fans see it as disturbing behavior that may aim to isolate the younger Duggar kids. If the moratorium on visits is only a rule for Jill and Derick, it further feeds into the feud narrative.
Camera crews have also reported controlling behavior
While the Duggar family prefers to spend their time with people who run in the same ultra-conservative Christian circle that they do, their reality TV show means that people from different walks of life are often on hand. One member of the camera crew reported pretty controlling behavior from the father of 19. According to In Touch, a member of the team claims that Jim Bob lost his cool when one of his sons was in the bathroom too long, accusing the youngster of masturbating.
Fans have also debated over Josiah Duggar's behavior in a video that announced Michelle's 20th pregnancy. In the now-edited clip, Josiah is seen looking teary-eyed holding his arm. Fans insist that Josiah originally ran from the frame when the announcement was made and was led back by Jim Bob, possibly by force. The original clip is no longer available, and the Duggar family has never commented on the incident.