'Counting On': Counting Down The Duggar's Biggest Feuds and Scandals of 2019
This has been a drama-packed year for the Duggars. Apart from the seven (holy cow!) pregnancies, the Counting On family was hit hard by a series of feuds and scandals – and they are not showing any signs of slowing down. With 2020 right around the bend, here's a quick look at all of the Duggar's biggest scandals of 2019.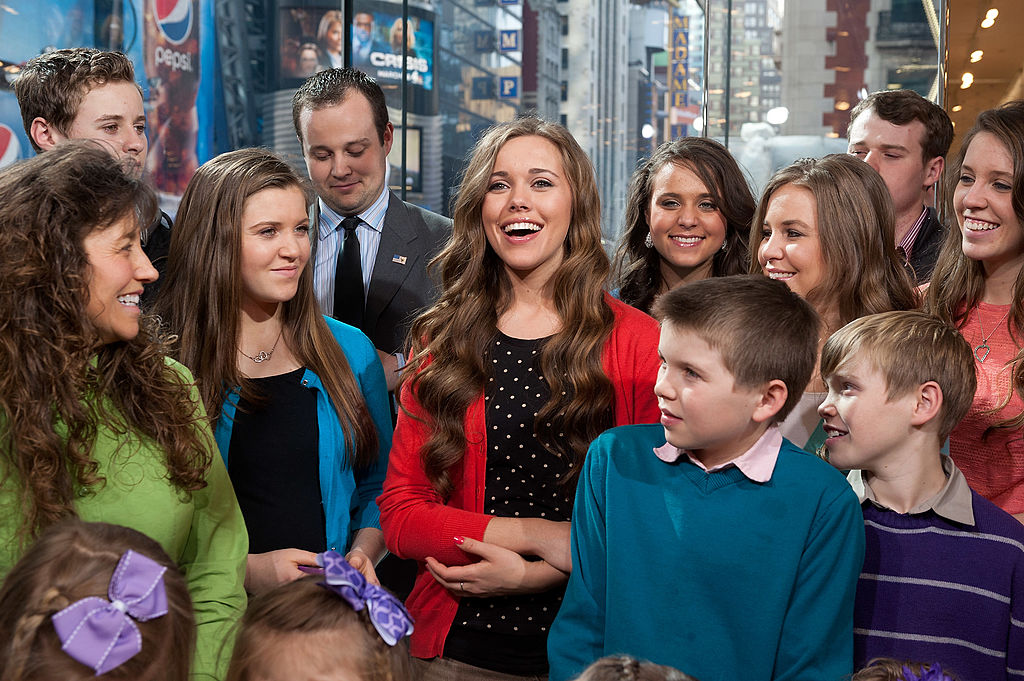 Jana's gay romance rumor
With all the pregnancies going around, there were a bunch of Duggar couples in full celebration mode in 2019. The only exception is Jana Duggar, who is officially the oldest member of the family who is still unmarried.
Back in April, Counting On fans started to speculate that Jana may be involved in a romance with her best friend, Laura Demasie. The two spend a lot of time together and she has even appeared on Counting On a few times.
When a fan asked her directly about the lesbian rumors, Jana shut them down right away.
"No. And I would like to stop that rumor. I have no interest in girls that way whatsoever," she answered.
The Counting On star has also dealt with a slew of courting rumors this year. But so far, she has yet to confirm that she is in a relationship.
Jinger Duggar wears pants
Wearing pants is a sore subject for Jim Bob and Michelle Duggar, who raised all of the women in the family to avoid trousers at all costs.
Counting On fans have witnessed Jill Duggar break the no-pants rule on several occasions, and Jinger Duggar followed in her footsteps in 2019.
During a quick visit to Los Angeles early in the year, Jinger was caught wearing pants while on a hiking trip. Fans quickly expressed their outrage on social media, though Jinger addressed the situation on Counting On before it spiraled out of control.
Jinger revealed that she talked to her parents about wearing pants in public and was happy with their response.
"I know a lot of people have had different speculation or ideas or whatever about conflict between us over the matter of pants," Jinger shared. "We had conversations before I started wearing pants. I shared my heart with them about where I saw the Lord leading me. I was really grateful for their response."
Joy-Anna and Austin Forsyth's fraud scandal
One of the more serious scandals for the Counting On stars came when Joy-Anna Duggar's husband, Austin Forsyth, got sued.
According to OK Magazine, Austin got himself into legal trouble after selling a house that had a defective septic tank. The couple who purchased the home claimed that Austin failed to get the proper permits to install the septic system when he renovated the home.
They are suing the Counting On star for the cost of the repair (which is over $20,000). They are also willing to leave the home if Austin nullifies the sale and pays their court fees.
Austin has not spoken publicly about the lawsuit. In the official court documents, he denied any wrongdoing and says that he was not required to get a permit in the first place.
The case is ongoing.
Josh Duggar gets raided
Another big scandal arrived at the Duggar's doorstep when Josh Duggar's business was raided by federal agents. Inside sources claimed that the FBI was looking for evidence of money laundering, tax evasion, and child pornography.
The FBI later confirmed that they did not take part in a raid of Duggar's home or business. The narrative, however, also included the Department of Homeland Security. That agency later confirmed that they did visit Josh's business as part of an "ongoing federal investigation."
We have no idea why federal agents were at Josh's business and files have not been charged against him.
It is possible that the authorities were looking into one of Josh's employees, though we cannot say for sure until more information comes to light.
Jill Duggar and Derick Dillard's epic feud
When it comes to feuds, Derick Dillard's beef with Jim Bob Duggar was easily the family's biggest of 2019. Taking to social media, Derick slammed Jim Bob for how he manages contracts for Counting On.
He also alluded to the idea that Jim Bob keeps the majority of the earnings from the series and that the children hardly get anything.
Derick left the series in 2017 after he made some controversial remarks about the LGBTQ community on Twitter. Derick says that he left the series voluntarily, though fans are convinced that TLC gave him the boot.
As if feuding with Jim Bob is not enough, Derick also revealed that he is in the middle of writing a tell-all memoir about Counting On and the Duggar family (and we cannot wait to read it).
The Duggar family returns with new episodes of Counting On in 2020.