'Counting On': Do the Duggar's Celebrate Christmas?
Counting On fans have watched the Duggars celebrate a variety of holidays over the years, and their family traditions usually trend towards the religious side of things. Turns out their Christmas celebrations are no different. With Thanksgiving upon us and Christmas right around the corner, here's a quick look at how the Duggars celebrate Christmas.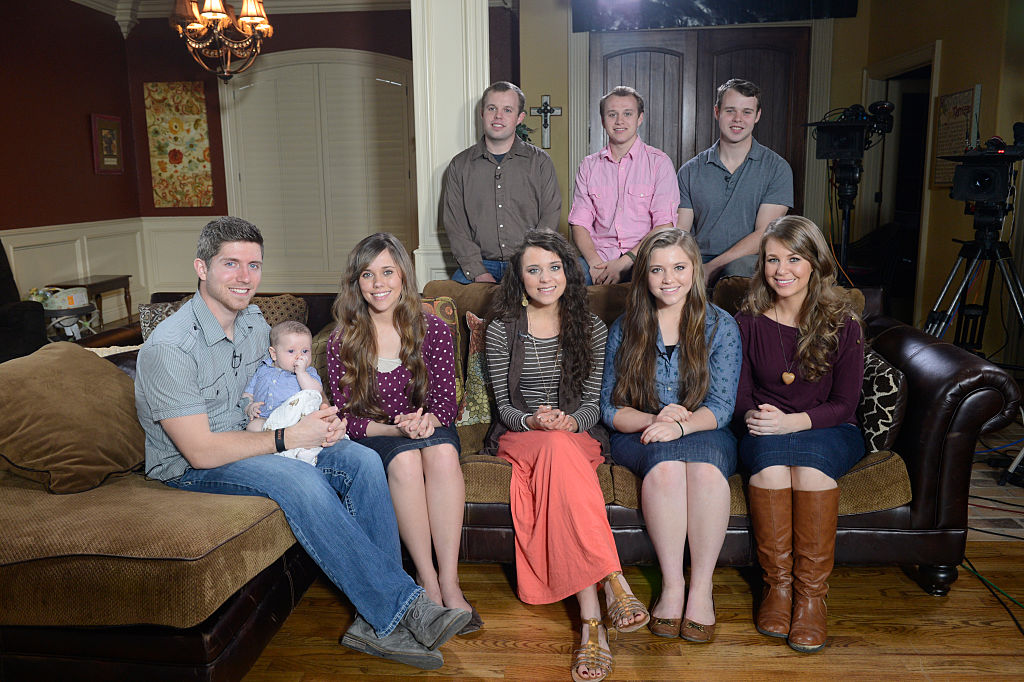 Inside a very Duggar Christmas
As Counting On fans know all too well, Jim Bob and Michelle Duggar have raised all 19 of their children in a very religious environment. And although they celebrate Christmas every year, they do things a little differently than the average family.
For one thing, the Duggars do not buy a Christmas tree for the festive holiday. According to Romper, they avoid buying a tree and decorating it because they feel like it takes away from the religious meaning of the holiday.
"We celebrate Jesus' birthday. So we have a big Happy Birthday Jesus banner and we really try to focus on the real meaning of Christmas," Michelle explained in 2014.
The large religious banner is only the start. The Duggars also read scriptures from the bible and put up a large nativity scene every December. When it comes to Christmas Eve, the couple gathers their children together for a special reading of the Bible.
While most people celebrate Christmas by exchanging gifts, the Duggars make sure the emphasis is on Jesus's birthday — and they start the festivities as soon as Thanksgiving is over.
What do the Duggars believe?
Considering how they celebrate Christmas, it is clear that the Duggars elevate their religious views above everything else in their lives.
For Counting On fans who do not know, the Duggars consider themselves Independent Baptists. This group is a shoot-off from Evangelical Protestantism and they generally hold very fundamentalist beliefs.
This helps explain why the Duggars are so strict with their kids and enforce some pretty strict rules around the house.
With 19 children under their belt, the Duggars' Christmas tradition will likely continue strong for future generations. In fact, some of the Duggar children who have married and now have children of their own are already practicing what they learned growing up.
While the Duggars celebrate Christmas a little differently, it is good to see that they stay true to their beliefs. But ditching the Christmas tree is not the only thing they do differently for the holiday season.
What other Christmas traditions do the Duggars skip?
Apart from no Christmas tree, there are plenty of other things the Duggars do not practice during Christmas.
This includes not bringing Santa Claus into the picture. Although Santa is a staple in most households for Christmas, he is not mentioned in the Duggars' holiday festivities.
The Duggars also do not let their children listen to secular Christmas music or watch non-religious holiday movies. In fact, the couple discourages their children from pursuing materialism, especially when it comes to a commercial holiday like Christmas.
With Santa out of the picture, the Duggars also hold back on exchanging presents. In the past, they did not hand out presents at all, but they have since relaxed that stance a little and give each other small gifts.
How do the Duggars handle gifts on Christmas?
With so many people in their household, the Duggars purchase presents for each other a little differently than most families. After all, it would be unreasonable to expect all of the Duggars to buy gifts for every member of their large family.
Instead, all of the Duggars participate in a big gift exchange, where they draw names and get that person a present. This helps cut down costs and enables everyone to get a decent gift.
Jim Bob and Michelle, however, still get all of their children a present for Christmas, so everyone gets a little extra every year.
In addition to the present, the Duggars give each other gift bags that are packed full of yummy goodies, like chips, beef jerky, and pickles. But because the family does not have a proper Christmas tree, they exchange their gifts in a large room instead.
Just like over Thanksgiving, the Duggars usually post photos from their Christmas Day festivities on social media for all fans to enjoy.
New episodes of Counting On air Tuesday nights on TLC.