'Counting On' Fans Accuse Anna Duggar Of Trying To Make Money Off Of Baby No 6 Already
Former 19 Kids & Counting star Anna Duggar announced in April that she and her husband, Josh Duggar, are expecting baby number six this fall, and she just admitted to her Instagram followers that she still doesn't always know what she's doing when it comes to parenting. However, instead of offering words of support and encouragement, some Counting On fans accused the 29-year-old of trying to turn her sixth pregnancy and parenting struggles into profit.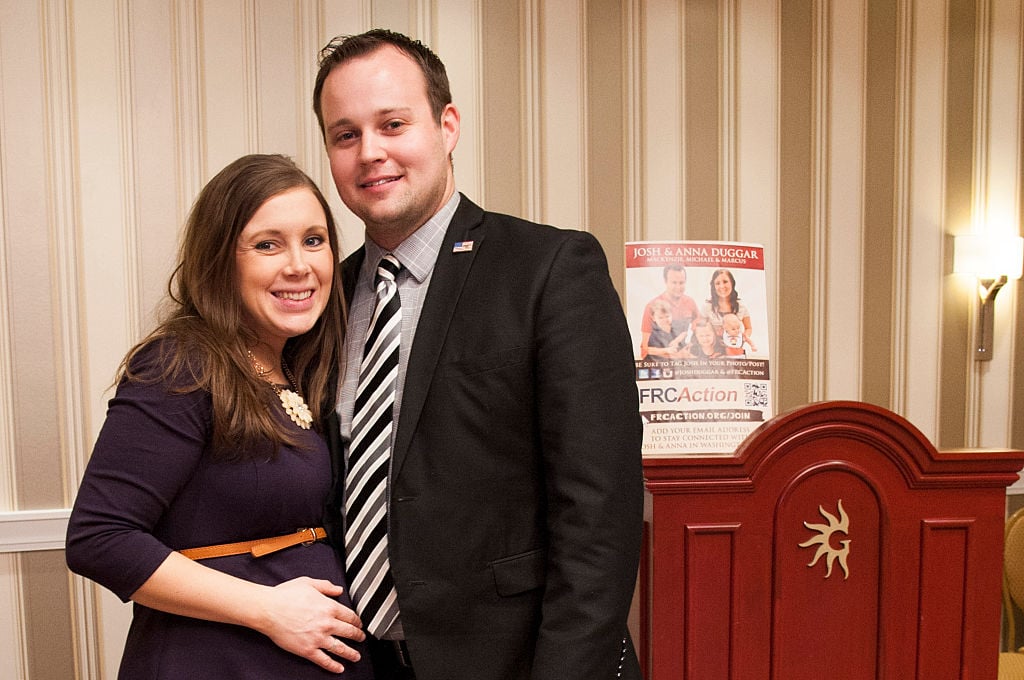 Reality didn't meet expectations
In a lengthy Instagram post, Anna told fans that she had a lot of expectations about being a parent before giving birth to her first child – Mackynzie, who is now nine years old. But, as soon as her daughter arrived, she realized that babies don't "play by the rules," and that makes parenting a unique responsibility.
Anna explained that as soon as you think you've figured something out, things change. She then skipped ahead to the birth of her fifth child, Mason, who will turn two in September. Anna explained that he has a dairy allergy, and when their doctor diagnosed the condition, she went online to find answers.
It was at that point in the post where Anna Duggar's parenting admission turned into an advertisement.
It was all about an app
A couple of paragraphs into her lengthy post, Anna started promoting @peanut, which is a social networking app for mothers. She explained that the app connects mothers based on their common interests, and you can "meet, chat, join groups, and ask questions to a community of like-minded women."
She told her followers that the app has helped her find "mommy answers," and said it was a must-have for all parents.
The struggle is real
There's no doubt that Anna Duggar has had a difficult time over the years, but it's not just because she's the mom of five (almost six). Four years ago, her husband's molestation and cheating scandal ended 19 Kids & Counting and completely changed their lives.
At the time, the family was living in Washington, DC because Josh was working as a lobbyist for the Family Research Council. He was pursuing a career in politics while she stayed at home with the children.
But after the scandal broke, Josh ended up in rehab for sex addiction and the family moved back to Arkansas. Not only did he lose his job, but the couple lost their reality TV income. Josh eventually went back to being a used car salesman, and Anna Duggar shocked fans by staying with her husband and getting pregnant with baby number five instead of filing for divorce.
Ten years and counting
Josh and Anna Duggar have been married for more than a decade, and they are the parents of Mackynzie, Marcus, Michael, Meredith, and Mason. Now it's time for baby number six, and they told Us Weekly that they couldn't be happier that their family is growing.
"We continually stand amazed by God's love, redemption, grace and blessings in our lives. Our entire little family is ecstatic!" said the couple in a statement.
Anna isn't the only one expecting in the Duggar family. Jessa and Ben Seewald are expecting their third child any day now, Joseph Duggar and Kendra Caldwell are expecting baby number two, and Joy-Anna Duggar and Austin Forsyth are also expecting their second child.
Cousin Amy Duggar and her husband Dillon King also announced in April that baby number one is on the way, and chances are there will be more Duggar pregnancy announcements soon.
As Counting On fans know, the Duggars are all about getting pregnant during the first year of marriage. And, since Josiah Duggar and Lauren Swanson tied the knot last June and John-David Duggar and Abbie Grace Burnett said "I do" in November, there will probably be even more Duggars arriving this fall.