'Counting On' Fans Are Mocking Jill Duggar for Her Instagram Post About Women's Rights
We've been watching the Duggars since their early days on 19 Kids and Counting, and it's hard to believe many of them are still on television. Thanks to TLC's Counting On, we're still keeping up with fan favorites like Jessa, Jana, and Jinger. And while Jill Duggar is no longer on television (she can thank her controversial husband, Derick Dillard, for that), she still has a serious social media following where she posts all about what's going on in her life.
From her parenting tactics to the way she treats her husband, Jill is no stranger to criticism. And her recent Instagram post that's supporting women's rights is garnering a ton of negative attention. Here's why.
The Duggars believe that men are the leaders of the household
Many members of the Duggar family are known for being kind, loving, and caring — but they're certainly not progressive. Michelle and Jim Bob raised their 19 kids to be Christian fundamentalists like themselves, and that means women are taught to be submissive and modest, especially when in the presence of men. The Duggar women had to abide by a dress code to protect their purity growing up, and they even had a code word for other women who showed skin in the way that they dressed. Not only that, but all of the Duggars "court" instead of date — and the rules here include no hand-holding, private conversations, or kissing.
Even Michelle has spoken about how she keeps her marriage with Jim Bob strong — and it's all about remaining submissive and ready to serve. She told Today it's vital that a wife is always available to her husband, no matter what. "In your marriage there will be times you're going to be very exhausted. Your hubby comes home after a hard day's work, you get the baby to bed, and he is going to be looking forward to that time with you," she said.
Jill wrote a blog post about how she keeps her husband happy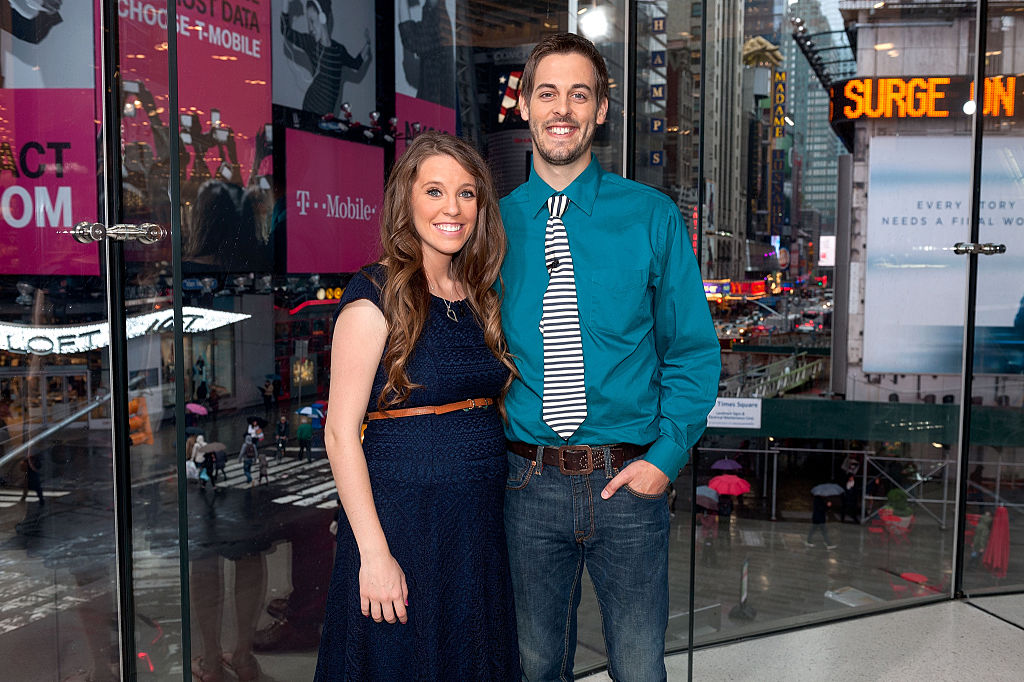 It's not just Michelle who believes keeping her husband happy is important. She instilled these beliefs in her daughters, too — and Jill wrote her own blog post about how she keeps Derick pleased in their marriage, too. As she wrote, "Have sex often! You both need this time together regularly (3-4 times a week is a good start. lol). … Let your spouse know that you're aways available. Guard against fulfilling sexual desires alone. Be open with your spouse about your desires and change things up to keep it exciting!"
This is only the beginning of the post, too. Not only does Jill recommend getting intimate most days of the week, but she also believes wives should "pray and fast" for their husbands. And she also believes wives should try to look extra presentable for their spouses. As Jill says, "even putting on fragrant lotion in front of him can be another way to say 'I care' and 'you're important to me,' and lets him know you're up for fun whenever he is.
She just added this Instagram post about women's rights
Despite her conservative views on marriage, Jill posted about the progression of women's rights on her Instagram. "Thanks to my friend, Nancy, I had a lovely time at the governor's mansion for a tea celebrating 100 years since women were finally able to exercise the right to vote!" she captioned this post. Unfortunately, fans were scratching their heads when they saw the entry.
"I had to giggle. The ladies in your family have no rights. The men control you. I do love your family and show but come on!!" one of Jill's followers wrote. Another added, "I find this strange from a family brought up with such a stringent guideline for the woman's role and patriarchal control." Yet another commented, "So you're celebrating white women being able to vote, but you're part of the side that wants to stop us from deciding what to do with our bodies?"
This is far from the first time Jill has caused controversy, so we're not so sure she'll be listening to the comments this time, either. Hopefully, she'll consider what she's posting more thoroughly in the future.
Check out Showbiz Cheat Sheet on Facebook!