'Counting On' Fans Are Wondering Where Jana Duggar's Money Is Coming From After This Instagram Post
We've been watching the Duggar family since the very beginning of their time on TLC, and it's hard to believe how old some of Jim Bob and Michelle Duggar's kids are now. Jana, the soft-spoken 29-year-old, is still living under her parents' roof, as she remains unmarried. And while her much-younger siblings have courted, married, and started families of their own, Jana continues to wait patiently for her Mr. Right.
Just because Jana's living with Jim Bob and Michelle doesn't mean she's not busy, however. Between her hobbies, her active Instagram, and her travels to see her siblings near and far, fans love seeing where Jana's off to next. But it seems some are wondering how she's getting the money to live her life — especially after a recent Instagram post added by Joy-Anna Duggar.
Jana Duggar has her own business and helps out around the Duggar home
With their strict Christian fundamentalist upbringing, the Duggars have always prioritized marriage and having children over an independent life. For Jana, this means she'll be staying in Jim Bob and Michelle's home with her younger siblings until she finds a man to spend the rest of her life with. Many Counting On fans weren't sure what Jana was up to with all of her spare time, but thanks to her Instagram, we now get a glimpse into her life. And it seems she's actually making good use of her time.
In addition to helping her family raise the young siblings (she even still shares a room with them), Jana plays the piano at church every week, maintains her gardens, volunteers at a local firehouse, and has had midwife training to help her sisters with their homebirths. Not only that, but she also has her own business in Arkansas called Arbor Acres Group. As for what she does with the business, we're still not sure.
Fans are wondering if she's actually making money following Joy-Anna Duggar's Instagram post
Joy-Anna Duggar and her husband, Austin Forsyth, recently lost their baby when Joy was 20-weeks pregnant. The loss has certainly been difficult for the couple, and many of the other Duggars have come to her aid to help out. It seems Jana also made her attempt to cheer her sister up, too. Joy added photos of her and Jana during their day out. "She took me to lunch, nails, coffee, & shopping! Thank you, @janamduggar for spoiling me today!" Joy captioned the post.
Their day out certainly seemed fun, but fans on Reddit questioned how Jana's able to afford to visit her sister and take her out. "How can Jana 'spoil' Joy? Like where's the money coming from?" one Reddit user's thread started — and from there, others took their guesses. Many assumed Jana was being given money from her parents. Another added, "We also don't know what her self-employment tax reporting situation is. She very well could be filing as a self-employed person and establishing her 40 quarters."
Could TLC be paying Jana?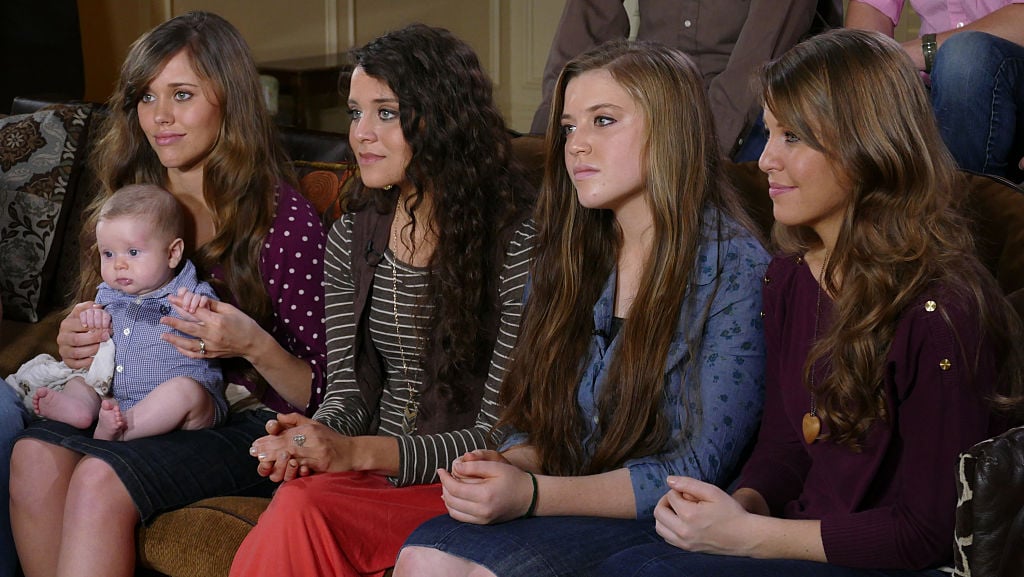 Other Reddit users guessed that Joy-Anna and Jana could be filming a TLC special during their outing. Not only would this explain why there's only one Instagram post about their time together, but this could also be where the money came from for their girls-day-out. As one Reddit user guessed, "It's possible TLC paid for it so they can make a whole episode about 'Joy and Jana's day out.'"
Perhaps Jana's private business is truly thriving, or perhaps TLC is still paying the Duggars' bills. Either way, we're happy Joy has someone there for her during this difficult time — and we're sure we'll see plenty sister interactions during the next season of Counting On.
Check out Showbiz Cheat Sheet on Facebook!